Sedona AZ (May 3, 2013) – The Sedona Art Museum will present in its galleries three exhibitions focusing on the historic and contemporary art of Sedona for one day on May 11th, 2013, with a reception from 4:00 PM – 7:00 PM at the preview museum location at 1370 West Highway 89a in the Old Marketplace Mall. The new Board of Trustees will be introduced at this special event, and an open mic for the public to comment on the benefit and value of having a permanent museum will be available.
By the generosity of the Sedona Heritage Museum and the Sedona Historical Society, the Sedona Art Museum will present six artists who illustrate the variety and high level of early Sedona visual art. Stephen Juharos, an immigrant from Hungary and an early gallery owner, will be represented with "Picnic with Grandma." Helen Black Morris, who taught in Sedona schools in the 1930s, will be included with "Indian Baskets." Helen Jordan, whose work "Little Horse Park" will be shown, was an early teacher at the Sedona Arts Center. Sarah Jane Farley's "Red Rock Crossing" will be on display. Farley was nicknamed "Sedona's Grandma Moses" as she started painting in her early 70s in the first summer classes held at the Sedona Arts Center. Frieda Loy was born in 1898 to one of Sedona's first families; her painting of "Courthouse Rock" is in the exhibit. Bela Horvath's striking "Portrait of Sedona Schnebly" has both artistic and historical merit. Horvath's home, built in the 1940s, is now Unity Church.
In addition, the preview Museum will have on display a series of seven color illustrations Lillian Wilhelm Smith did in a book of poems, Sonnets to the Southwest, by Lou Ella Archer, published in 1930, from the collection of Gary and Chris Ryley.
As the Sedona Art Museum highlights contemporary artists as well as those of Sedona's past, in another gallery will be ten artists who are award-winning members of the Northern Arizona Watercolor Society. Sandra Beck especially enjoys painting pets and people, with a style best described "as a cross between realism and impressionism." Jan Chandler, who moved to Arizona in 1994, says, "I love lots and lots of color, also the play of sunshine on subjects," for which Arizona is the perfect place. Mary Dove, who describes herself as a communicator, enjoys capturing "emotional moments in time" in her work. Dove's work is described as super realism with a sprinkle of photographic expressionism. Deborah Gallagher incorporates into her paintings many of her experiences with American Indian culture, with a "goal of leaving more than a factual record of the world around her."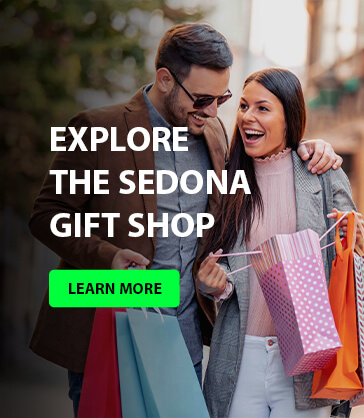 Helen Jeanne Jones emphasizes simplicity in her work with organic forms in landscape and still life. Vada Lovato's greatest joy as an artist is to "spend the day in the studio experimenting with paint, paper, found objects, and textures." Pierre Mion, whose main goal is to satisfy his own creative drive, also has a "strong need to please other people with his art and to capture the fragile beauty" of earth. Heather Molans, the child of two artists, specializes in jewelry design as well as water color. Don Schairer finds inspiration in the high desert vistas of central Arizona and the tropics of Central America. Jan Sitts considers her art work a "reflection of who I am," with the process itself often more important than the final image.
The Sedona Art Museum has as its mission all of Sedona's art, and that includes petroglyphs and pictographs. Uniting this art of the ancients with modernity are the photographs of Susie Reed. About her work it has been said that she "collaborates with Sedona's ancient artists – from as far back as 12,000 years ago." Since 2005 Reed has lived in Sedona and followed her heart's calling "to document, preserve, and protect rock art," something she does by her photographs, teaching, speaking, writing, and advocacy. Reed teaches photography at the Sedona Arts Center.
The purpose of this preview museum is to demonstrate the need for a non-commercial, not-for-profit art museum to archive the history of Sedona art and artists, to promote contemporary artists of the Verde Valley, and to provide art education in cooperation with other art organizations in our area. Donations are being accepted to establish an endowment fund to begin a collection of art and to support future operations of an art museum.