Sedona AZ (August 2, 2016) – Hillside Sedona's Movin' On Gallery is continuing its run of exciting guest artists by featuring local artists Joanie Wolter and Bruce Hudgens during.  Many of Wolter's latest fiber clay sculptures and Hudgens' paintings will be on exhibit throughout the month.
The public is invited to meet these artists at Movin' On's popular First Friday reception, 5-8PM on the evening of August 5, 2016.  Many of the venue's other resident artists will also be present to host the evening's festivities and greet visitors and fans.
Prior to moving to Sedona, Joanie Wolter was a lifelong resident of Southern California, where she had a long and rewarding career teaching "at risk" students in alternative educational settings.  She got her start as an artist during her spare time while still teaching, but after she retired and moved to Sedona, her art became a full time passion.
She studied and worked in several mediums before discovering fiber clay sculpting, which she mastered quickly and enthusiastically.  "The whimsical pieces I create reflect who I am – a little goofy and fun loving," she notes.  In the last seven years, her pieces have won several awards in local and regional shows.  She has also taught fiber clay sculpting to many students at her own studio and in numerous other places around Arizona and California.
In addition to the slightly quirky human and animal figures for which she has become known, Wolter has recently begun fashioning masks of stylized, bird-like characters in her unique style.  "I made my first mask in response to a customer request," she says, "and soon fell in love with creating these oddball personas.  They've now taken on a life of their own!"
Bruce Hudgens grew up in Elgin, Illinois, but he moved to Colorado for his education and has lived in the West ever since.  With degrees in Anthropology and Archaeology, he worked as a cultural resource manager and community college teacher before moving into arts management as an Art Director and gallery owner.  This, in turn, led him to start creating his own art works, relatively late in life.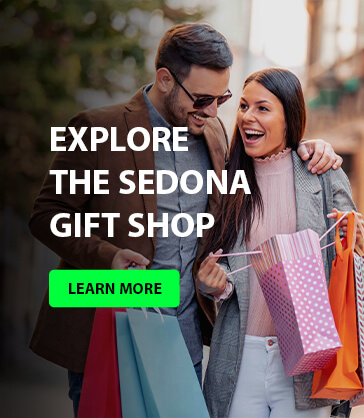 His career as an artist took off quickly, with his first solo show coming during his second year at the Coconino Center for The Arts.  That was soon followed by exhibits in a number of other venues throughout Northern Arizona, plus representation in many galleries.  He has also been instrumental in helping to organize and conduct a variety of civic arts programs, and has published a series of articles on Native American Arts and Crafts.
His early paintings were in the tradition of Abstract Expressionism, but he soon moved to landscapes, influenced by the beauty of his surroundings in Flagstaff and Sedona.  Many of his recent landscapes will be on display at Movin' On during the month.
Movin' On Gallery is located on the second level of Hillside Sedona Center at 671 State Route 179 (about ½ mile south of the "Y" in Sedona).  It is dedicated to introducing new artists and to showing recent works by some of the best-known artists working in Sedona and the Verde Valley.  
Movin' On currently features an impressive array of resident artists, including: Lorraine Fexas, glass; Andre Renard, copper & brass sculptures; Pat Priolo, gourds and jewelry; Sharon Hall, clay sculptures; Grace Sky Martinez, spiritual and Native American art; Mary Ratner, photography; Jodie Ball, oils; Patty Miller, multimedia, painting, and sculpture; Harriet McInnis, oils; Helen McLuckie, oil pastels; Terry Davis, wood carving; David Soto, recycled material sculptures; Teree Settembrino, wind chimes; Rick Gandolofo, acrylics; Carol Gandlofo, photography; Jim Peterson, photography; Sandee Kinnen, fused Glass; Rachel Bulisky, mixed media on stone; and Judith Victorson, ceramics.
The gallery is open from 10:00 AM until 6:00 PM daily.  For more information, call (928) 282-8143 or visit www.MovinOnGallery.com  .