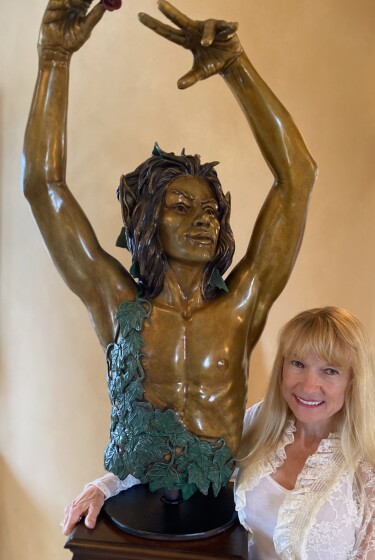 By Tommy Acosta
Sedona News (August 1, 2021) Art is the present tense captured in form, forever. Each time true art is viewed one is transported into the here-and-now. The past and future are suspended as we immerse in the whim of the artist.
Such is the art of Sedona painter and sculptor Christine DeSpain Schroeder.
Effervescent, spiritual, whimsical and playful are adjectives that come close to defining the extraordinary paintings DeSpain has created through the years.
Her paintings range from depictions of Native American children in full tribal costumes, fairies and children suspended in magical moments and paintings capturing the leitmotif of present times.
Each painting not only reverberates the feeling and soul of the subject but creates a bond with the unconscious mind of the viewer that lingers and does not fade.
The word that best describes these emotions is the word love for it is with love she gives birth to her art.
Born and raised in the Southwest. DeSpain comes from a family of pioneers, settling in Arizona four generations ago.
Her family owns property in Prescott that has been passed down from one generation to the next.
From her Southwest roots she developed as an artist, being drawn to the art from a very early age.
"I started when I was four years old," she said. "My mom bought me a paint-by-numbers kit and I was hooked."
She began her professional career painting portraits of Native American children dressed in traditional garb.
With spirituality as her guiding hand, she painted portraits in oil that captured the essence and soul of her young subjects.
She said that she felt like she was helping to preserve the culture of Native Americans through her paintings of the children.
" I loved being there," she said of her visits to the Reservations to photograph the children. "I loved the experience. I felt as though I was helping preserve a culture that was quickly fading."
During those years she created a technique where she placed beads of paint on the canvas that captured the look and feel of the beads in the children's costumes, elevating the paintings from a simple two-dimensional form to a three-dimensional painting that viewers can touch and feel.
As she progressed, she painted beautiful depictions of her young daughters posing as enchanted mythical children playing with fairies and other spiritually symbolic creatures.
She also captured angels and other mythological characters on canvass.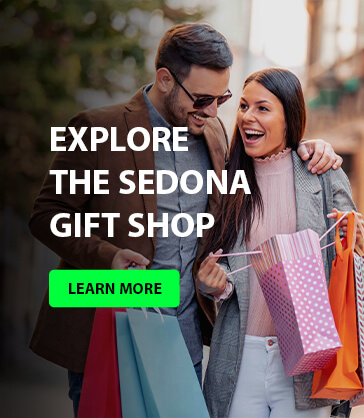 Growing as an artist, she was inspired by the best.
"Some of my influences came from seeing in person the works of famous artists from around the world," she said. "Seeing the paintings of the masters close and in person allowed me to see the textures and truly understand what the artist was doing. Seeing photos of the classics does not do them justice."
She was also influenced by French impressionists like Monet and Van Gogh.
"I admire William Waterhouse as well," she said. "And I love the work of Maxwell Parrish. It's magical to me. I also worked under Corrine Anderson."
She said that her muse can come to her from many different sources and places.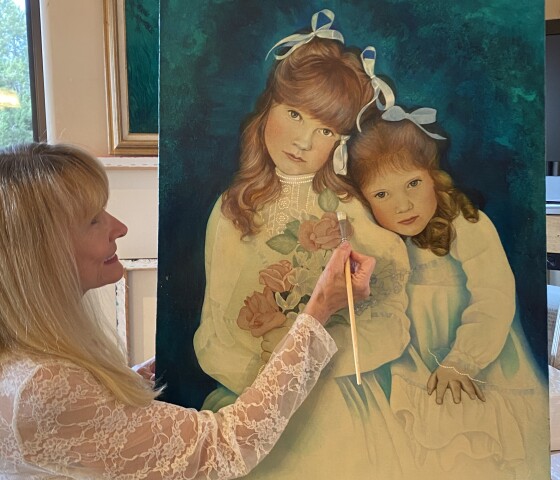 "Sometimes my inspiration comes to me in dreams or from something that I saw in nature," she said. "When I got a good photograph of Native American children in traditional Native costumes, that inspired me as well. I can get my inspiration from anything and everything. I am very spiritual, and I receive spirituals guidance. I am motivated by spirituality and love of art. The joy comes in the act of creation. I paint from the inside out. This is the beauty I feel, see and know and want to show to others. I try to paint what I see; that which comes from deep inside of me."
DeSpain considers herself lucky to have a beautiful studio in her own home and the loving support of her husband Michael Schroeder, who provides everything she needs to pursue her art.
She works there every day, either creating new abstract acrylic compositions or teaching students. She said when she receives new art supplies, she feels like a child getting gifts.
"It's like Christmas to me every day," she said, smiling.
Five years ago, she began losing her sight and found it difficult painting on canvass.
Not to be deterred she redirected her creative energy to painting abstracts with acrylics, sculpting in Bronze and teaching.
"It gives me great joy to teach others to create art," she said. 'It's a wonderful feeling to help them tap into their own spiritual and creative energy."
DeSpain has completed her first bronze sculpture under the tutelage of Sedona Master Sculptor, John Soderberg.
She titled it "Puck," after the fairy from Shakespeare's "A Midsummer Night's Dream."
"The sculpture represents the energy between humans and the mystical surroundings of Sedona," she said. "He was a mischievous fairy using 'The Flower' to cause people to fall in love. Love is the greatest power in the universe."
And love is what DeSpain's art is all about.
Presently, she is negotiating to have her art displayed in a local gallery and when it is finalized it will be announced.
To learn more, please visit ArtofDespain.com.