By Jennifer Epperson
(April 10, 2018)
Recognize this corner? It is part of uptown Sedona's Stroget, or walking street. Sedona has long been in the news for its eco-friendly tourism, but this final segment replacing the decommissioned 89A highway, completes the ecofriendly uptown neighborhood and business district and elevates Sedona to "Healthiest City", and been named one of the most walkable neighborhoods in the United States.
Sedona banned combustion engines from its city limits in 2050. Citizens, government and the Chamber of Commerce collaborated to change the city landscape to enhance the natural one.  Electric, solar and wind powered vehicles form a web of public transportation that serves the residents and visitors alike.
Back to this picture of uptown Sedona. This is the beginning of the walking district. Designed to move pedestrians easily and safely through the commercial district and mixed-use properties, the walkways have become an attraction in themselves. Uptown Sedona was always a walking neighborhood, and the uptown property owners enthusiastically approved the changes.
"I knew when we instituted PAID parking to all lots in uptown (goodbye giant RV's!) and made our neighborhood streets one way and walkable, and of course, improved the drainage, we were on our way to seeing our vision completed! Getting combustion engines out of the city limits!" cackles Jennifer Epperson, former Director of influential neighborhood organization Make It Uptown. She still lives in uptown, but now in the Nursing Home for Old and Wayward Artists, a clever age-in-place environment developed through a federally funded tax incentive program for redevelopment of the historic and sustainable uptown district.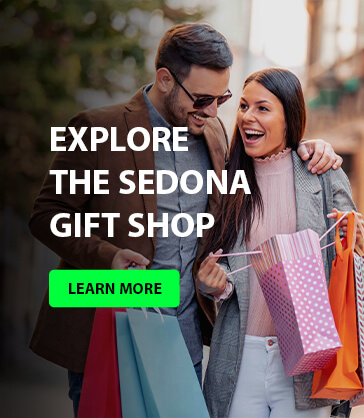 "And another thing we did right was to develop this affordable housing in uptown! Oh, I know, people fought it, damned ignorant fear mongers," Epperson chortles, "sometimes you just gotta do what makes sense. Now uptown employees can walk to work, have kids in a safe neighborhood, and have interesting old people as neighbors!" The scrappy nonagenarian waves a fluttery goodbye with her scarf and walks up the stroget to her shared casita.
The quaint "village" scale of uptown's most historic neighborhood, Sedona Subdivision, circa 1950's, is a draw for photographers, hikers, birdwatchers, and artists. The neighborhood itself is slowly being repurposed with the scale and the "midcentury cowboy" architecture preserved. Some properties have been remodeled for long and short-term rental to visitors that want an ecofriendly vacation away from pollution and driving.
Residents of uptown still drive their cars, but many have been replaced with electric or wind powered vehicles. Ninety percent of the fulltime residents use the easy, dependable public transportation.
Finally, we return to the painting above, showing the corner of Forest Road and the former 89A. It is now the year 2100. All the people who envisioned a more beautiful sustainable Sedona, all those stewards of this magic land, are dead. The average temperature is ten degrees warmer year-round. The average rainfall is 9 inches per year, half that of the early part of the 21 century. All fossil fuels have been banned. A visitor in a climate-controlled HAZMAT suit Segway's along the stroget, while one of Pink Jeep's latest fleet of wind-powered personal transport lands at Aerostation 1, tilting slightly in the strong wind blowing from the Rim.
Our Sedona, our legacy.
Jennifer Epperson is an artist and art activist living and working in Uptown Sedona. The painting shown here, Climate Change, is part of Sedona Icons, a series about the Sedona built environment.