Sedona AZ (June 2, 2013) – Word has it on the streets that something is happening in Sedona. We can feel it if we pause for a moment. We sense it. Coffee houses normally filled with happy latte lappers are quiet as suspects whispering in muted tones. Eyes are darting around the room like offenders avoiding discovery. Offices are empty. Restaurants are half full. Notice the vacancy rate. Are there any terrorists lurking? Are there offenders who have not paid their fair share to the franchise?
The first clue hit me out of the blue: I had a question to ask at the city clerk's office. When I arrived, I discovered that there had been installed one inch thick plexiglass windows over the counters between the citizens and city staff. One now has to stand on tip toes like we used to do when we would peek at a baseball game over the right field fence. We speak through a circle of 8 quarter inch wide holes drilled in the glass. It's very intimidating, indeed. After that unfriendly greeting, I forgot what I was going to ask at the counter. The man behind the counter smiled nervously, recognizing my surprise at the barrier between us, and trying to hide his embarrassment as he tried to act as if everything was normal. Oh yes, I remember why I was there.
"Is the City Clerk in", I asked. "She's at lunch" he replied. "It says here that lunch is from 12 to 1 pm, and it's 1:45." "She had something to do today, so she took lunch at 1:30. I can take a message for her, if you like". "Thank you, I'll come by another time", I replied lowering myself off my tip toes to stand straight. Days later, another city official, when asked why the barrier between citizens and staff was erected, said it was for protection against terrorists. Queried further about how many terrorist acts we had at city hall, he stated we had none, but now we are protected, just in case. Remember: "You're either with us or you're with the terrorists". While the gesture was appreciated, the sense of friendliness in our small town evaporated, like water disappears on a hot rock in Oak Creek after a summer monsoon. The war on terror has reached our town. Now, we are constantly reminded that we should be afraid. It was written on a subway wall: "Oh Lord, please protect me from the government that wants to protect me."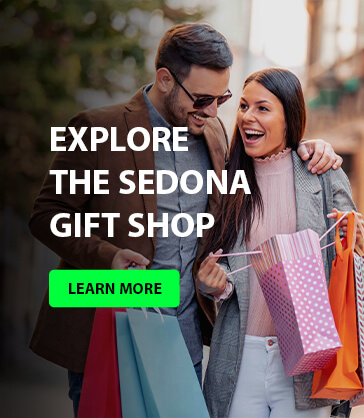 What people are sensing is the disappearance of that small town sense of community. It felt safe to be here. That was my second clue something has shifted. We all remember that comfortable feeling of being wrapped in a warm fuzzy blanket. Remember too, this why we moved to Sedona in the first place. In all the excitement we seem to have forgotten. Big Brother is our new security blanket. The reasons we moved here are getting harder to find. Deals that used to be done on a handshake are replaced by pages of legalese mumbo jumbo with penalties for the slightest infraction.
With all this drama about fear and trust we now find the goodness of daily life in our cozy hamlet called Sedona has disappeared as we drift away from the simplicity and beauty of life in and around national the forest. The "outside" world sees Sedona as this special place, sort of like Oz on steroids. The city of enlightenment and Metaphysical Mecca of the Western world is what people believe. They don't know what is bubbling just beneath red dust. Here, dialogues on topics such as intuition, spiritual beliefs, psychic happenings, UFO's and life in general are commonplace. It's been said everyone who comes to Sedona is seeking an experience of some kind: spiritual, healing, inner exploration, a ride iin the back country, maybe a workshop. It's like people have been given permission to venture into taboo subjects that are not normally shared in the open outside Oz. And share they do. Rent a house for two months to find inspiration to write a book and you'll be surprised where that inspiration leads you.
All those experiences are still here, although there are now fewer businesses and individuals to interact with. Rising costs of doing business here and a gauntlet of city codes suggest we are not a business friendly city. Sedona has become a brand and, as with all brands, royalties and franchise fees must be paid. Yet, the best things still here are free. Walk through the woods and smell the trees producing fresh oxygen sit by Oak Creek and listen as the water shares its secrets, hear the birds and animals talk to one another. Marvel at the dark skies when you're off the main drag. Bump into a stranger on the path and share pleasantries without feeling afraid.
Remember who we are and why we are here in this beautiful place, on this magnificent planet. Is it to be managed, with maximum profit, or is it to realize our true nature and become that which we are seeking to become?