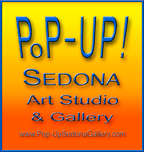 Sedona AZ (March 22, 2013) – Pop-Up Sedona Gallery in Hillside Sedona spotlights award-winning iron artist Richard Barnwell, along with the noted fine art photographer Jim Peterson. Both will be on hand to meet the public and discuss their work at the First Friday reception April 5, 2013, 5-8pm. Enjoy refreshments, lively conversation and celebrate the beginning of spring!
Richard Barnwell, of RB Designs, won top honors in the sculpture category, for his sculpture "Outpost" in the Sedona Arts Center's 33rd Members' juried show.
Barnwell is one of eight artists recently juried into Sedona Art Center's Fine Art Gallery.
Richard began his artistic career working with wood, but became impatient with the medium because he did not like waiting for the glue to dry. He then enrolled in metal shop in high school, where he found his passion and honed his skills. After high school, Richard's photographic talent led to a career in newspapers and television. He created his own satellite uplink business, Central Coast Uplink, and owned it until 2005.
After 30 years in the print media and broadcasting industry, Richard and his wife Renata moved from Monterey County, California to Sedona,. They built their home and studio in the Village of Oak Creek. Barnwell creates custom wrought iron works including iron and metal gates, iron chandeliers, granite tables, iron wall sculptures and artistic candleholders. Richard's love of line and form and a perfectionist's attention to detail shows in his iron art, and assures continued success with his RB Designs business.
Jim Peterson has a passion for superbly detailed images of the natural world. He works to preserve our natural legacy by fostering wider appreciation of our fragile world.
Jim's work includes portraits of wild beings, majestic landscapes, and experimental compositions. He accepts commissions for family and commercial assignments. Jim grew up in New Mexico, where he developed a lifelong attachment to the illuminated spaces and sculpted forms of the southwest.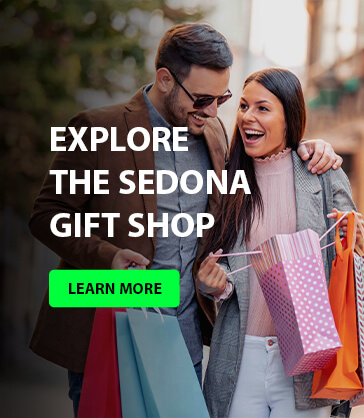 Jim earned two degrees (a BA in Music and a PhD in Biochemistry) from the University of Chicago. He left the academic world for a career in telecommunications and computers. He worked at Bell Labs, and at GTE Communication Systems, and held positions that ranged from highly technical assignments to planning and management. In the midst of all that, his relentless right brain persisted in churning out ideas and visions embodied in his works.
After retirement, Jim created his professional photography business. He has served as a board member for seven different non-profit organizations. His fine art photography has been featured in Phoenix and Sedona galleries, and is in a number of collections worldwide.
In addition to Barnwell and Peterson, Pop-Up showcases 12 other local artists, representing a remarkable variety of mediums and styles. The gallery exhibits the creative work of painters, photographers, sculptors, jewelers, potters and glass artists. Pop-Up! Sedona Gallery is operated entirely by the artists, giving visitors the opportunity to meet the artists and discuss work exhibited in the gallery.
A portion of each sale at Pop-Up is donated to Yavapai Big Brothers, Big Sisters, whose mission is to enhance the lives of children through quality mentoring relationships. The need for this fine organization has never been more urgent. Pop Up Sedona Gallery is proud to partner with this organization.
Pop-Up is located on the upper level of Hillside Sedona Center, 671 State Route 179 (about 1/2 a mile south of the "Y" in Sedona).
The gallery is open 10 am to 6 pm every day. For information, call 928-282-8143 or visit .