By [Concerned Sedona Resident]
(April 18, 2016)
This is the second in a series of three follow-up articles to the "Selling Sedona" series published this time last year.  Last week we documented the failure of the Chamber of Commerce's big city-funded marketing push to generate new tourist tax revenue.  This week we look at the impacts of Sedona being overrun by day-tripper tourists.
Part 2
While the big marketing push failed completely to generate new tourism revenue, it succeeded spectacularly in another way – namely generating hordes of day-tripper tourist traffic.  The irony is that all that traffic was a major reason why the advertising push failed to generate new revenue.
Here's how that happened.  First, data from both the Chamber's uptown visitor center and the Forest Service visitor center in the Village of Oak Creek continue to show that upwards of two-thirds of Sedona visitors are here for just part of a day.  That should be no surprise since a significant part of the Chamber's tourist advertising is focused on just that according to Michelle Conway, the Chamber's marketing director.  Conway reports, for example, that this year's winter tourism promotion targeted the "drive market of the Phoenix Valley," so people drove up – for the day. 
Other Chamber marketing efforts included signs at Phoenix airport baggage claim areas, distributing over 200,000 of the Chamber's signature publication called "Experience Sedona" at the Phoenix airport along with placement of airport banners, billboards on Phoenix highways and promotions with hotel concierges.  By the time tourists reach those promotion points, they already have their plans and reservations made.  The best Sedona gets is someone with part of a day to spend.  So they drive up for a half-day look, perhaps take a short hike, spend almost nothing, clog our highways, jam our trailheads and parking lots, empty their trash and leave.  More and more, Sedona in evolving from a destination economy to a drive-through economy.  With day-trippers, it takes a very large amount of traffic to generate a small amount of tourism revenue.
The huge majority of tourists arrive by automobile.  When they reach Sedona, whether they plan to stay a few days or just drive through, they find traffic jams and long waits to just get into town like this typical back-up on Hwy. 179.  Those who do stay have to wade through the same traffic every day trying to reach sites they want to visit.  This diminishes the experience for those who stay and discourages the day-trippers from coming back.  Those who stay now linger a shorter time.  This is another reflection of their growing irritation.  The magic is dying and experiencing Sedona becomes no longer worth the frustration.
When they finally do arrive, tourists find crowded facilities, overfilled parking lots and long lines at popular places.  This photo from along Chapel Road has become iconic of many tourist destinations in Sedona.  City residents who live near these areas report feeling like prisoners in their own homes because even nearby residential streets are jammed with tourist traffic and blocked by visitors driving around looking for a place and parking wherever they can find.
And, when a visitor tries to stop for a short hike, they encounter areas like this trailhead overrun with people and vehicles, significantly diminishing their Sedona experience.  The Forest Service, on whose lands most trailheads are found, are also overwhelmed by the mobs and often unable to control what takes place there.  Many of the trails themselves have become littered "hiker highways" and beyond the Forest Service's ability to properly maintain them.  Forest Service data shows that use of their trail system in the Sedona area has tripled in the last 10 years.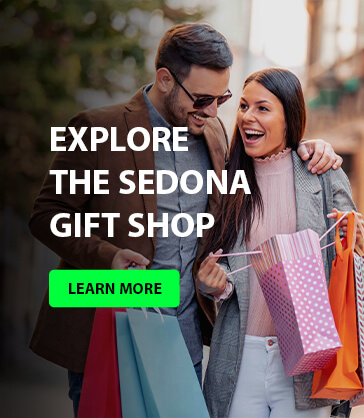 And still the City and the Chamber keep trying to attract more and more.  Much of their advertising about trails in this area is inaccurate and misleading.  Their focus on sending people to easy hiking routes only leads to scenes like the one above. 
If you go to the movies or a sports event and the place is full and the seats are sold out, you go somewhere else or come back some other time.  Not so with the trail system.  Chamber advertising and the local promoters they work with just keep sending more and more people to the same places.  The city is finally putting up "No Parking" signs to keep people out of some neighborhoods.  Those will be only as good as the enforcement behind them.  Full trailhead parking lots only seem to encourage visitors to go find somewhere else close by and force their way in whether there is space or not. 
Larger parking lots are no solution.  That only puts more and more people on trails that were not designed for that kind of pressure.  Making the trails wider and wider only destroys the quality and intimacy people came here to experience.  No matter where one turns for solutions, the result and the message are the same:  We have reached and exceed the capacity of tourists our city and the environment can sustain.  It's time to dam the tourist flood!
This whole situation is costly to visitors and residents alike in degraded experiences, diminished quality of life – and in money as well.  For example, the City and Yavapai County recently announced a $1 million project to repair and repave Dry Creek Road through the area shown in the two photos above.  That's one million dollars to repair just a relatively short part of damaged city and county road!  Ironically, that's the same amount of city tax money being spent on misguided advertising by the Chamber to attract these day-use throngs in the first place. 
Ultimately, these problems have a cumulative effect, especially since a primary way tourists are enticed to come to Sedona is by word of mouth.  Comments from friends and social media, as verified by data gathered at the Chamber's uptown visitor center, is the major way people are enticed to visit Sedona.  These person-to-person connections share information about both the good – and the bad.  It takes more red rock scenery, galleries and restaurants than we have to overcome the bad word about the congestion, stalled traffic, overcrowding, damaged trails, trampled vegetation and the declining visitor experience. 
So just how long do we think the tourists will keep flooding into Sedona, even for just a low cost drive-through?  How long before that negative word of mouth advertising overwhelms the million dollar advertising your tax money is funding the Chamber to produce each year?  What return are we actually getting for our tax-funded advertising and what number of tourists are really needed to subsidize our city operations?  And, finally, how many tourists can Sedona actually sustain and still preserve our resident's quality of life and a quality visitor experience?
Next week, we examine these issues and the question; "Is Sedona's tourism a bubble economy?" 
(Over) Selling Sedona: Decision Points
How Do They Measure Up? Part 1 • Part 2
The Fallacy of Transit
Simple Solutions
Selling Sedona – One Year Later: Part 1 • Part 2
Selling Sedona, 2015: Part 1 • Part 2 • Part 3 • Part 4 • Part 5 • Epilogue