By Melanie Lee
Author, "A Year In Sedona~Meeting The Muse At Wisdom's Edge"
(June 4, 2018)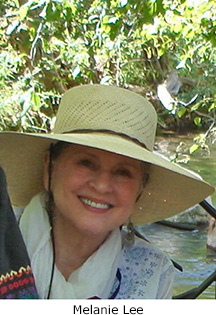 "The most restorative landscapes … are the ones that hit the sweet spot of being interesting but not too interesting.  They should entice our attention but not demand it.  The landscapes should also be compatible with our sense of aesthetics and offer up a little bit of mystery."
—The Nature Fix by Florence Williams
Sedona, with its stunning natural beauty, is nothing if not a mecca awash in opportunities for spiritual growth. When Louis and I started looking at rekindling a relationship with the Muse, it didn't take long to figure out that we'd best look to nature for places where the Muse lived. Places like the beguiling and welcoming Amitabha Stupa and Peace Park, a 14-acre meditation garden and wildlife preserve not far from our house. We went there as often as we could, greeting each day by honoring the forces of creativity, compassion and gratitude, surrendering to the call of the Muse.
Meditation was not new of course. It was something we'd done back in the Sixties, when Transcendental Meditation was popular on college campuses. Louis was off at theology school in Austria then, but I was getting a proper education in expanding spiritual boundaries at the quite progressive University of Texas in Austin. Back then I liked TM because it was the in thing, everyone was doing it and I could join a new club where I got a special password (mantra) and become friends with people I thought were on their way to what passed for enlightenment in those days. After my college days, when I explored world religious traditions and studied the writings of spiritual luminaries, I discovered meditation wasn't really that exclusive at all. It had throughout history been a revered, ancient practice available to anyone ready to learn to sit, surrender and breathe, and it had adherents from every kind of spiritual and religious background, all over the world. Later, life ensued, marriage happened, a career and children became priorities and my interest in a meditation practice dwindled dramatically. Fast forward fifty years to the second half of life and it was time for a reboot with a move to Sedona.
Sedona's Amitabha Stupa was a jewel, a small urban wilderness and nature preserve open and free to all who sought peace.  Most of the great meditators of the past had meditated right out in nature, so why not us? Why, Buddha himself had found enlightenment by meditating, not in his living room, but in nature under the Bodhi tree. In nature we practiced the same sort of 'soft focus' that's present when listening to a favorite music radio station — tuning in, letting it wash over us and then observing what happened. The Stupa grounds held a little donation box for those who wanted to give something, but there was never a fee or obligation of any kind to join the group meditations or walk the grounds. The people in charge of things had kept the place rustic but nice enough so that everyone felt safe and comfortable participating in ongoing activities. It hosted hundreds of visitors annually but never felt crowded, except on ceremonial days when special celebrations took place. Events like prayer flag making ceremonies, traditional festivals, auspicious observances and seasonal meditation instruction were offered at least once a month. We enjoyed sitting in the small viewing stand area covered by a plastic roof and filled with not uncomfortable plastic chairs where we sat to admire the stupendous scenery, including iconic Chimney Rock. On the night of the full moon every month, unless it snowed in winter, we climbed the short, rocky trail up to the Stupa to join other meditators surrendering to the present moment.
[soliloquy id="44342"]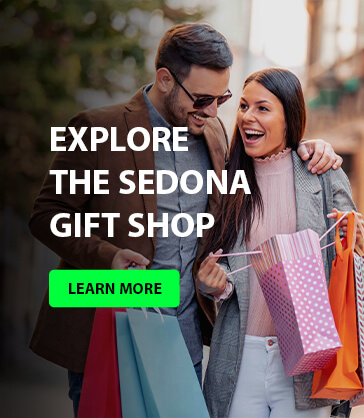 The monthly sit drew locals and travelers alike, some of whom compared the Stupa to healing sites from all over the world, places like Santuario de Chimayó in Northern New Mexico or the shrine at Lourdes. Sedona is an international dark sky community and the nightly blanket of stars spread overhead was unfailingly stunning. Even if a bit of cloud cover lent a soft and fuzzy mystery, the rising moon was always powerful enough to offset it, casting a golden glow on all of us as we sat for an hour with Buddhist nun Ani Miranda Coates, a generous spirit and one of the Stupa's stalwart caretakers.
During meditation, the solace of approaching twilight took hold, deepening an inner stillness as gentle breezes caressed our faces. With a chorus of evening sounds swelling in unison, a magnificent symphony of crickets called for calm as a lone owl hooted his hypnotic refrain. Fragrant juniper, pine, cypress and sage whispered their old, sweet wisdom, as barely discernible rocks took on oddly familiar shapes in the growing shadows, suggesting sentient beings beyond the viewing stand. It was so much easier to be in the here and now, to be grounded in the present moment, there in nature. Look, somebody whispered, was that a monk? A meditator maybe, answered another. Could be an old wise woman with a cape and hood, I said. With every sense engaged, we imagined ourselves surrounded by the beneficent spirits who lived there, guiding us on the path to remaining in the present moment.
 By the end of our first year, we' found a new way to be in nature, soft focusing had become our preferred practice, and we even put up a string of prayer flags in our own tiny back yard nature preserve to honor the experience. Each time a sit in nature was over, it was as if we'd been in a spiritual shower bath, cleansed and blessed by releasing frets, worries, anxieties and other demons back into the wild.  By honoring the timeless and universal conviction of the present moment in this way, we met the Muse anew and discovered it had much wiser plans for us than we could ever have imagined on our own.
Melanie Lee is an award-winning writer, editor, artist and author. Growing up in Texas, she read mostly biography and autobiography and dreamed of being a writer who could help inspire others to meet their muse by honoring beauty in everyday life. She holds degrees in languages and journalism and was a features editor and columnist, writing everything from lifestyle stories and business news to profiles of entrepreneurs, artists and inventors engaged in the creative pursuit of right livelihood. She lived for ten years in Northern New Mexico where she was creator and director of Sojourns Writing Workshops of Santa Fe.
At the second half of life she moved to Sedona with her husband Louis Michalski. She met her muse anew, took up painting, became a yoga teacher and avid hiker and wrote "A Year in Sedona~Meeting the Muse at Wisdom's Edge",  available on Amazon.com or from the author. She can be contacted at 
P.O. Box 1419   Sedona, AZ  86339 or   atwisdomsedge@gmail.com