Sedona AZ (August 21, 2015) – The Arizona Community Foundation of Sedona has announced the recipients of the 2015 Spirit of Sedona awards, which recognize individuals, businesses and nonprofit organizations working to enhance the quality of life in Sedona and the Verde Valley. The honorees will be honored for their service and dedication to the community at the 15th annual Spirit of Sedona Awards on Sunday, October 4.
Lifetime Achievement Award, Dr. Rod Abbott
This year, Dr. Rod Abbott will be recognized in memoriam with a special Lifetime Achievement Award, which is awarded only occasionally to individuals who demonstrated exceptional community service during their lifetime. Abbot moved to Sedona from Michigan after retiring from a career in hematology and oncology. He served the Verde Valley Sanctuary and the Sedona Arts Center as a board member as well as the Sedona Arts and Culture Commission as a commissioner for multiple terms. Abbot was involved in establishing the Greater Sedona Chili Cook-off with the Rotary Club of Sedona and helped raise thousands of dollars for scholarships to support students of the Sedona Oak Creek School District through Sedona 30.
Philanthropists of the Year, Eric and Bernadette Meyers
Eric and Bernadette Meyers will be recognized for their substantial contributions to community services. Meyers founded National Processing solutions in 2003 and has leveraged his success to support worthy organizations like the Verde Valley Caregivers Coalition with both personal donations as well as contributions of his company's gross revenue.
The Meyers were instrumental in the launch of the recent "900 New Neighbors in 2015" campaign to support the Verde Valley Caregivers Coalition in modifying homes for wheelchair access. Eric currently serves as Board Treasurer for the Coalition and serves on the Board of Camp Soaring Eagle. Bernadette has served on fundraising committees for Verde Valley Habitat for Humanity, Verde Valley Senior Center, St. Joseph's Catholic School as well as Camp Soaring Eagle.
Their contribution with the broadest impact has been the establishment of the NPS Payments In Kind program, through which NPS customers choose a charity to benefit from a portion of their credit card fees. In 2014, more than $200,000 was distributed to local nonprofit organizations through the Payments In Kind program. The Meyers expect that figure to double in 2015.
Volunteers of the Year, Randy and Milton Crewse
Randy and Milton Crewse will be honored as Volunteers of the Year. They have served several organizations, including the Sedona Oak Creek Canyon Lions Club, Sedona Recycles, Sedona Red Rock High School and Verde Valley School. For nine years, the Crewse's annual Tewa Holiday Project has provided food, blankets, personal items and clothing to Tewa Elders living on the Hopi Reservation. The project has grown from supply collection and delivery to include students at the Verde Valley School who provide toys, coats and hats to Tewa children through their annual Coats4Kids drive.
Nonprofit Organizations of the Year
Rainbow Acres and the Sedona International Film Festival and Workshop will be recognized as Nonprofit Organizations of the Year for their positive impact on the community.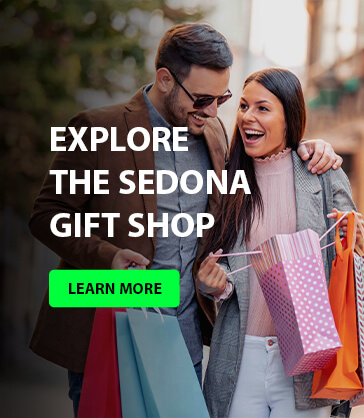 Rainbow Acres serves 90 adults with disabilities, called Ranchers, who take part in daily work crews and vocational training, allowing them to find jobs in Camp Verde and Sedona. It was selected for the immense impact it has on the lives of Ranchers and their families in helping the Ranchers live a life of purpose and self-sufficiency.
The Sedona International Film Festival and Workshop has grown to a premier festival in its 20 years celebrating independent film. It draws hundreds of visitors each winter, from future filmmakers to actors to cinephiles from across the Southwest. In that time, the film festival has become a hallmark of the local cultural landscape as well as an important economic driver.
Business Benefactor of the Year, Sterling Financial
Sterling Financial will be recognized as Business Benefactor of the Year for its significant investments in local youth. Principal Marc Sterling has mentored and provided internships for more than 300 Red Rock High School students and helped dozens find jobs. As a workforce development project, he purchased Zainey's Yogurt, where local students work in all roles from management to cashier. His example motivates employees to be involved in leadership roles at area nonprofit organizations.
Community Collaborator, Rotary Club of Sedona
The Rotary Club of Sedona will be honored with the Community Collaborator award for its efforts to bring the community together to make a difference.
In the aftermath of the Slide Fire, the Rotary Club quickly coordinated a photographic exhibit at the Sedona Arts Center involving a number of community organizations and more than 60 photographers represented as well as poets, musicians and painters. Funds raised from the exhibit were added to the Slide Fire Response Fund administered by the Arizona Community Foundation, which supplied communications devices to responders in Flagstaff and funded the Sedona Fire District's "Firewise" campaign.
The Rotary Club has also leveraged the power of collaboration to support Imagination Library in providing a book per month to local youth, and the Club's annual Greater Sedona Chili Cook-Off is organized in partnership with Tlaquepaque to celebrate Cinco de Mayo.
Nonprofit organizations that received awards through the 2015 competitive grants process will also be recognized during the Spirit of Sedona, which will be held at the Hilton Sedona Resort at Bell Rock. For more information about the event or this year's honorees, contact Judi Smith, Sr. Regional Philanthropic Advisor for the Arizona Community Foundation, at jasmith@azfoundation.org or call 928.282.2042.