The Story of Esther and the Persian Empire
Sedona AZ (March 18, 2014) – A visually stunning, original musical, from the Biblical story of Esther, will be brought to life on April 11, 12 & 13, 2014. Esther! ~For Such A Time As This~ is a FREE Community Event held outdoors at Tequa Festival Marketplace, 7000 SR 179, Sedona 86351. The musical stage production begins promptly at 4:00 pm, and is followed by complimentary refreshments and gifts. This year's production features several new songs and brand new choreography!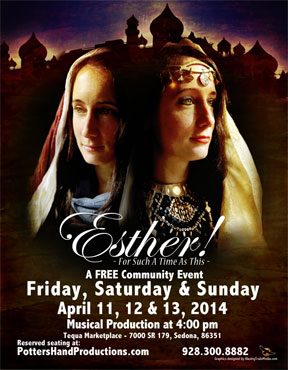 While there is free open seating, reserved seating is also available for a donation of $5.00 per seat, or there is free open seating. Please see www.PottersHandProductions.com for further event information and to reserve seating.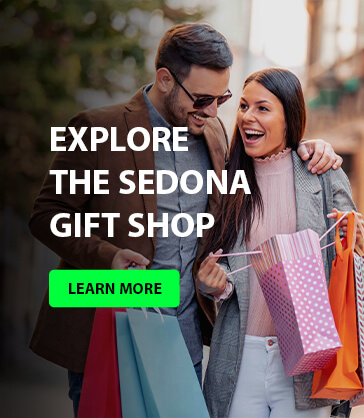 Out of the pages of history and the Bible comes the amazing story of Esther, the young woman whom God selected to save her people from destruction. The story is as heartfelt and captivating as it is timeless. Bring the whole family to enjoy Esther! ~For Such A Time As This~ and be transported back in time to ancient Persia. The worldly King Xerxes and the beautiful Jewish girl were an unusual pair whom God chose to direct the course of history for His own people.
This musical, with a lively score and historically accurate script, features a talented cast and crew from Sedona and the Verde Valley. Come and enjoy the uplifting music, festive dancing, magnificent costumes, and lavish sets. Revel in the entertaining story of how a peasant girl became Queen Esther, of the largest empire in the world, and saved her entire race from certain death. Esther's story reaffirms how God's mighty hand and His ultimate plan are always present, bringing hope to everyone.
Esther! is presented by Potter's Hand Productions, a company of more than 130 experienced actors, singers, dancers, and expert technicians, dedicated to professional Christian theatre, and unashamedly giving God his rightful glory. Potter's Hand Productions is a non-profit organization that presents several free, major theatrical productions each year. Please join us for our next event! More information is available on our website at: www.PottersHandProductions.com or by emailing PottersHand@esedona.net