Sedona AZ (January 30, 2013) – Gallery of Modern Masters, at Hillside Sedona, is pleased to announce an art auction during the month of February to benefit Rainbow Acres, a local charity that provides homes for adults with developmental disabilities.
The painting to be auctioned is "Winds of Change" from the "Ghost Riders In The Sky" series of original works on canvas by the husband and wife team of Michael Redhawk and Marlys K. Mallet.
Silent and secret auction bids for the painting, valued at $3,500, will be accepted during the month of February with the winner announced March 1st.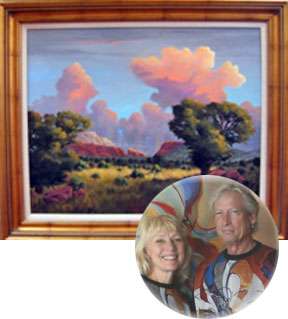 This new series of Arizona Cloudscapes will be on exhibit February 1st to 28th at the Gallery with an opening artist reception hosted by Manzanita Restaurant on February 1st. These oil paintings on canvas are portraits of Arizona's spectacular monsoon cloud formations and blazing sunsets captured by Michael and Marlys on canvas.
In keeping with their "Unison" genre, Marlys surrounds the realistic painting by Michael with flowing abstract images thus melding realism and abstraction into one cohesive work of Art.
Michael and Marlys are the most renowned painting team in Sedona. With over 60 years of combined painting experience, they are masters on canvas. Michael specializes in "conveying a pristine landscape before the intrusion of man".
His artwork features the beauty of waterways as well as the backcountry of the Southwest where he often paints plein-air. Along with Sedona scenes Michael is skilled in painting the mountains of Colorado and the beaches of the West Coast. Michael is also known as Sedona's premier jeweler. Marlys is a well-known abstract painter whose large murals adorn the Sedona Arts Center.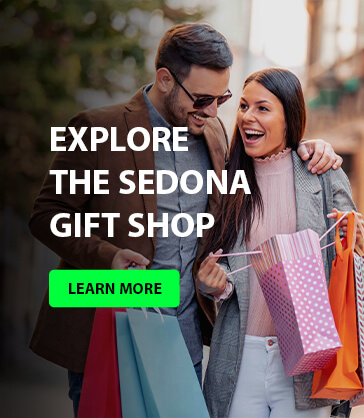 Her Art education began at the Burnley School of Art in Seattle WA continuing at McCrady Art School in New Orleans LA and Stanford University in CA. She has also taught Art to students at MIT and Stanford. Her bold large paintings are in collections around the world and she has received numerous commissions from clients and corporations. The artists were selected to paint an 8' by 15' mural for the newly completed Palmer Community Center at Rainbow Acres in Camp Verde, Arizona.
"Michael and Marlys work miracles in the lives of their Fine Art Painting Program students at Rainbow Acres," asserts Gary Wagner, President and CEO. "The Ranchers are encouraged to continue their journeys of creativity beyond their comfort levels and they complete beautiful works of art.
Many pieces have also been purchased, which increases self-esteem. We appreciate how these two professional artists give selflessly and joyfully of their time and incredible talents."
Gallery owners Jill and Zach Richardson are honored to have such an exciting event to start their 2013.
"Having Michael and Marlys' original works of art in our Gallery adds another element to our rich cultural base here in Sedona" says gallery owner Zach Richardson. "Their art work has been an excellent addition to our gallery's collection of Masters. This new Arizona Cloud series they are introducing will be a sought after by serious and casual collectors."
Gallery of Modern Masters is one of the most unique galleries of contemporary art in the Southwest focusing on award winning contemporary artists. With an exceptional selection of original art, sculpture, and glass-art by internationally acclaimed artists, the gallery boasts the largest collection of glass art in Arizona as well as Masters of the 20th Century such as Picasso, Chagall and Miro. Open Daily: 10 AM – 6PM.