Sedona AZ (January 18, 2018) – The Collective Sedona is pleased to announce a nationally-recognized and critically-acclaimed play coming to Vista Hall in February. The Collective Sedona is also introducing a brand-new format for their monthly Second Saturday Artwalks.
The Emerson Theater Collaborative presents The Mountaintop, a play by American playwright Katori Hall, which is a fictional depiction of the Reverend Martin Luther King Jr.'s last night on earth set entirely in Room 306 of the Lorraine Motel on the eve of his assassination in 1968. The Mountaintop is directed by Michele Lamar Richards and produced by Camilla Ross. In 2010, the critically acclaimed play premiered in London to sold-out audiences, won an Olivier Award, and made its way back to Trafalgar Studios in the West End for American audiences. It premiered on Broadway in 2011 starring Angela Bassett and Samuel L. Jackson.
This production was produced by special arrangement of Dramatist Play Service, Inc. New York. Show dates are February 23rd and February 24th at 7pm and February 25th at 2pm at The Collective Sedona's Vista Hall event center (second floor). Tickets are $25 and $20 for seniors and students. Advance tickets can be purchased online by visiting:  emersontheatercollaborative.ticketleap.com/the-mountaintop-sedona-az/
The Collective Sedona has revamped their Second Saturday Artwalk offering guests an interactive and engaging experience; taking on a new spin! This evening of entertainment will feature artists of all modalities including painting, sculptures, woodwork, silversmithing, musicians and more. The special feature artist this month, Johnson Yazzie, will mentor an aspiring artist in an art extravaganza. Attendees can watch as these artists paint together. One lucky winner will walk away with an "Original" piece of art.  Visitors will have the opportunity to join the Coin Toss to see who wins the painting. Yes, a coin toss! Come out to join the fun on Saturday, February 10th from 5:00pm to 8:00pm!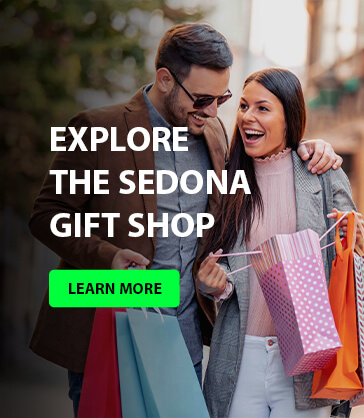 The Artwalk will also offer new twists on wine, art and music. Feeling adventurous? Learn the art of wine blending as you create your own perfect blend.  Our sponsor BLENDZ, from Flagstaff will be onsite for this fun adventure.  Guests can create their perfect blend and Blendz will bottle it up with a personalized label. Visitors can take home their very own personalized bottle of wine to enjoy for just $10.00; payable to Blendz.
Additionally, aspiring artists who do not have a store front or an online shop can now showcase their art at the Second Saturday Artwalk. Budding musicians are invited to showcase their music "acoustically" at the event and sell their CDs and wares by donation only. Interested artists and musicians must register and be approved. For more information, email:  tcsevents@thecollectivesedona.com.
Vista Hall, a special event venue located on the second level of The Collective Sedona, has announced a new Co-Op program. Do you need a professional space? A fun space? A versatile space? For a meeting, gathering, drumming circle, small event, whatever you can think of? Vista Hall at The Collective Sedona is a modern, state of the art event venue that can accommodate groups up to 200 for theater performances, dancing, concerts, corporate meetings, weddings and so much more, with room for an additional 150 outdoors.  For more information, email: tcsevents@thecollectivesedona.com or visit website www.vistahall.com
The Collective Sedona offers an eclectic mix of shops and restaurants, incredible views, celebration of life, arts and culture, promotion of health and wellness and a genuine investment in the community and its residents. Check out what is happening in this convenient location — 7000 State Route 179, Sedona AZ 86351 The Collective Sedona — the "Heart of The Village."