By Vanessa Trujillo Tenbrink
Sedona AZ (September 8, 2020) – At Verde Valley School we investigate and grow global citizenship.  We are loyal stewards of this land, of this place.  We offer transformative experiences that reveal the depths of someone's courage, character, and convictions.  We ask questions.  We uncover surprising answers.  We laugh.  We rediscover our world, each other, and ourselves. 
Who says that ought to be reserved for teenagers?  Any adult I respect would say such concepts relate to her daily life, her work in becoming the fullest version of herself, her journey in building a life that aligns with her values and deepest hopes.  Enter Verde Valley Ideas.  This festival was born out of an important realization: Verde Valley School is not just for our students.  We can be – and now we are – a beacon for life-long experiential learning, a place that brings people from all walks of life together to understand, and thus remake, our world. 
In September, 2019, the inaugural Verde Valley Ideas festival welcomed speakers, workshop leaders, and performers to our campus for a weekend of big questions and palpable community.  Investigating the theme, Ever Wonder, scientists, journalists, artists, educators, environmentalists, and economists helped us to look out beyond the horizon of our world and consider what else might be possible.  Participants engaged in intimate, hands-on labs in the morning, were inspired by a full program of talks and performances on the Brady Hall stage in the afternoon, and broke bread at the spectacular Farm to Table Feast under the stars.  A highlights film can be found at www.verdevalleyideas.org/stage.  We were all eager to see what year two would bring.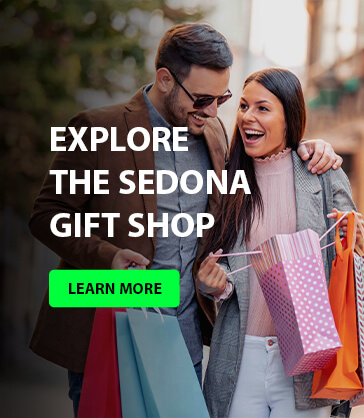 With the news of the pandemic and the threats of gathering people from all over the world, we cancelled Verde Valley Ideas 2020 in late Spring.  No doubt, it was the responsible and necessary choice.  Then, mid summer, we realized something.  Now, perhaps more than ever, we must ask big questions, we must engage with unlikely community members, we must collectively remap our future.  And so, we're raising the flag and insisting that the festival lives on, if virtually for one year.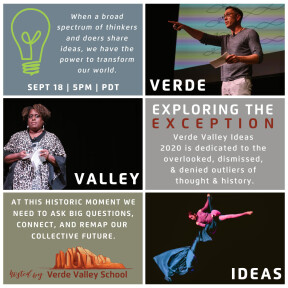 On September 18th at 5pm pacific, Verde Valley Ideas on Stage will stream to living rooms all over the world.  Speakers and performers will dig into this year's theme, Exploring the Exception, the Overlooked, Dismissed, and Denied Outliers of Thought and History.  With a surge of activism reminding all of us of the inarguable worth of black lives, we are excited and inspired to turn over stones in various disciplines and discover what awaits.  We'll learn from accomplished journalists, inspiring land advocates, friends in other nations fighting for freedom, and energy entrepreneurs working to establish a sustainable future.  There will be powerful words, inspiring art, essential questions, and – even in our separateness – important connection.  Please join us.  While this event is free to the public, we ask that you support such innovative programming by making a donation if you intend to attend the virtual festival.  We suggest $25/person – the price of last year's ticket to Verde Valley Ideas on Stage. REGISTER HERE- .org/virtual-2020
Verde Valley Ideas believes that when a broad spectrum of thinkers and doers share ideas, we have the power to transform our world.  Let us collectively rise up.  Now, more than ever, we must.