By Ted Grussing
… those of the natural world and those which we create so that we too can join in the experience of being high above the earth and bathe in the freedom of flight. I got this shot of a Heron who really did not want to fly today and can't say I blame him as it was very windy down at the ponds and he was happy enjoying the sun and waiting for food to swim close to him. I wanted him to fly as he let me get so close to him and I was concerned about not having enough frame to get him in … he did fly and I got this shot (and more).
When I got home I had received numerous more photos from Gus on the progress of the Lambada and here is a photo of the right wing sanded, partially base and seal coated and the tape laid out tapering from the root to the tip. The forward side is going to be painted a deep metallic blue; after they finish that they will shoot the white behind it and the two will "butt" up against each other so there is no seam or overlap which could interrupt the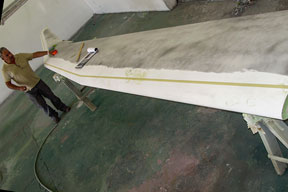 laminar flow of air over the wing. In effect it will be a seamless paint job. So two and a half days to shoot the blue metallic design and a red metallic for the spoilers that come out on top of the wing to "spoil" the lift. Then a multiple day process to shoot the rest of the plane and parts … maybe the end of next week or the first part of the week after. Photos of the completed job will be going out :+)
Another good day; nothing really accomplished that I intended, but I did spend a lot of time visiting with friends and then a delightful evening with the ISO 100 group which met at our home tonight. Lots of good food, great company and great shots to look at as well.
We're into the weekend again … have a fun … spend time with friends and family … laugh a lot.
Cheers  (whoops it is supposed to rain tomorrow and I chose this quote?) Oh well, I will find another excuse.
Ted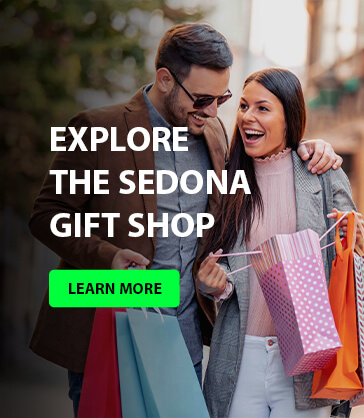 I'll not bother to reform myself today.
Perhaps tomorrow — if it is raining,
and I must stay indoors, and meditate
on the shortcomings of life.
— Max Ehrmann
###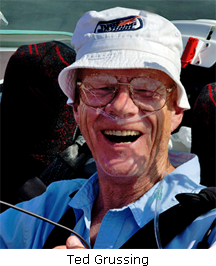 The easiest way to reach Mr. Grussing is by email: ted@tedgrussing.com
In addition to sales of photographs already taken Ted does special shoots for patrons on request and also does air-to-air photography for those who want photographs of their airplanes in flight. All special photographic sessions are billed on an hourly basis.
Ted also does one-on-one workshops for those interested in learning the techniques he uses.  By special arrangement Ted will do one-on-one aerial photography workshops which will include actual photo sessions in the air.
More about Ted Grussing …