By Tommy Acosta–
Sedona, AZ — Nestled in the vibrant heart of West Sedona resides a shining jewel of a hotel that is part of Best Western's latest boutique collection — the Aiden. The Aiden by Best Western @ Sedona is part of a trendy new collection of modern, suburban boutique hotels by Best Western with cool, laid-back personalities. No two hotels are alike and with a quick wit and ready smile, Aiden embodies the eclectic spirit of the neighborhood it's located within – a welcoming host with local Sedona flair.
Sedona's Aiden is a three-story, 66-room limited-service oasis boasting amenities that rival resorts in Red Rock Country, while keeping prices reasonable.
Panoramic red rock views, private balconies, and a pet-friendly atmosphere with a dog park welcome both human and furry guests. State-of-the-art relaxation awaits in the relaxation room featuring massage chairs that melt away tension with automated full-body relief.
You can host a family reunion in the trendy community room or ponder life's mysteries in the mindfulness meditation room. Original art by Aiden owner Dan Campbell adorn the halls and rooms, adding a dash of culture to your stay.
The amenities pamper and impress: refrigerators and premium TV channels in each spacious room, heated pathways, a welcoming fire pit outdoors, HDTVs that connect seamlessly to your devices, walk-in showers with top-of-the-line fixtures, a sparkling pool, a fully stocked fitness studio, guest laundry, FREE high-speed WiFi, a bike cleaning and repair station for mountain bikers, a well-appointed bar serving up cold drinks and small bites located on property, and free breakfast to fuel up for adventure — the Aiden has it all!
Electric Vehicle drivers can charge up at the on-site charging station. And the crowning glory – a $28,000 Concordia state-of-the-art coffee machine capable of crafting any java concoction your heart desires!
The grounds feature a winding spiritual path leading to a life-sized Buddha statue, perfect for quiet contemplation.
Guests can also create their own Cairns, next to the statue, as part of their meditation process. Cairns are a stack of stones balanced atop one another to mark a spiritual place, Cairns symbolize balance and harmony in life and the universe. They serve as guidance markers. Or guests can purchase a miniature one that's already made at the hotel's gift shop.
And that's not all. The Aiden occupies a prime central location surrounded by top Sedona restaurants and shopping, many within walking distance.
A wine and beer restaurant/bar with live music almost every night of the week waits next door via a connecting gate that leads you into Vino Di Sedona.
Hearty steaks sizzle at Steakhouse 89 across the street, while Cafe Jose nest door whips up Southwestern fare with flair.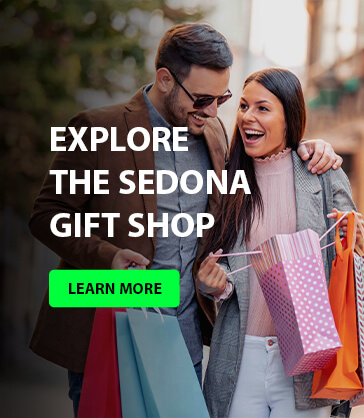 Nearby Dahl & DiLuca offers upscale Italian in a romantic, Old-World setting.
Take your palate on a world tour of flavors at nearby Golden Goose, Gerardos Pizzeria, Thai Spices Natural Restaurant, Moon Dogs Pizza, Pisa Lisa, Nicks , Hilltop Deli and when late night munchies strike, the Circle K beckons across the street.
"Guests are blown away when they experience the amazing amenities here," says General Manager Lonnie Lillie. "We offer everything you could want and incredible service – the total package conveniently located right in the thick of the action in Sedona."
Lillie welcomes visitors to take a tour and promises its first-class offerings will impress even the most discerning traveler.
"When people see the automatic massage chairs in the meditation room, it's enough to blow their minds," Lillie said.
Beyond its on-site comforts, the Aiden provides easy access to Red Rock Country's endless attractions. Major sites like Chapel of the Holy Cross, Slide Rock State Park, and Tlaquepaque Arts  & Shopping Village are just minutes away. The Grand Canyon, Montezuma Castle, Jerome, and more beckon day-trippers.
Lillie's aim? To offer the finest service and hospitality anywhere.
"We are dedicated to providing a one-of-a-kind, enjoyable, affordable stay," he said. "With our unbeatable location and reasonable rates, the Aiden delivers the best of Sedona."
This Best Western property may be independently owned, but Lillie gives it that trademark Western hospitality.
The Aiden awaits at 2545 SR 89A, Sedona, AZ 86336. Call 928-282-1533 or to learn more about this hidden Sedona gem visit. Aiden by Best Western @ Sedona