By Eric Penner Haury, Sedona Public Library Volunteer

Sedona AZ (April 12, 2013) – My name's Eric. I volunteer at the Sedona Public Library. Virginia Volkman invited me to write this week's article because I'm involved with an exciting event that will be held at the Library on April 14.
Have you ever been to the Bank of America here in Sedona? If so, did you notice a picture in the corner of Navajo men riding horses into the distance, hooves kicking up dust that blurs into canyon walls? The color is faded from years in intense light, but the beauty and artist's skill remain. Do you know who painted that?
His name was Jeffrey Lungé. He lived here in Sedona. He was a prominent Arizona artist and my granduncle.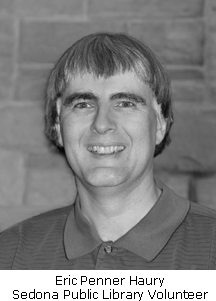 On April 14, at 4:00 PM, the Sedona Public Library will present Jeffrey Lungé: Visions of the Southwest. In words and pictures — including many of his paintings, some on slides, some hanging in the room — we will celebrate Jeffrey's life and work, as well as offer for sale a book of his art with the same title as the presentation.
Born in London, an immigrant to the Americas, Jeffrey was introduced to the Southwest by his brother-in-law (my grandfather) Ned Danson. Danson was a Southwestern anthropologist here in Arizona who went on to run Flagstaff's Museum of Northern Arizona. (And the fact that his name sounds like Ted Danson is no coincidence.) On family trips, Ned introduced Jeffrey to what would be the central theme of his art: the Southwest, its vast, beautiful environments, and its peoples.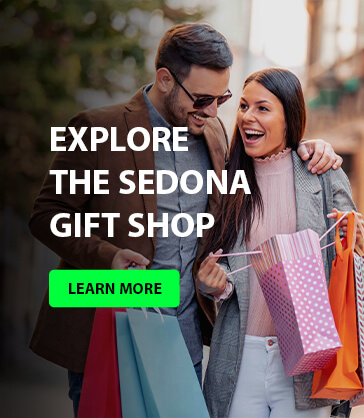 Danson recalled, "I told him to ask me to stop whenever he saw a mesa or a cliff, a tree or a vista he wanted to sketch. Jeff opened my eyes to the beauty of this part of the world. I knew I loved it—but with his artist's eye he would show me things I would have ignored—colors I hadn't seen."
"Lungé's watercolors have a tactile quality that engages all of the senses: one smells the dust carried by the wind, hears the snorting horse, or senses the serenity of the solitary shepherd," wrote former Museum of Northern Arizona Art Curator Katherin Chase. "His style is unique—his warmth is sincere—his ability to capture the spirit of a land, of a people, is rare. It is seldom that an artist attains that magical spirit, that ritualistic air, that sensitivity of appreciation for an environment. The artist's style is romantic—almost mystical, for often only the essential elements of a scene are conveyed, and thus the imagination of the viewer is called into play."
For two decades after moving to Arizona, Jeffrey Lungé had a career of unparalleled success. He had yearly one-man art shows in Scottsdale; every painting sold. They were bought by prominent families like the Goldwaters and the Babbitts, institutions like the Arizona Bank (now part of Bank of America), and ordinary collectors moved by the Southwest and the skills of the artist. He hung up his brush in the late 1980s, and died in 1993. He is buried in the red Sedona soil with family, including his brother-in-law, Ned Danson.
The Navajo and Hopi, introduced to him by Danson, feature prominently in many of Jeffrey Lungé's paintings. And Jeffrey treated them with respect. Knowing that the Hopi disliked photography or sketching at their ceremonies, Jeffrey painted the scenes he saw from memory. When Hopi opinion changed so that they no longer wanted outside artists depicting their ceremonies, Jeffrey Lungé respected their wishes. His later Hopi works focused on people in their everyday lives.
As Danson supported Lungé in life, he also supports him at this event. Along with Jeffrey Lungé: Visions of the Southwest, we will also be selling Edward Bridge Danson: Steward of the New West, a biography of Ned Danson, sharing the remarkable adventures including a voyage across the world on a sailing ship in his youth and service in the South Pacific during World War II, all leading to a long life and career in Arizona, the very Arizona that Jeffrey Lungé portrayed so expertly in his paintings. All profits from the sale of both books will go to support an academic chair in Ned Danson's name at the Museum of Northern Arizona.
"Each person that views one of my paintings becomes a partner in the adventure of reconstructing the essence of the subject," Jeffrey wrote. Join that partnership at the Sedona Public Library on Sunday, April 14 at 4:00PM. I think you'll enjoy it.