Sedona AZ (September 5, 2017) – Red Rose Inspiration For Animals looks forward to the fall season with 3 Art Shows that take place exclusively at the Olde Sedona Bar and Grill and Redrock Precision Motors at 1405 West Hwy 89A in West Sedona.  The shows are not affiliated with any other events in town and benefit animal welfare through their organization.
The first show will be Saturday, September 9th and Sunday September 10th.  With the two additional shows:   September 30th and October 1st weekend and then again October 14 and 15th.
Red Rose has been promoting shows since 2009 at the same location and is proud to represent some of the most fabulous and talented artist.   You can meet the artist in person and purchase directly from them.  Displaying everything from   clothing, accessories, jewelry, homemade farm soaps, home décor, paintings, pottery, glass art and much more.   
[soliloquy id="39976″]
Some of the featured artist with Red Rose are listed below:
June Payne Hart an English wildlife artist who painted the family cat with thick green paint at the age of three has blossomed into a talented artist who calls Sedona her home since 1980.  June was the youngest student to be accepted to study art at the Birmingham College of Art in her native England.   Her love for nature and all God's creatures provided the reason for painting these types of subjects.  Her early paintings were sold in the English and European markets.   She fell in love with all the beauty of the Southwest, and spent hours sketching the desert wildlife.   She has received many awards for her work in native England, Europe and the United States.   Her paintings are often sold prior to completion and hang in private collections worldwide, including the British Royal Family.  Much of Hart's art work is licensed to companies for greeting cards, cross stitch, puzzles, and collector Plates, fabric design and various other products.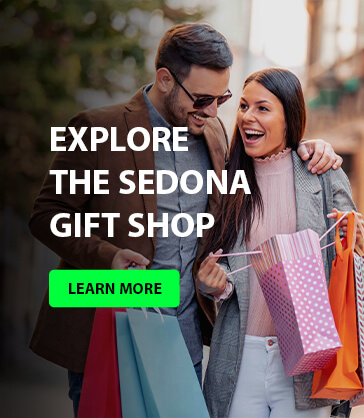 Jenny Emminger is a native to Arizona.  She uses a signature process making clay mimic the red rocks of Sedona.   Each decorative piece is handcrafted with good intent and suffused with the beauty of love for nature.
Teresa Jennings is a native Californian, who moved to the Verde Valley about 7 years ago.  The very first time she came to Sedona she knew she never wanted to leave.  Teresa has always been very drawn to colors, having been a painter in the past, she loves the movement you can achieve with color.  Teresa moved to the San Fransisco Bay area in the mid-1960s, where she loved everything tie dye.  She says she never really stopped wearing it, and had really wanted to make her own tie dyed garments, once she started, she was hooked.  Teresa has been involved in the artist communities for more than twenty years, and when she told some of tie dying friends that she wanted to have her own tie dye clothing line in Sedona, they shared some of their secrets with her. Teresa says that she loves to see people wearing something that she had a hand in creating, stating that is truly the best feeling ever.  Teresa and Red Rose have been collaborating on an up-cycled line of tie dye as well. 
Dave Sierzchula, of D&R Home Décor also known as the Trendsetters is back by popular demand.   Dave and The Trendsetters create distinct laser cut rustic décor and steel home décor products that look spectacular in any primary residence, cabin, or lodge.  They offer a vast collection of hard to find rustic décor, furniture and unique home décor products.
Karen Hammer Aka The Crimson Fairy Karen has been brightening up the Verde Valley's art scene with her whimsical stained glass since 2003.   Karen has many local collectors as well as collectors that come back year after year. She wants to keep them interested and collecting. Karen says" The world is going through some dramatic shifts  I as an artist and a human being am also going through big shifts. The way in which I make, display and sell my work is changing. I am bringing back pieces I touched on but never explored and am introducing new pieces to the collection and completely reworking my display. As an artist I am a channel for the universal creative energy. When things change I must change along with them or be left behind.  Come see what is new!"
The Red Rose Art Shows offer free parking and free admission with live music by Gina Machovina a classically trained guitarist who has been performing over 30 years.   
The artist displays from 10 am to 5 pm Saturday and Sunday at 1405 West Highway 89A.     For more information:  EMAIL: info@redroseinspiration.org  or visit www.redroseinspiration.org