Red Rose Inspiration For Animals is a local nonprofit promoting Art Shows in West Sedona since 2009.  The shows help the non-profit generate revenue for the various long term existing animal related programs, future rehabilitation center as well as potential veterinary spay and neuter clinic.   We are proud to promote the most talented local artist.
In 2014 the vision for the Red Rose Thriftique a unique thrift store and artist boutique originated from the art shows.    Wanting to provide an upscale, unique, quality, inexpensive, one-of-a-kind shopping experience for visitors as well as locals offering guilt free shopping for a cause.
In 2019 the expansion to the Red Rose Barkin Basement opened offering the organization additional space for furniture, wall art, home décor, and more.   Both thrift stores are in the Bell Rock Plaza in the Village of Oak Creek.
Red Rose helps pet owners spay and neuter animal companions for free, provides emergency medical services for homeless felines and canines and often assists pet owners on a fixed income to get their animal the veterinary care they desperately need.  The focus is reducing the over pet population; preventing felines and canines from potentially being injured, abused, or neglected.
Red Rose upcoming fall art shows:     September 29 to October 1,  October 6 to 8th,   October 20 to 22,  November 10 to 12,   November 17 to 19.
These shows take place exclusively at the Stagecoach Country Roadhouse at 1405 West Hwy 89A in West Sedona.  The shows are not affiliated with any other events and benefit animal welfare through Red Rose.
Red Rose Shows display everything from clothing, accessories, jewelry, home décor, paintings, pottery, glass art and much more.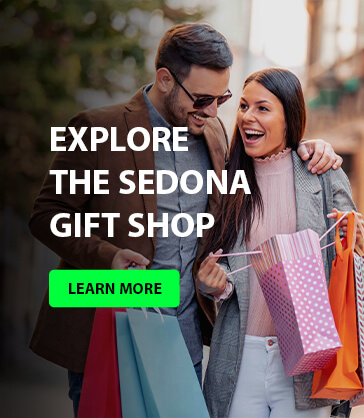 Konsept Designs-   Eddie and Danielle Diaz have been raising their 2 boys in Sedona since 2018.   Eddie started drawing at a very young age and has continued ever since.  He is self-taught.    Eddie loves drawing with fine markers using stippling and cross hatching techniques.    He also has a love for digital artwork and will combine the two to make something truly unique.    He continues to be inspired by nature, music, film, philosophy, and hopes to someday be inspiring for others as well.  Their children are becoming interested in art at a very young age 5 and 10 years old both have started drawing.
Sedona Jewelry owners Maria, and Paul Lasia and their daughter Paulina are residents of Sedona for over 20 years, and they also run a family-based business.   Paulina was raised in Sedona and created their beautiful new line using real flowers.  They usually have beautiful copper pieces creating earrings, pendants and bracelets that are affordable for everyone and make for great gifts.
Both artist families are on display at the art shows and are showcased in the Red Rose Thriftique.  This is one of your few opportunities to buy direct from the artist and meet them in person.  
They are onsite from 10 am to 5 pm Friday, Saturday and Sunday at 1405 West Highway 89A, free parking and admission with live music by Mike Peters and or Tim Young.
The Red Rose Thriftique located at 41 Bell Rock Plaza open 7 days a week Monday through Saturday 10 am to 5 pm and Sunday noon to 4.   The Red Rose Barkin Basement is located at 51 Bell Rock Plaza, Suite A.
For more information EMAIL: info@redroseinspiration.org  or visit www.redroseinspiration.org