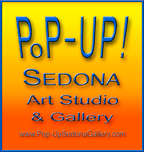 Sedona AZ (August 28, 2013) – On Friday, September 6, Hillside's Pop Up Sedona Gallery will host a First Friday reception highlighting two local artists, Al Judge and Richard Barnwell. The public is invited to come and meet the artists and discuss their latest works. The reception will include wine and refreshment and will take place September 6 from 5-8 p.m.
Featured photographer Al Judge has a singular way of approaching his art. He sometimes exploits bold designs, unconventional camera angles, and added textures to infuse his images with unique meaning and atmosphere. In other instances, he underscores a subject's essence by removing it from its original background and instead displaying it against a more divergent but less distracting backdrop. His images are thus often mistaken for paintings.
Judge's inventiveness and sense of design have played a key role throughout his life. He received a degree in Mechanical Engineering from Johns Hopkins University, and holds over two dozen Foreign and US Patents.
He was a corporate innovator for Black and Decker Power Tools for 23 years, and helped design the Lunar Surface Drill that captured samples of the Moon during the Apollo Missions. He also designed many of the world's first cordless power tools.
Since moving to Sedona a few years ago, he has turned his attention to his life-long love of photography. Judge is a prolific author of instructional books on the subject; they can be found on Amazon and are ranked in the top 1% of all Kindle books. It is no wonder he is a member of Mensa.
Featured metal sculptor Richard Barnwell spends his time creating beautiful and varied sculptures in iron and stone. His works include both decorative and functional pieces, and his highly original designs often feature gracefully harmonized curves and mythical or spiritual themes.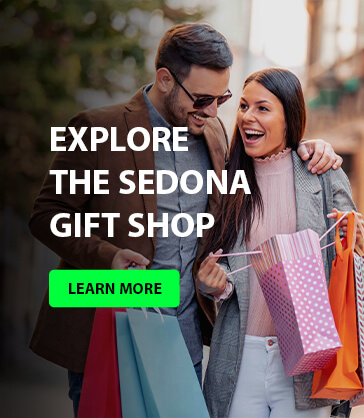 Barnwell comes to Sedona from the San Francisco Bay area and was raised in beautiful Novato, CA. His love for art arose in high school when he enrolled in a woodshop class. Waiting for glue to dry exhausted his patience, however, so he instead turned to metalworking.
After graduation, he began a career in the media field, starting with photography assignments at local newspapers and later working at KSBC television station, an affiliate of NBC. He also started a highly successful satellite uplink business, Central Coast Uplink, in 1997. After 30 years in the print and broadcasting industries, he and his wife, Renata, built their home in Sedona. Today, he devotes himself full time to iron art and custom wrought iron creations.
Pop-Up is a co-op of local artists representing a wide variety of visual art. In addition to showcasing the work of painters, sculptors, jewelers, photographers, potters, gourd, and glass artists, Pop Up is committed to giving back to the community. Thus, a portion of all sales helps to support Camp Soaring Eagle or other local charities.
Pop-Up! Sedona Gallery is located on the upper courtyard of Hillside Sedona Center, 671 State Route 179 (about ½ mile south of the "Y" in Sedona) and is open 10:00 AM to 6:00 PM daily. For more information, call (928) 282-8143 or visit www.pop-upsedonagallery.com .