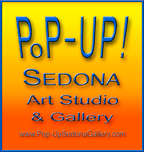 Sedona AZ (January 25, 2013) – Pop-Up Sedona Gallery continues to celebrate its talented diversity of artistry in their Hillside Sedona location. The upcoming event is the monthly First Friday Reception on February 1, 5 – 8 pm. The featured artists are Luke Metz, pottery, and Adryanna Ciera, bronze sculptor. Both will be on hand to meet the public and discuss their work at the gallery's reception. Special refreshments are always provided by the artists on First Friday receptions.
Luke Metz has enjoyed a lifelong connection to the arts. "Growing up in New York City, I was exposed to some of the greatest art in the world", he notes. "And my travels in the United States, Europe, India, Nepal and Mexico have provided exposure to the magnificent art of many cultures." While attending Columbia University he took numerous classes in art history and sculpture. He also explored photography both as an art form and as a photojournalist.
After Metz moved to Denver he made pottery for a number of years as a hobby. He had been involved in many "left-brained" endeavors including secondary school teaching, training, computer systems analysis, sales, real estate, food services, and electronic servicing. Upon moving to Sedona he stepped out of the business world and rekindled his interest in pottery, where he has been deeply involved for two years. In March of 2012 Metz was awarded first prize at the Sedona Arts Center annual member show in the category of pottery/ceramics as an emerging artist.
Many of Metz's works feature are finished in Raku, an exciting method that offers an intimate relationship with the firing of ceramic pieces. Raku can be somewhat unpredictable, and encourages exploration. "I want my raku to reflect the spontaneity of this unpredictability", Metz notes.
Adryanna Ciera is one of the Pop-Up's newer artists. She brings a fresh view of sculpture to the gallery. Her work includes intricate bronze sculptures of horses, wildlife, and people. Her love of nature is apparent in her art, as is her fascination with movement and grace.
Ciera has had a lifelong passion for horses starting from age 3 when her Mom gave her a pony named Topper. She went on to work for 20 years with some of the most beautiful and noted Arabian horses in the country. Sculpting is a way to stay connected with the horses that she loves so much.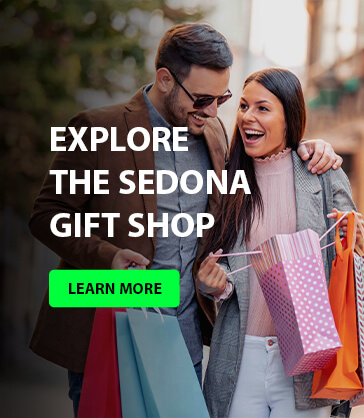 She enjoys working in clay and watching what is in her imagination come to life in the form before her. Although horses are her favorite subject, she is also enjoying sculpting the beauty she sees in wildlife and creating playful stories with stylized human forms. It is her goal to transfer feelings of joy and reverence for life to the viewers of her art through the art itself
In addition to Metz and Ciera, Pop-Up showcases the work of 12 other local artists, representing a remarkable variety of mediums and styles. The gallery exhibits the creative work of painters, photographers, sculptors, jewelers, potters and glass artists. Pop-Up is operated entirely by the artists, giving visitors the opportunity to meet an artist and discuss both the medium and the meaning of pieces exhibited in the gallery.
A portion of each sale for the winter quarter at Pop Up is donated to Yavapai Big Brothers, Big Sisters, whose mission is to enhance the lives of children through quality mentoring relationships. The need for this fine organization has never been more urgent. Pop Up Sedona Gallery is proud to partner with this organization.
Valentines Day, February 14th, is "Bring Your Sweetie to Hillside" day at Hillside Sedona Center. Pop-Up Gallery will be one of the destination merchants, and will feature special treats and demos. During the day, artists will be demonstrating their crafts, as well as working with kids and adults who want to try their hand in the process. Those artists include Rick Gandolfo and Pat Priolo, plus special demos by Elnajean Martonyi and Betty Peterson. There will also be a one day exhibit by Jim Peterson and Beverly Copen of photography of some of the "Most Romantic Places" around the world.
Pop-Up is located on the upper level of Hillside Sedona Center, 671 State Route 179 (about ½ mile south of the "Y" in Sedona). The gallery is open from 10 to 6 PM every day. For more information, call 928-282-8143 or visit .