Sedona AZ (November 29, 2012) – Holiday excitement is abundant this month at Pop-Up Sedona Gallery in Hillside Sedona Center.  For December the venue will spotlight the work of award winning photographer Beverly Kievman Copen and renowned nature and wildlife artist June Payne Hart   Both will be on hand to meet the public and discuss their work at the gallery's First Friday reception, 5-8 PM on December 7th.
Beverly's Copen's images are well known for the stories that they tell.  She traveled extensively with her late husband Mel through many countries and continents, as well as the great Southwest, always with camera in hand.  She is fascinated with observing and capturing the essence of how people live, work and play. 
Doors, windows and random portraits of people of all ages were the specialty that quickly emerged.  Composition through the lens comes naturally, and her long (but small) camera lens is invaluable.  It is, indeed, ironic that with this passion for culture around the globe, her "Sunset of the Century", the image that won the Arizona Highways Grand Prize last year, was taken in her front yard in Sedona.
She is now introducing a new collection of "Art on Photography", smaller photographs on canvas that have been enhanced with acrylic or oil painting.  These will be displayed on First Friday and showcased through December.
Copen is a passionate (and juried) photographer, with multiple exhibits at the Herberger Theater Center Art Gallery in Phoenix, Az., (January 2011 – January 2012), Sedona Art Center, Canyon Moon Theatre Gallery, Sedona, and Oak Creek Galley, Hillside, Sedona, (2010-2011).  In 2012 her work was exhibited in Cambridge,MA. at the Cambridge Art Association Gallery.  She is now a regular artist in the POP UP GALLERY in Hillside Sedona.
For two years she and Mel were commissioned to create calendars for George Brazil, well known Phoenix businessman.  The newest calendar, "Reflections – Moments in Time" is the 2013 calendar that was just published. It is now available for sale in the Pop Up Sedona Gallery.  Proceeds go to the non-profits that are important in her community work.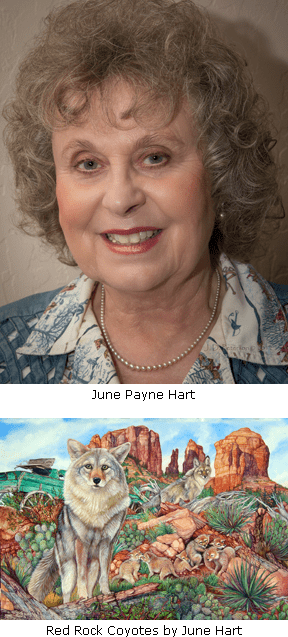 English wildlife artist June Payne Hart was once scolded for her artistic endeavors when, at the age of three, she literally painted the family cat with thick green paint. A few years later, she was the youngest student to be accepted to study art at the Birmingham College of Art in her native England.  Inspired by the English 18th and 19th century artists in her family's antique fine art gallery, she ventured into her own art career.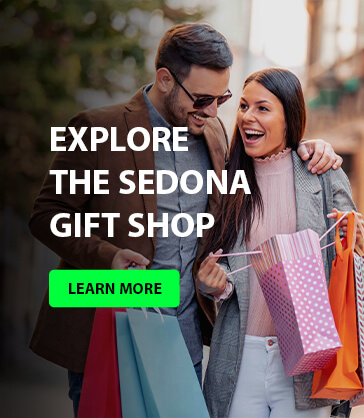 Her love for nature and all God's creatures provided the reason for painting these subjects.  Her early paintings were sold in the English and European markets.  The artist moved to Arizona in 1980.  She fell in love with all the beauty of the Southwest, and spent hours sketching the desert wildlife. 
Hart prefers to portray the gentle side of her animals.  Often they are placed in mystical landscapes, living in peace and harmony with one another and with mankind. Their gentleness can be seen in their eyes, which are always painted first her creations. It is said that the eyes are the window to their souls.
She has received many awards for her work in native England, Europe and the United States. Her paintings are often sold prior to completion and hang in private collections worldwide, including the British Royal Family.  Much of Hart's art work is licensed to companies for greeting cards, cross stitch, puzzles, and collector Plates, fabric design and various other products.
In addition to Copen and Hart, Pop-Up showcases the work of 13 other local Sedona artists, representing a remarkable variety of mediums and styles.  The gallery exhibits the creative work of painters, photographers, sculptors, jewelers, potters and glass artists.  Pop-Up is operated entirely by the artists, giving visitors the opportunity to meet an artist and discuss both the medium and the meaning of pieces exhibited in the gallery. 
A portion of each sale at Pop Up is donated to the Verde Valley Sanctuary, a non-profit which offers a safe haven for victims of domestic abuse, providing shelter, community outreach, and legal advocacy services.
Pop-Up is located on the upper level of Hillside Sedona Center, 671 State Route 179 (about ½ mile south of the "Y" in Sedona), and is open from 10 to 6 PM every day.  More information about the gallery can be found online at http://www.pop-upsedonagallery.com.