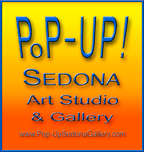 Sedona AZ (December 11, 2012) – Hillside's Pop-Up Sedona Gallery is continuing their exciting holiday activities through the end of 2012. Each of the venue's 14 Sedona artists is offering delightful artworks for gift giving – and, of course, for adding beauty to a home or office. They are now showcasing items that are can be wrapped (or shipped) for the variety of holidays now upon us.
And Pop-Up will be open on Christmas Eve (December 24) until 3:00 PM, letting customers choose from a remarkable range of functional or decorative art works to accommodate any last minute gift needs.
As a "Thank You" to their loyal customers and collectors, Pop-Up is once again presenting a unique Holiday Raffle, giving the public an opportunity to win one of three delightful, locally crafted pieces of art.
The first free raffle, over the Black Friday weekend, was highly successful. Entry forms for the second raffle are now available in the gallery. The artworks generously donated by the artists for the raffle are Richard Barnwell's "Red Globe Zen", a sculpted metal candle holder valued at $55 from his Zen Collection, Csaba Martonyi's "Sumac", a framed photograph ($55 value), and Beverly Copen's classic Canyon de Chelly image ($90 value).
The drawing will be held on December 28th at 3 pm. Tickets are FREE, limited to one ticket per household, and entrants do not need to be present to win.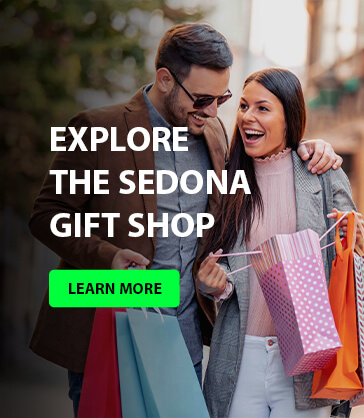 Artists June Payne Hart and Beverly Kievman Copen continue to be the featured artists through December.
In addition to Hart and Copen, Pop-Up showcases the work of 12 other local artists, representing a remarkable variety of mediums and styles. The gallery exhibits the creative work of painters, photographers, sculptors, jewelers, and glass artists. It is operated entirely by the artists, giving visitors the opportunity to meet an artist and discuss both the medium and the meaning of pieces exhibited in the gallery.
Pop-Up is a community oriented, artist operated art space; a portion of all sales help to support the Verde Valley Sanctuary or other local charities. The venue is located on the upper level of Hillside Sedona Center, 671 State Route 179 (about ½ mile south of the "Y" in Sedona). The gallery is open daily from 10 to 6 PM, but will be closed on Christmas Day (Dec. 25) and New Year's Day (Jan. 1).
For more information, call (928) 282-8143 or visit www.pop-upsedonagallery.com .