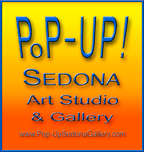 Sedona AZ (April 29, 2013) – Pop-Up Sedona Gallery in Hillside Sedona, spotlights local artists Rick Gandolfo and Sharron Porter at the First Friday reception May 3, 2013, 5-8pm. Both can be seen working on their paintings many days each month. The public is invited to stop by and view their latest art works and get to know the Pop-Up artists.
Painter Sharron Porter's subject matter is diverse, her style sensual, her compositions richly colorful, textural and dynamic. She creates portraits of real and imagined characters, using symbolism and expressive gesture. Sharron's "Goddess" series is about rebirth, transformation, and blessings. Her "Bindings and Boundaries" series addresses ideas about fear, 
imposed limitations and potential paths to personal freedom. Sharron's acrylic textured landscapes are 'southwest-inspired. . .' close-ups of rocks, trees, water, twigs, caves, painted with rich textures and heightened colors.
Sharron has a BA in Art Education from University of Illinois, a Master's Degree in sculpture from Northern Illinois University, and completed supplementary art and education classes in various disciplines. She has worked in many art media in her role as a high school and middle school art teacher. Sharron was a member of cooperative galleries and art centers in Chicago, Pennsylvania and Florida and has shown her work in solo and group exhibitions in the Chicago area. Exhibitions included venues such as The Chicago Cultural Center, The Art Institute of Chicago, Beacon Street Gallery (Hull House), Northwestern University, ARC Gallery, and community art centers and colleges.
Porter is an award-winning Signature Artist and Vice-president of SAGA (Sedona Area Guild of Artists), and a past Director of Sedona Visual Artists' Coalition. She was chosen along with other artists to kayak the Verde River in April 2013, and paint her impressions for a traveling exhibit sponsored by the Verde Valley Land Preservation organization. Porter won first place in painting at the Sedona Winefest.
Oil painter Rick (Richard) Gandolfo was born in Phoenix, AZ on Williams Air Force Base. Rick lived much of his life in S. California, and then returned to his Arizona roots. Gandolfo received a scholarship to Chouinard Art Institute in LA, and completed one year. His formal art training then took a hiatus of 30 years. Oil painting is now Rick's full-time career as a plein-air and figurative painter.
He completed a BS degree in Business and Finance at California State U/Northridge/UCLA, and an MBA at Pepperdine U. His career in the aerospace industry included decades as a division business manager, and his last six years as a corporate director and lead negotiator for companywide projects.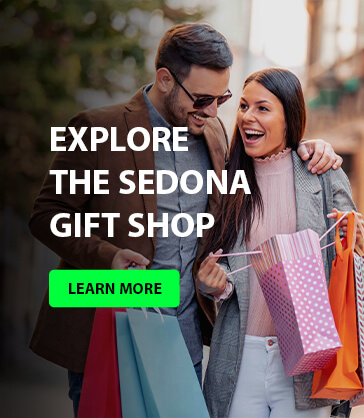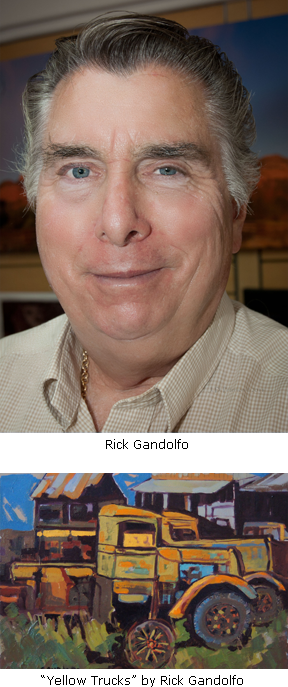 Rick's landscapes and figurative oil paintings capture the dynamics of the world he sees as he works plein-air, and from live models. Painting allows him to translate to canvas his deep personal and emotional responses. Through direct observation he sees nature transformed by changing light and shadow. This often produces abstractions of line, shape, space and value, without producing a photographic image. He works to have his viewers discover a new way to look at the world around them, on both a conscious and unconscious level.
Rick and his wife Carol provide a studio where emerging and established artists study with professionals in a relaxed atmosphere. Gandolfo has been a Sedona Arts Center board member for three years. As a member of Sedona Visual Artists Coalition, he was Director of Programs for three years. Rick's volunteer work includes Sedona Art Center, Special Olympics coaching, and John Tracy Clinic for Hearing Impaired.
Along with Porter and Gandolfo, Pop-Up features the work of 14 local artists, representing a remarkable variety of mediums and styles. The gallery exhibits the creative work of painters, photographers, sculptors, jewelers, potters and glass artists. Pop-Up is operated entirely by the artists, giving visitors the opportunity to meet the artists and discuss work exhibited in the gallery.
A portion of each sale at Pop-Up is donated to Camp Soaring Eagle, whose mission is to give kids with serious illnesses camping experiences filled with excitement, challenge and fun in a medically safe setting ­ at no charge to the children or families. On May 25, 2013 Pop Up and Camp Soaring Eagle are having a fundraiser to send a child to camp. More information on this fundraiser will be published in this and in other publications.
Pop-Up is located on the upper level of Hillside Sedona, 671 State Route 179 (a short distance south of the "Y" in Sedona). The gallery is open 10 a.m. to 6 p.m. every day. For more information, call 928-282-8143 or visit