Sedona AZ (May 20, 2015) – On Friday May 29th, at 5:00 pm Pumphouse Poetry and Prose Project will unleash a celebration of the region's natural beauty and rich cultural heritage with author Larry Lindahl and musical guest Ed Kabotie.  The show will take place on the steps of the old historic pumphouse at the southernmost end of the Creekside Plaza parking lot, in the shade of the giant sycamore trees promptly at 5 pm on Friday March 29th.
Larry Lindahl is the author and photographer of the award winning book "Secret Sedona: Sacred Moments in the Landscape."  He has also written feature articles about hiking, backpacking, and exploring for Arizona Highways," "Outdoor Photographer." "Sojourns" and other publications.  Outdoor Photographer Magazine once described him "It's easy to hear in Lindahl's words a passion for both photography and the natural worlds.  He works to tune in to the emotions elicited by a place in order to shape the photographs he makes of it."
Lindahl's most recent photography is in the newly released book "The Ancient Southwest: A Guide To Archaeological Sites" in which he also wrote the introduction.  He captures his observations and thoughts during his travels in the Field Notes posted on his web site: LarryLindahl.com.  He will read stories about discovering ancient ruins in Sedona, envision a shaman's inner world as he renders otherworldly rock art in Utah, and other intriguing essays about exploring the mysterious landscape of the southwest.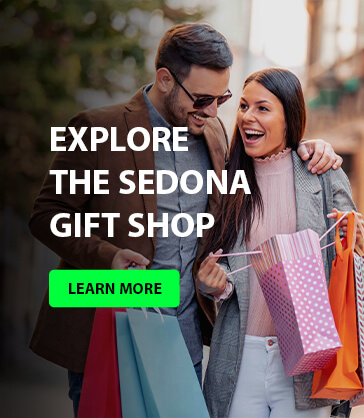 Many people in Sedona were first introduced to musician Ed Kabotie during last September's Peace Festival when Kabotie had the audience up and dancing to a Bob Marley tune while singing lyrics in English, Hopi, and Tewa.   Ed Kabotie is from the Hopi village of Shungopavi and the Tewa village of Khap'o Owinge (Santa Clara Pueblo). His music incorporates Native flute & acoustic guitar. Both the message of his music and melodies are unique; carrying traditional themes with contemporary instrumentation.  Others know him from CDs such as "Origins" or "Live at the Legacy."  Other Kabotie fans cite videos such as "The River" filmed at the Grand Falls of the Little Colorado (aka Chocolate Falls) which can be found at https://youtu.be/f9c_2JUw6Og or simply by going to youtube and searching for Ed Kabotie The River.
Located at the southernmost end of the Creekside Plaza Parking Lot, on the steps of the old historic punphouse beneath the shade of the giant sycamore trees and within a stone's throw of the river the Pumphouse Poetry and Prose Project holds a reading the last Friday of every warm month, which this month happens to be May 29th, at 5 pm.  Pumphouse sponsors include award winning poet Elizabeth Oakes, Cocopah North, Trailhead Tea (which last month supplied a delicious Blueberry Blue Moon tea for public consumption) and Mother Saachi's books and gifts who provides delicious nutritious treats.  Pumphouse is hosted by local author Gary Every.  Please join us for what has been a memorable Pumphouse season so far and promises to keep getting better and better.  For shows which are expected to be really popular and well attended such as this one it never hurts to bring your own chair.