Jerome AZ (December 24, 2012) – Let the party continue the Saturday after New Year's Eve with the January 5th Jerome Art Walk. Take the convenient shuttle throughout the town to visit 25 galleries and studios from the Old Jerome High School up the mountain to the new member gallery of The Miner's Pick Rock Shop beside the lovely Surgeon's House on Hill Street. The lively gallery group welcomes back Rebecca McDonald of Long Shadow and Sandy Brown of Seeds in The Old Jerome High School as well as new member Sapphire Sky Gallery also in The High School. The festivities are from 5:00 to 8:00PM every first Saturday. For more information visit www.jeromeartwalk.com or call Donna at 649-2277.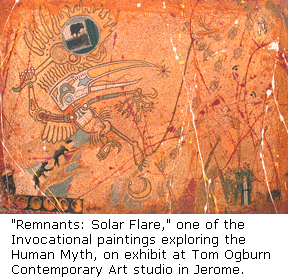 Newer abstract figurative paintings, which are larger, compressed and speak of the mythological journey that is part of all our heritage, will be on display at Tom Ogburn Contemporary Art studio (205A at the Old Jerome High School) for January Art Walk. Winter is coming! So it's time to hole up and get some new work done. Also on exhibit will be digital works and portraits.
At the Queen's Neighbor Art Gallery, tis' the season to look at beautiful paintings. Stop by to sip on a cup of cheer, wine, or beer. Come see the paintings of local artist Jack Guth and enjoy the new lounging space just completed at this charming gallery. In the lower lot behind the sliding jail, stop by for a look at this new addition to Jerome Art Walk.
As the holiday season cools down, the buzz about the eye-catching works of acrylic painter, Bernie Lopez, continues to heat up the Jerome Artists Cooperative Gallery. In January, the Prescott artist will celebrate his second year as a Jerome Coop member with his own personal exhibition, ''Envisioned Realism" which will open on January 5th, 2013 and run until the end of February. In "Envisioned Realism," Lopez will revisit existing series, Sunset, Moonlight Silhouettes and Landscapes and present a varied showcase of original acrylics, Canvas Giclees and Archival prints. As for the Jerome Artists Cooperative Gallery official opening night of his exhibition, he guarantees "a good time at the best co-op in the world!"
The Cody DeLong Studio/Gallery will be abuzz as usual this Art Walk with live painting demos by Cody, and live music and refreshments. For those of you whose new year's resolution is to jumpstart your art, Cody has new classes coming up in January. Visit www.codydelong.com for details. Cody DeLong Studio – 300 Hull Ave. next to the visitor's center. 928-300-4576
'Tis the season to bundle up with our super soft, warm hand-felted Merino wool hats and scarves, or stay in and make your own with our beautiful artisan fibers. Visit Roberge & Day at The Old Jerome High School for Art Walk to find your special wearable art and find out about our classes in felting, bookbinding, polymer clay, SoulCollage(R), knitting, and more!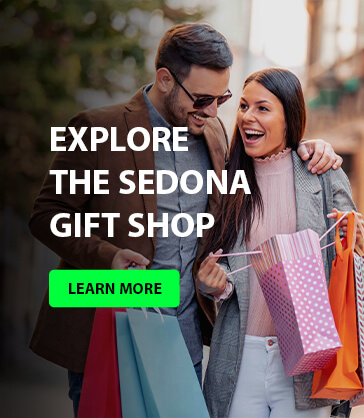 Zen Mountain Gallery welcomes the New Year with two new contemplative artists Don Voss and Erica Fareio, also new work from Christopher Mull, Luna Patterson, Matagi Sorensen, Pamela Becker, Tom Ogburn, Wayne Norton, Laura Pokorny, Deanna O'Donnell and Barbara Ragayli.
Stop by Jerome's Jewelry and meet award winning artist Rick Hernandez and his son Ricky. A Unique Inspirational Collection of Custom Jewelry and Fabulous specialty pieces designed using a wide variety of colorful gemstones such as Arizona Fire Agate, Drusy, Tanzanite and Australian Opal in Sterling Silver and 14K Gold. Enjoy the music by Talented Tara Ortiz. Jerome's Jewelry is located 114 Jerome Ave.
At Casa Latina discover a taste of the Americas: Peru, Guatemala, Mexico and of course Jerome! Come join us and help celebrate the first Art Walk of the year 2013…(so much for that Mayan calendar thing). Sip, snack, be entertained and perhaps shop while at the "Merchants Gathering Building". In house artist Duane Ewing provides live music.
Pura Vida Gallery rings in the New Year with new stained glass designs by artist Richard Macdonald. New mirrors and sconces in a variety of colors and styles will grace the gallery walls the evening of the Jerome Art Walk. Join us for champagne, chocolates, and stained glass!
Back from her third year of working and studying at the La Meridiana International School of Ceramics, Brandi Lee Cooper has made a new collection of lamps, wall installations, and functional pieces. Gallery 527 in Jerome continues 'Terra e Luce' or Earth and Light. The artist states, "As we go into the season of fewer daylight hours, I felt inspired to make some 'light'. All I can ever hope to do with my work is make offerings to the earth". These organic ceramic illuminations are made from homemade porcelain paperclay and a jewelry making technique she learned in Italy. Brandi Lee wanted to push the boundaries of the clay with this technique by making them into larger scale sculptures. She hoped to "turn earth into light". She has succeeded brilliantly with this new work. The show continues through January 31, 2013.
For more information about Jerome Art Walk, call Donna at 928.649.2277 or visit jeromeartwalk.com.