By Elaine Hanson
Artistic Director for The World Peace Dance
Sedona AZ (April 22, 2013) – Sedona is known for its cutting edge diversity of spiritual beliefs. Is this reputation well-deserved? Do we truly embrace all paths of faith with respect? Do we respect and celebrate the commonalities and deeper rhythms of awareness that all faiths offer?
Sedona is also known for its amazing expressive arts. Effective art work evokes deep, powerful thoughts, images and feelings in the viewers. Great art moves viewers into new, integrated, deeper awareness and understandings that can far surpass the knowledge and power of other academic disciplines.
Who are we? People in the Sedona community that self-identify as persons of faith and lovers of art are asked to fully embrace what it could mean to Self, Other, and the World if we truly step into our power.
As a community that embraces art and faith, we are in a unique position to make a difference in the big picture–the challenge of peace on Earth.
History is populated with visionaries and figures who made a stand for peace. We all have heard of Ghandi, Martin Luther King, Mother Theresa, and many others. Humanity has learned important lessons from these peace leaders of the past. Those lessons continue to be taught to new generations. We have made significant inroads into understanding and developing the skills, systems and actions needed to be able to create peace, if we want it.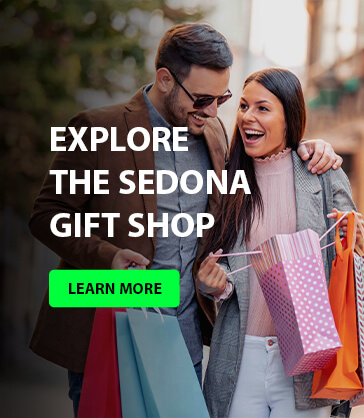 Do we want it? Might Sedona be the perfect bubbling cauldron of energy, interest and talent in the 21st century to enable the world to learn to live in peace?
There are so many organizations and people who already have devoted their lives to the pursuit of peace. There are tremendous bodies of knowledge and thought systems in place to support the pursuit of lasting peace. One powerful organization in particular is actively pursing this idea online: "The Shift". This group of peace activists would fit in well in Sedona— believers in Art, Science, Truth, Beauty, Love and Peace. They are encouraging us all to step up and take action to do our part to create a peaceful world, and they are offering training in how to become a Peace Ambassador in your life.
Sedona could be the perfect incubator, the perfect womb to bring forth this next wonderful step in evolution: Peace. Do you want to be a part of it? Are you one of those Sedona-area people who resonates with Art, or perhaps practice a deep inter-faith spirituality? Or, however you define yourself, do you find you are drawn to the necessity and hope of peace? Peace in our lifetime….? Could it happen?
If you want to be a peacemaker, you can be. Together we can make it happen. Find a project you can support, and get involved. Make your life about peace, and peace will happen, one person at a time. One local project is The World Peace Dance, available at www.worldpeacedance.com. Please dig deep and do your part to make peace a reality. Get involved. Many talents and skills are needed to create this project, just as all hearts and minds are needed to create peace on earth.
Written by Elaine Hanson
Artistic Director for The World Peace Dance, a 501/c/3 non-profit organization.