Sedona AZ (June 1, 2018) – Now through the end of August, the beautiful oil paintings created by Harriet McGinnis are on display at Sedona City Hall. The public is invited to meet McGinnis at  her reception Thursday, June 28 from 4-6 p.m.  
"I always wanted to learn how to draw and paint," says McInnis, recalling her first art project, a Thanksgiving turkey poster created for third grade class. Enrolled as a Fine Arts major at Syracuse University, she took the basic college requirements her first two years with special courses in Art History and Graphic Arts. 
[soliloquy id="44333"]
"I was honored to be selected for the first Syracuse Semester in Italy program through the Experiment in International Living," she says. "There were 22 political science majors and two art students. Living in Florence was so inspiring."  Still, she changed her major to International Relations upon her return to campus. 
Marriage and a career didn't provide time for art lessons until McGinnis moved to Sedona in 1991.  However, she and her husband Jim still had to work so her first class through the Sedona Arts Center wasn't until 2011, studying primarily under Gretchen Lopez. Other instructors have included Vince Fazio, Michael Chesley Johnson, Julie Gilbert Pollard and Christine Debrosky.   
"Its's such a challenge looking at a blank canvas! When I approach a painting, I am eager to express what I see and feel, to use innovative techniques and to develop the brush strokes and use of color that will enhance the image. I am now learning the value and beauty of plein air painting.  It's not only fun, but helps develop a critical eye for nature's color," she says.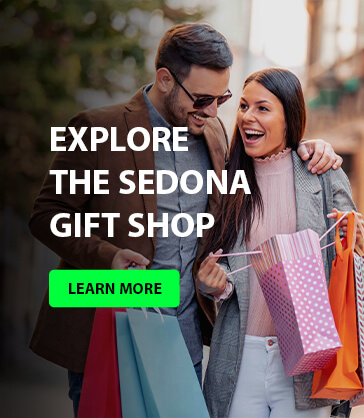 Although it took nearly two decades to put paint to canvas, McGinnis became indirectly involved in the arts after her move here. She established Sedona Art Tours taking visitors to galleries and artists' studios.
She joined the Red Rock Arts Council and, in 1994, became chairman of the Sedona Sculpture Walk, remaining its chair for five years. She also served as president of Red Rocks Arts Council (1995-2016), helping to raise funds for the first art in public places installation: the Sedona Schnebly monument gracing the entrance to the Sedona Public Library. During the ensuing years, the council continued to generate funds and was able to sponsor another project at the Sedona Heritage Museum: "The Storytellin' Cowboy" which included sculptures of two young children, "Josie" and "Joey."
Nancy Lattanzi, Arts & Culture Coordinator says "Harriet was one of the first people I met when I began my work at the City on the sculpture installations at the Sedona Heritage Museum. I was always so impressed with her knowledge of the arts, as well as her breadth of involvement in the arts community over the years. Most know Harriet for all the significant projects she has helped launch for our community and continues to promote to this day. What most do not know, is she is a gifted painter. I am truly pleased to finally exhibit her engaging landscapes, still life paintings and portraits, offering her the exposure she so deserves. I hope the public takes time to see her work and learn more about this multi-talented woman." 
Harriet also formerly served as President of the Arizona Opera League of Northern Arizona, on the board of the Sedona Arts Center and as an associate member of the Sedona Gallery Association.  She is currently Vice Chair of the Sedona Art Museum. 
The City Hall Art Rotation exhibits are located in the Council Chambers, as well as the gallery in the Vultee conference room on the city campus at 102 Roadrunner Dr. To make an appointment for best viewing time call Nancy Lattanzi at 928-203-5078, or email NLattanzi@SedonaAZ.gov.