By Virginia Volkman, Director
Sedona AZ (January 31, 2020) – This February, Sedona Public Library is celebrating Love Your Library Month. It's our way of encouraging you to take advantage of the many free services we offer and for you to demonstrate your support for the Library.        
Don't have a library card? Now is the perfect time to apply for one.  Get your free card at the main library in West Sedona (3250 White Bear Rd.) or Sedona Public Library in the Village (51A Bell Rock Plaza).  Bring your photo ID and proof of local residency. Your library card will give you access to over one million physical library materials at 42 libraries in the Yavapai Library Network and the ability to download books and audio books and to stream movies.
Lost your card?  During February we're waiving the $5 replacement card fee. So stop in and get a new card, completely free of charge. 
Stop by our Love Your Library table and tell us why you love your library and pick up a button and a kiss (chocolate, of course!).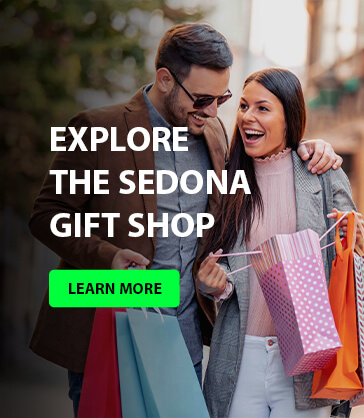 Many programs to meet a variety of interests are planned for Love Your Library Month. We hope you can join us for programs and displays offered at the main library in February:
Annual Quilt Show through February 20
Northern Arizona Watercolor Society display February 1 through 28
AARP tax help offered on a first-come first-served basis every Tuesday, Thursday, and Saturday from 10 a.m. to 2 p.m.
Free movie on Mondays at 6 p.m. in the Si Birch Community Room: February 3, "Pain and Glory"; February 10, "Harriet"; February 24, "Ford v Ferrari"
Voter Registration with League of Women Voters: February 5, 7, 10 & 15 – call or check our online calendar for times
February 1 at 4:30 p.m.: "Tucson Salvage" Reading and Screening with award-winning author Brian Jabas Smith and filmmaker Maggie Rawling Smith. The show will open with violinist Gary Smith on git fiddle. Hosted by Gary Every.
February 8 at 4 p.m.: Saturday Crafternoon for adults and kids features flower-making with tissue paper and folded papers. All supplies provided.
February 14 at 10 a.m.: Coffee with a Veteran — The public is welcome to come to meet local veterans, and to enjoy free coffee and donuts and a short program.
February 11 at 2 p.m.: Library Book Club discusses "The Painted Drum " by Louise Erdrich
February 12 at 6 p.m.: Children's Author Jennifer Ward will host an interactive hour for parents, educators and their youngsters, based on her book "I Love Dirt!" 
February 14 at 5:00 p.m.: Solo Music Performance by Devin Angelet, Prescott's Got Talent first place winner, featuring her original song, Love Here Now
February 18 at 6 p.m.: American Creed Community Conversation, in which we seek to identify the common ground that unites Americans amidst the fissures that threaten it today, facilitated by Paul Friedman, Ph.D.
February 22 at 4 p.m.: Rock Art Introduction for adults and kids (best for ages 6 and up) to prepare for a field trip to V Bar V Ranch
February 25 at 10:10 a.m.: Great Decisions Discussion Group — Thought-provoking discussions on key foreign policy issues. Sponsored by the Foreign Policy Association. 
February 25 at 4 p.m.: Non-fiction Book Club – Please call for the book choice
February 28 from 1 to 3 p.m.: Meet author and master school bus converter Will Sutherland and tour his custom bus. School buses that have been converted into mobile living spaces — known as skoolies — are a natural extension of the tiny house craze.
February 28 at 5 p.m.: Poetry and Prose features poet James Jay from Flagstaff with Sedona poet Mary Heyborne opening the show.  Native American styled flute player Robert Jackson will be the musical guest
Join us for the following programs in the Village of Oak Creek:
February 14 at 1:30 p.m. at Church of the Nazarene: Arizona Humanities program "Hyenas in Petticoats: How Women Struggled Against Every Dirty Trick in the Books to Win the Vote," presented by Jana Bommersbach
February 25 at 1:30 p.m. at Sedona Winds: Book discussion of  "The Language of Flowers," by Vanessa Diffenbaugh
Check the library events calendar for days and times for these ongoing adult programs:  Conversational English, Conversational French, Conversational Spanish, English Language Classes, Cryptocurrency Group, Sit and Stitch, Sedona Writers Salon, Investment Club, Socrates Café, and Sirius Lookers Astronomy Group.
Ongoing programs for children include Youth Chess Club on Thursdays at 3:45 p.m. and Story Times on Tuesday, Thursday, and Saturday mornings.
Sedona Public Library is a 501(c)(3) non-profit corporation. Your donation may be sent to 3250 White Bear Road, Sedona, AZ 86336 or you may contribute online at sedonalibrary.org.  Thank you for your support!