By Anne Marie Mackler, Development Director
Sedona AZ (April 2, 2019) – Sedona Public Library is the cornerstone of our community. Within its beautiful rock walls, people of all ages, backgrounds, and from near and far, connect with one another and with our services, technology, and programs. Our visitors learn new things, discover new interests, seek new trails, and get started on the path to new careers and more.
Everything we do requires the support of our generous community, especially individuals like you. We know we can count on you to support your library, and that's why we've joined more than a hundred libraries across the country for the first ever national day of giving, April 10. From now through April 10, Library Giving Day, your gifts are matched dollar for dollar, with the support of a generous patron.
"Everyone in this town comes through the Library at some time," this supporter notes. "I believe the community feels that this is truly their library, a community resource for all." With their pledge, your Library Giving Day gift is doubled, up to a total of $15,000!
When you champion your library, you guarantee the broad array of services and resources that we make available to the community, for free. You secure the breadth of our collection, currently at 83,000 items. And you support the cost to provide access to 1.2 million items within the Yavapai Library Network.
We are conveniently located, making sure that our services are available to all. Our main facility is on White Bear Road in West Sedona and we have a service center in the Village of Oak Creek; and now, we have a children's project at Sunset Park. Have you visited StoryWalk?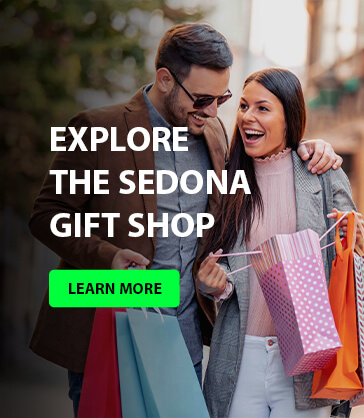 StoryWalk is a community supported project that gives local families the opportunity to practice reading skills, get some exercise, and enjoy Sedona's lovely outdoors. When you visit StoryWalk at Sunset Park, you find the pages of a children's story placed in frames along a half-mile paved path. Each season Sedona Public Library will post a new children's story that includes helpful reading tips and fun suggestions for movement and fitness. Check it out!
Have you checked out our newest free service: Kanopy? We just launched the popular on-demand film streaming service that provides thoughtful entertainment. It's free for all Sedona Public Library card holders, and you can sign up to stream from most computers and devices. New York Times calls Kanopy "a garden of cinematic delights." Kanopy showcases more than 30,000 of the world's best films including award-winning documentaries, rare and hard-to-find titles, film festival favorites, indie and classic films, and more.
Speaking of films, there's even more news to share about what how we make terrific use of your support. This month we launch Reel Life, a free documentary film night. Please join us on the fourth Tuesday of every month at 6:30 p.m. in the community room. This month, on April 23, we will screen RBG, for free! This is an inspiring exploration of the life and career of U.S. Supreme Court Justice Ruth Bader Ginsburg. See you there!
And this is just a list of the new things we are offering to the 190,000 visitors who come through our doors every year, and many more who visit us online. Please show your support for your library, and consider a gift for Library Giving Day. Remember, now through April 10, your gifts are matched dollar for dollar. Drop a check in the mail, stop by, or visit sedonalibrary.org/donate. It's easy to give online.
Thanks for your support!