Sedona AZ News: A family that builds together, stays together – and this is the impetus to the creation of North America's first and only landscape hotel in the heart of Sedona, Arizona.
Appropriately christened Ambiente, its name reflects the essence of being immersed in Sedona's mystical landscape. Like none other in the Northern Hemisphere, Ambiente's landscape immersion concept was built to harness elements of sustainability with organic, low-impact architecture. This allows the natural environment to take center stage by blending into the topography of the land it is built upon, rather than imposing itself upon it.
This uber-luxury hotel consists of 40-cube-shaped, floor-to-ceiling, mostly glass-walled Atriums, carefully positioned to provide stunning views of Sedona's monolithic red rock formations while maintaining maximum privacy.
Each Atrium covers 576 square feet, with unobstructed views of the Coconino National Forest as well as the red rocks. The carefully appointed Atriums feature a bedroom with a king bed, a kitchen and a bathroom with an oversize tub and walk-in shower. Motorized curtains offer guests privacy at their fingertips, while also revealing a floor-to-ceiling postcard view of the mountain scenery.
Interiorly, each Atrium is designed to soothe with soft mood lighting and music. There are wine dispensers in each Atrium for guests who enjoy the convenience of and appreciate not having to leave the comfort of their private spaces to enjoy libations and relaxation. Small kegs of beer are also available as well as room service cocktails.Further, each Atrium has a spiral staircase leading to the roof where a fire pit and a welcoming daybed await guests, who can choose to daydream and sunbathe during the day or watch the magic of the Milky Way unfold before them at night.
The Atriums are elevated above the landscape on steel stilts, thus lifted to minimize any damage to the natural landscape underneath them. Flowing water through the property's reactivated ancient waterway system creates an eco-balanced natural habitat using aquatic plants, fish and the water's movement to achieve a biological balance. And of course, hiking trails connected to the property provide easy access to the beauty of Sedona's flora and fauna for those that enjoy walking in nature.
As an all-inclusive and immersive experience, guests do not need to leave the hotel premises or visit any other locations to enjoy their stay in Sedona. A complimentary continental breakfast is offered to guests at the hotel's signature onsite restaurant, Forty 1, and guests also have the option to enjoy lunch at The Drifter, an Airstream-styled diner with a playful poolside menu including a full-bar with craft cocktails.
Dinner at Forty 1 is prepared by the talented Executive Chef Lindsey Dale, and will offer a seasonal a la carte menu inspired by local Verde Valley organic ingredients. The restaurant is exclusively open to resort guests.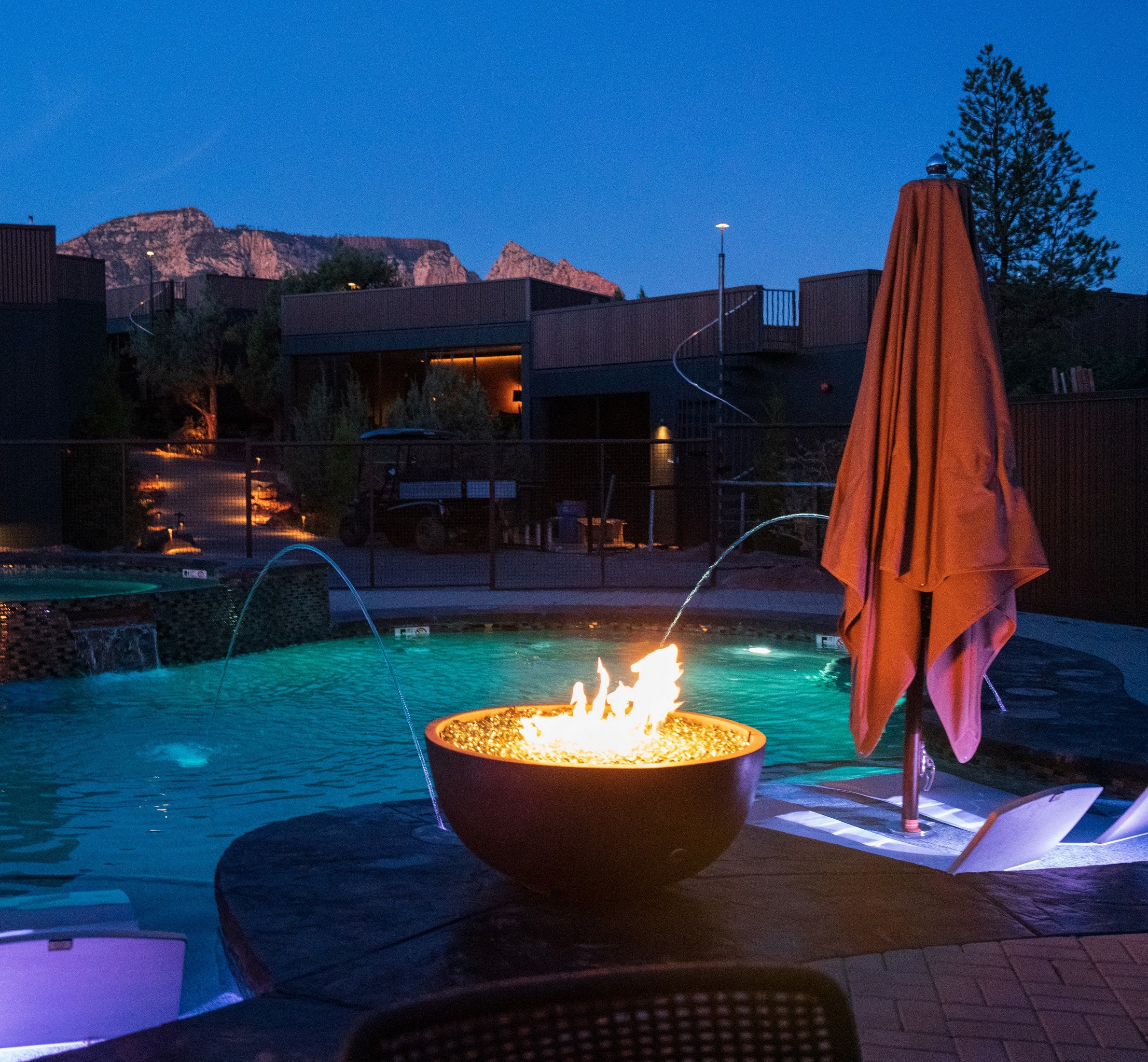 Built lovingly with the preservation of the local landscape and the comfort of guests in mind, Ambientehas already caught the attention and praise of various travel magazines and websites that include Robb Report, Conde Nast Traveler, The Wall Street Journal, and more.
As fascinating as this landscape hotel is, with all its beauty and amenities, the back story to its creation is just as remarkable, featuring how a family worked together to create such a stunning marvel in the realm of architecture and lodging.
The hotel was created by Two Sister Bosses, a Sedona-based luxury hotel development company, run by sisters Jennifer May and Colleen Tebrake and their father, all Sedona locals. The genesis of the landscape hotel concept began when May and Tebrake's father, Michael Stevenson, purchased the property upon which the landscape hotel stands. According to May, who was born in Sedona, her family had been there since the 1970s working in the lodging business until the oil embargo hit, killing tourism and the lodging industry at the time.
Their father later found his niche working in the plastics industry, after a divine inspiration came to him to invent a special kind of plastic label for specific durable products like Rubbermaid along with durable plastics in automobiles. The invention was exactly what the durable product industry needed.
At home in his garage, Stevenson started his own business called Mold in Graphics that through the 39 years of its existence grew to be an extremely profitable enterprise. The family opted to build a factory in Clarkdale, Arizona. The business was so successful Stevenson was later able to purchase the land upon which the Mariposa Restaurant Latin-Inspired Grill is built.
And that  is where the Ambiente story really takes off.
According to May, her dad and mom renovated the exterior of Mariposa, while well-known restaurateur Lisa Dahl took care of the interior.
"My parents owned the land," May said. "We did the exterior remodel on that building and Lisa did the interior in order to run her restaurant there. So, we would go over and have dinner and watch everybody go outside to take a picture of that view because it's just so beautiful."
She said a couple of years after the restaurant was opened, an opportunity to purchase the land south of Mariposa arose.
"My dad had gone to our family dentist, George Moore, to have his teeth cleaned," she said. "He told my father that he had this land next to Mariposa and asked if he would be interested in buying it. George said he had planned to build a hotel on it, but it was not his focus anymore.
Her dad came back to their office and ran the idea past her.
"He told me about it, and we drove over and walked the whole site and looked at all the different washes there and how it had hills and valleys," she said. "It was so beautiful, all with the same view Mariposa has."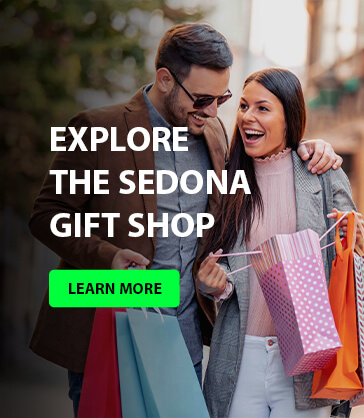 The view and possibilities so inspired them that if they were going to build it, the family knew it had to be something unique and spectacular.
"My dad and I talked about if we're going to do something let's not build the standard hotel," she said. "We talked about the idea of breaking the rooms up into individual living spaces, or Atriums is what we call them, because they're half glass. We talked about angling all of them towards that view so that when people wake up in the morning and they go hit their motorized curtain button, they open, and it literally turns your view from night to day and feels like you have Sedona on IMAX in your own room."
May and her dad worked on formulating the project for about four years until her sister Colleen moved to Sedona and joined them.
"It's all been a family group effort," she said. "We shared passionate ideas back and forth and tried to be creative about it. Even my brother Matt, whose been running our other company, jumped in to help with certain things. He's very tech oriented and he worked on the sound system that can be heard throughout the property."
Managing noise was also a consideration in the building of the Atriums, with the cubicles firmly insulated against superfluous sounds and even against the hum of air-conditioning.
"One of the things that is so annoying to me is when you walk into your hotel room and you get ready to go to bed and you hear the AC cycle clicking on and off," she said. "It doesn't stay constant and it keeps me awake. So, we super insulated them, and we hung the AC units, so they don't sit on the ceiling. You can't hear it when it goes on or off and you can't feel the vibrations. It's completely quiet."
Ensuring privacy while maintaining an unobscured line of site to the red rock formations was another challenge that had to be met.
"We would move one Atrium up two feet as opposed to the one next to it and angle it a little bit this way if the other one was angled that way, so that we could offer each individual Atrium the most amount of privacy and the best views that we could get," she said. "Dad and I literally went into every Atrium. We started with one, standing in the middle of that one, looking at all the views, and then decided where we wanted it. Then we went to the one right next to it to make sure privacy was maintained. We would stand on ladders and angle it this way or that, up or down a foot until we were satisfied."
For those that believe maintaining social distancing is important in protecting themselves against Covid, Ambiente has been praised as a top luxury destination for social distancing vacations, due to the placement of the Atriums and the proximity of the hiking trails.
"We didn't know when we went into this that we were designing something that could be considered 'pandemic proof', because you're isolated. You could come to the hotel, and if you wanted to, not even walk through the lobby to check in. We can check you in right there in your car and take you straight to your Atrium in our electric cart. You can order your food and cocktails delivered in-room if you want to. You can go on hikes and enjoy your wine in the room. You can also have a small 64-ounce keg of beer sent to your room, too."
The hotel is geared for guests 21-years old or older only. It was specifically designed that way.
"I love kids," she said. "I have a granddaughter who I love very much. We just wanted to provide a nice quiet place where people can come and enjoy their time and honeymoon or an anniversary getaway, or just a romantic weekend getaway. Something special for us adults."
May said Ambiente's goals align with the Sedona Sustainable Tourism Plan, a four-point plan developed by city leaders and the Sedona Chamber of Commerce and Tourism Bureau. It considers the environment, quality of life, tourism economy and visitor experience in planning for sustainable tourism.
The momentum for the landscape hotel just keeps snowballing as the lodging industry continues its fascination with the landscape hotel concept.
"When we started, we hired a marketing company to get the word out before opening because we wanted people to know what we were doing," she said. "This was our first project, and the hotel news just took off like crazy. We started getting articles in The Wall Street Journal. Robb Report did an interview about the hotel. We made Forbes's list of new opening hotels. We started getting a lot of notoriety. We started to receive lots of phone calls. We've also been getting calls from companies that want to book the whole property for events. We are truly blessed."
Indeed, they are, as those who come to stay at Ambiente will consider themselves to be as well.
According to May, construction of Ambiente is scheduled to be completed at the end of December, and will be opening shortly after.
For more information or to make a booking call 800.405.1969 or visit ambientesedona.com.
— By Tommy Acosta & Joey Best