By Shaeri Richards
I'm writing in an effort to bring clarity to the issue of Home Rule which is on the ballot here in Sedona on August 2, along with the position of mayor and three city council seats.
This is my second time writing about Home Rule.
Last time it was on the ballot back in 2018, I made a Facebook post suggesting that Home Rule was important to pass with a YES vote if we wanted to support our city's non-profits like the Library, Sedona Recycles and the Humane Society.  I got a lot of push back from that post, some of it pretty aggressive.  While pondering how to reply, I had to admit I really didn't know that much about it.   I used to be a reporter back in the day, so I decided to go out, do some investigating and do my best to really understand the issue.
The result was an article I wrote for Sedona.biz called "A Crash Course in Sedona Civics:  Why I Decided to Vote YES on Home Rule."  It's still available to read, and a lot of the information still holds true, so if you are interested, here it is.
https://sedona.biz/a-crash-course-in-sedona-civics-why-i-decided-to-vote-yes-on-home-rule/
No one asked me to write that article.  No one paid me.  I was not working for or with anyone.
I have been a resident of Sedona for 30 years and I've always believed in the peace, beauty and serenity of my home town. Four years ago, there was just so much division, anger and unclarity playing out on social media from this Home Rule thing, that I simply felt compelled to find out what was going on.  After I wrote article, the organization in favor of Home Rule asked me if they could create a mailing and send my article to every household in Sedona. I told them that as long as they printed it exactly as I wrote it, I would be fine with that.  Other than saying "yes," I had nothing more to do with the mailing. 
Home Rule did pass in that election with about 67% of the vote. Now, four years later, it's up for a vote again, and once again there is an effort under way encouraging voters to turn down Home Rule.
Since then, I've spent even more time looking into Home Rule.  After the last election the City of Sedona convened a Citizen's Committee to research and explore whether Home Rule actually is the appropriate method for developing Sedona's budget.  I applied for and was accepted to that committee.  We spent hours looking into the issue, talking about our city's needs, and exploring what other cities are doing and why.  The committee was made up of individuals who had been both for and against Home Rule in the 2018 election.  After all the discussion, we came together and voted strongly in favor of recommending Home Rule to the city council as the preferred expenditure limitation for our city's budget.
If you like digging into the weeds on things, you can find that report at the bottom of the city's information page on Home Rule by clicking the link below.
https://www.sedonaaz.gov/your-government/departments/city-clerk/elections-information/home-rule
I still intend to vote YES on home rule in this election cycle, and in the course of this article I will share how I came to that conclusion once again.  
What is home rule and why should you care?
Back in 1980 Arizona voters approved a constitutional amendment designed to keep cities and towns from overspending.  With it came a formula to determine just how much each city and town could spend. That amount was designed to increase over time as population and inflation grew.  This is called the STATE imposed expenditure limitation.
Sedona was given such a number back 1988 when the city was first incorporated.  Because our city has not grown much over the years, (in fact last year our population shrank) the amount that the city can spend under the state-imposed limit is pretty small, a fraction of what the city has budgeted for projects and services.  The city has the money, but under this limitation would not be able to spend it.
The state (in its wisdom) recognized that this form of accounting may not work for every city and town, so they also created the ALTERNATIVE expenditure Limitation which is known as Home Rule.
Home Rule allows Arizona's cities to develop their budgets based on the amount of money they actually bring in.  All cities and towns in Arizona must have a balanced budget.  Sedona included.  The city can't spend more than it brings in.  Home Rule allows the city to budget and spend what it makes. Sedona does not have money issues. The city has PLENTY of money.  We have LOTS of other issues, but money is not one of them.  
Now, to make things more complicated, there's another possible way to deal with city spending in Arizona.  It's called a Permanent Base Adjustment, or a PBA.  In this scenario, the city looks for a number that's large enough to handle all of the needs of the city and they present that number to the voters.  If the voters approve the PBA, it adjusts or raises the base of the state-imposed expenditure limitation once again allowing the city to spend the money in its budget. 
(This was the issue in the election four years ago, so if you want to dive deeper check out my previous article which is linked above.)
But wait…there's more!
Just in case voters do turn down Home Rule, the state offers a provision called a one-time override.  This over-ride allows the city ask the voters for a specific amount of extra money that they can spend for determined purposes.  It requires a special election that would cost somewhere between 25 and 30 thousand dollars and it can only happen on the third Thursday in May or during another regularly scheduled election.
This last provision is important.  It is at the heart of the current argument encouraging voters to turn down Home Rule. I'll get to that later. 
The Arguments Against Home Rule
I like to be fair.  It's part of my nature; it's part of seeking the truth.  In that light I have spent a lot of time looking into the arguments against home rule in this election cycle.
The group that is most vocally opposing Home Rule on social media seems to be related to a website which can be found at https://homerulesedona.com/    
They are also holding a number of workshops about Home Rule at the Ultimate Light Mission.
I watched their "Home Rule VS Baseline" video several times, I watched a 45-minute video interview with them explaining their ideas on YouTube, I went to their Home Rule presentation on Saturday July 8th and I stayed an hour afterwards and continued to ask questions to gain more understanding about their viewpoints.
As I understand it, this group believes that the Sedona city government can't be trusted and that we need to vote down Home Rule in order to limit the spending of the city. 
If Home Rule is voted down, the city's spending will have to be drastically reduced. Remember, this is not because the city doesn't have the money, but because the state expenditure limit won't let the city spend the money.  The money doesn't go away.  It's still in the bank, but the city can't spend it
The anti-home rule group believes this can be remedied with a one-time budget override. They feel that after voters turn down home rule, the city can then develop an override proposal, present it to the people, and the people can have a voice in approving the budget.
Here's where I have a problem with their thinking.  Why force the city to have a limited budget and then force a one-time override election annually in order to give the people a voice in the budget process when they ALREADY have a voice in the process. 
From everything that I have studied about the way the city operates, Sedona residents have every opportunity to get involved in approving the budget if that's what they want to do.   The City of Sedona is incredibly transparent.  Anyone who's interested in the budget can download it and study it.  They can go to the appropriate city council meetings and listen to the discussion of the budget. Every citizen has the opportunity to speak about the parts they disagree with.
If they can't make it to the council meeting, every meeting is recorded and stored on line. They can be accessed at any time by anyone who wants to take the time to look at them. You can also download the meeting agendas and supporting documents. 
If you are interested, click the link below.  
https://www.sedonaaz.gov/your-government/departments/city-clerk/council-commissions-committees-boards/city-council/meetings-live-webcast-video-audio
If you are interested in the budget itself, you can download it here. 
https://www.sedonaaz.gov/your-government/departments/financial-services/budget-and-audit/-folder-5383
In addition, Sedona has a citizen engagement plan.  You can sign up to be on all kinds of committees and work groups discussing all kinds of issues.  If you are truly a budget person, you can even sign up to be on the Citizen's budget work group where they go through the budget with a fine tooth come. 
If you want to know more, click the link below.
https://www.sedonaaz.gov/your-government/departments/city-manager/citizen-engagement
It is true, that this particular work group didn't happen for last year's budget.  I asked Councilwoman Holli Ploog about it.  She herself spent five years on budget work group before deciding to run for council.  Councilwoman Ploog told me that she too was upset about the finance department's inability to put a work group together last year. Apparently, it had to do with a lot of turnover in the finance department, and an inability to put more staff together due to Covid, lack of housing and other issues. She does report that the department is back on track and there will be a budget work group again this year, just in case you are interested.
If you want to have a voice in the budget process there is plenty of opportunity.
What happens if residents vote down Home Rule?
If residents vote down home rule the city budget will be drastically cut.  It will have to be. Again, not because the city doesn't have the money, but because without Home Rule, the city will fall under the state-imposed expenditure limit and won't be able to spend the money.
I got involved in the Home Rule issue four years ago out of concern for our cities non-profits like the Sedona Library, Sedona Recycles, Verde Valley Caregivers, The Humane Society, The Sedona Community Center and the list goes on.  
If Home Rule fails, Sedona city manager Karen Osburn tells me that the grant funding for all the city's non-profits will be cut.  She said, "I don't see a scenario with as little funding as would be available, that the city could continue to fund any of the non-profits. It isn't a bluff or a scare tactic.  It is simply the reality of having such little money available to spend, and other things that the city is either mandated to do, or what would be higher priorities for those limited dollars. Utlimately those decisions would be made by the city council."
The anti-Home Rule group says on their printed information that the Sedona Library and Sedona Recycles will be safe with or without Home Rule.  So, I reached out to those two organizations and asked the question, "Will your ability to operate be hampered should you lose the grant funding that you now receive from the City of Sedona?"
Library director Judy Poe answered like this:
"The City of Sedona funding currently makes up approximately 1/3 of our yearly operating budget. If we lose this funding, our ability to provide the services, materials, and programming we currently provide will also be reduced by approximately the same amount–one third. The result would, most likely, surface as reduced service hours, reduced staffing, and both reduced materials and programs. It would also limit our ability to offer our meeting spaces that many Sedona organizations use for their various trainings, events, and meetings."
Sedona Recycles Board president Doug Copp also said his organization would be hurt by the loss of city funds.
"Depending on the amount of fee reduction, our service would decrease or could go away entirely. Sedona Recycles is a 501c3 non-profit company, and just like a for profit company, we must generate enough income to cover our expenses. Our income comes from selling the materials we collect, hauling (service) fees from municipalities and businesses, donations, memberships, fundraising and grants.  
Treasurer Ron Mohney added that if the city service fee were eliminated, they could not stay in business unless donations increased 500% annually.
Although I didn't have the chance to reach out to the other non-profits, I imagine most of them are concerned about losing their city funding.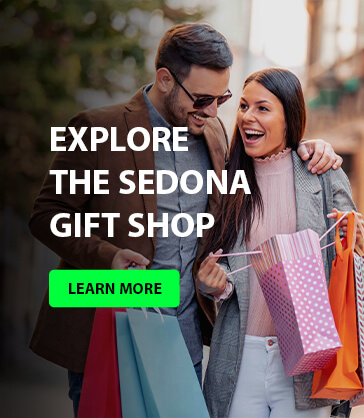 So, what about the one-time override?  Can't that solve the problem? 
This is the solution proposed by the anti-home rule group, that we use a one-time override as an annual expenditure limitation rather than Home Rule. Theoretically, there can be a one-time override proposal drafted and presented to the residents for a vote should Home Rule fail.   
I asked the city manager about that as well, here's her response. 
"First, going to the voters in May of each year to ask for approval for a budget that would start July 1 is impossible if the community wants the city to continue providing services and capital improvement projects without interruption from year to year.  The more likely scenario is that if home rule failed, we would immediately start the wheels in motion to ramp down all of our operations to the state expenditure level, with the possible exception of doing a one-time override in May of 2023 only for the purpose of finishing the large capital projects in process now, but my recommendation to council would be to honor what the community has asked for, which is the state imposed spending limit and begin to put the plans in motion to spend the next 9 months ramping down virtually everything we do."
Voting down Home Rule is an option for severely limiting spending by the city of Sedona, and if that's what residents want, they are free to do it.  But the idea of doing it and then forcing a one-time override so that residents can have more power in the budgeting process doesn't make sense to me. 
Now comes the big question. What is the city government doing, and do we like it?
Toward the beginning of each year, the mayor and city council get together over a series of days to discuss council priorities, and come up with a city council priority list.  The meetings are open to the public and result in a document that is downloadable on the city's website. 
If you are interested you can download your copy from this page:
https://www.sedonaaz.gov/your-government/projects-plans-citywide/city-council-priorities
Earlier I said that Sedona has issues, and boy do we.  Many of them related to over tourism.  On busy weekends we have traffic backed up for miles.  We have an excess of ATV's roaming our streets and disturbing the forest. We have a lack of affordable housing due to a state law passed in 2016 which stops cities from being able regulate short term rentals. This is why our city's population actually shrunk below 10,000 in the 2020 census. Many of our city's homes that were formerly rented to locals were sold and turned into Airbnb's forcing our locals to move away.
So, is the city actually trying to do something to solve these issues?  I've posted the table of contents from the council priorities list and I like what I see.  Traffic improvements; check!  OHV use; check!  Affordable housing, check!  They are also looking to update the emergency operations plan, develop economic diversity in Sedona, improve citizen communication, and explore environmental sustainability opportunities.  I'm on board with these priorities.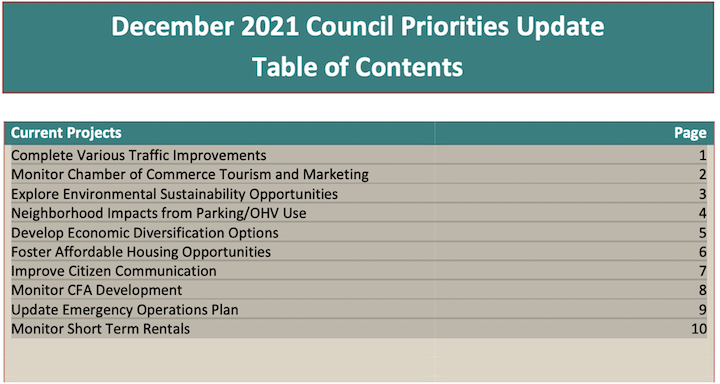 It's debatable whether you like the method that the councilors are employing in each of these areas, but you can read about it, you can call or write the mayor and councilors, or you can show up at a city council meeting or join a work group and be part of it.
What about the Chamber of Commerce?
Number two on that list of council priorities is Monitor Chamber of Commerce Tourism and Marketing. One thing I've learned from the Home Rule controversy these past few years, a LOT of residents are angry at the Sedona Chamber of Commerce.  As we have watched tourism grow and get out of control in our town, the chamber has taken the blame. 
I've been doing a lot of research lately trying to really understand what happened. First let's take a moment and think about the chamber. Who are they?  When you think about it, the chamber is made up of us, the residents of Sedona. Chamber members include doctors and dentists, massage therapists and healers, restaurant and shop owners, architects and janitorial services, ministers, insurance owners, spas and salons and the list goes on.  Most of us know and patronize many of the businesses and services of chamber members.  They are our friends; they are our neighbors.  I personally have never been a chamber member, but I know many who are.  In a town of just under 10,000 people we are going to know each other.  We are a community.
The chamber has been around a long time.  It was founded somewhere in 1949, way before the city was incorporated in 1988. About 20 years ago it expanded from just the Chamber of Commerce, to the Sedona Chamber of Commerce and Tourism Bureau, and it began developing an arm which is known as a destination marketing organization or DMO.
When I first moved here 30 years ago, Sedona was a lovely, sleepy town with one stop light, one funky movie theater and lots of opportunity to skinny dip in Oak Creek without seeing a soul. At that time, we had what was called "tourist season."  Things got busy in the spring and the fall, businesses fattened up their savings accounts and put money away for the leaner months of summer and winter.  Businesses like restaurants depended on the locals coming out during those months in order to survive. 
Then in 2007 to 2009 our country went through what we call the "Great Recession" brought on by the housing crisis and the near collapse of our country's financial institutions.  Things looked bleak in the country and Sedona was no exception.  Money was tight, people weren't traveling as much and being a tourist-based economy local businesses were concerned.  So, the chamber started marketing to bring in more people. 
In 2013, something happened that has been quite controversial ever since. It has to do with the city's bed tax and I'm going to do my best to explain it. Hopefully I get it right.  When the city incorporated in 1988, a 3% bed tax was part of the city's original funding resources.  Like I said earlier, the city does not have a property tax, and we as residents don't pay the bed tax. That's only paid by visitors who stay in a hotel or vacation rental.  So, visitors who come to town would pay the 3% and the city could spend the money as it saw fit. 
In 2013, the chamber, along with the city's lodging council proposed that .5% be added to the bed tax.  Remember, residents don't pay this tax, only tourists do. At that time, we were still coming out of the recession, the future was unknown and the city and the chamber felt responsible to make sure that businesses and the town survived.  An agreement was made that 55% of the bed tax money would be utilized by the chamber in order to continue to promote the city as well as to fund the visitors center and other tourism related expenses.
Then everything exploded, some of it was the chamber's marketing, some of it was social media, some of it was just that the cat simply got out of the bag and Sedona was DISCOVERED.
The tourist spigot got turned on and we as a community have been trying to turn off, or at least turn it down ever since.
After the last Home Rule election in 2018, the city revised its way of funding the chamber, the 55% split of bed tax money no longer exists and the city hires the Destination Marketing arm of the chamber to do specific services for the city, including helping to manage our tourist situation.
The city asked the chamber to cut all funding for destination marketing from it's budget some two years ago, and the chamber has not been advertising in that way ever since.  At its last meeting, on June 29th there was even discussion of asking the chamber to split off its Destination Marketing Organization from the chamber proper so that the structure of how the city does it's contracting with the chamber can be more clear in the future. 
If you are a weeds kind of person and you'd like to listen to that whole council meeting, you can find it here:
https://sedonaaz.swagit.com/play/06302022-516
Meantime all of that bed tax money has made the City of Sedona very wealthy.  I find this Arizona Family 3 TV story explains the whole situation very well.
https://www.youtube.com/watch?v=4KZiCCHgJv4
So does the city deserve our trust?
When it comes to Home Rule, this to me is the question at the core of the debate. We as a city have problems that need to be solved.  Most of these problems require the expenditure of money.  
The city has plenty of money, both in its budget to be spent and even in the cash reserves after the budget funds have been spent.  Without Home Rule, the city will not be able to spend the money it has.
When I look at the council priorities, they tell me that the council is moving forward on the issues that concern me as a resident.  They are trying to solve traffic problems.  They are looking at the issue of short-term rentals.  They are trying to get the forest service to help manage and limit the explosion of ATV's. They are managing the funds they give the chamber, and insuring that the money is not used for destination marketing, but for management purposes.
I can go to the city's website and find out anything I want to know.  If I have questions, city manager Karen Osburn makes herself very available to the public.
You can book an appointment with her, or attend a straight talk session that she holds once a month.  Learn more about that by clicking the link below.
https://www.sedonaaz.gov/your-government/departments/city-manager/straight-talk-with-karen
So how do residents have a voice?
If you really want a voice, you have to be involved.  You have to make an effort to find out what's going on and show up at the council when an issue of importance is being discussed.
The city has an extensive newsletter list and you can sign up for those here:
https://www.sedonaaz.gov/community/news-information/enotify-sign-up-for-news/-fsiteid-1
We can also have a voice at the ballot box.  On August 2nd, we vote to elect our mayor and three council members.  We can decide with our votes who we trust to help guide the city. 
Whoever is running the city is going to need money to make a difference.  You can make sure they have that money by voting YES on Home Rule.
Shaeri Richards is a local improv artist, author, filmmaker, musician, energy healer and an all-around lover of Sedona.