Offers Assistive Gardening Options, Heirloom Plants and Custom Garden Features to the Verde Valley
Camp Verde AZ (May 6, 2013) – Maggie Merkes and Jim Counter are committed to helping elderly and/or disabled gardeners maintain their ability to be self-sufficient. The new Grow Green Garden Center at Ruby Road Resale Mall offers unique raised bed planters which have stood the test of time. "This design is over 100 years old." They have been busily building these planters that allow gardeners to have a "Salad in a Box". The common height is 36" which allows folks to garden without having to bend, but they will make them any height you wish, meaning wheel chair bound individuals can scoot right up and get their hands dirty. The 38×24 size allows gardeners to access the bed from both sides without having to reach, which is a blessing for people with limited range of motion. These deep planters allow gardeners to pack a lot of food in a relatively small space, and enable them to garden from their decks or patios without having to traverse steps or slopes. They also build planting benches for people who prefer to use pots. These benches offer soil storage which allows gardeners to "dump and plant," an innovative feature rarely seen in today's planting benches. The beds and benches are built out of Cedar so bugs and moisture won't be a problem.
When you're ready to fill your raised beds, pots, or garden plots, it's time to see Maggie. She grows some of the vegetables offered organically in her greenhouse, and has several varieties of heirloom tomatoes available. She also offers locally grown annuals and perennials as well as desert adaptive plants. One of her favorites is the Majestic Deodora Cedar evergreen, which grows to be a spectacular specimen and will thrive in the Verde Valley. Maggie states, "Everything here is meant to grow in our zone, zone 8 or colder. We don't sell plants that won't flourish at your home."
Maggie and Jim have created a little oasis off of Highway 260. A walk through Grow Green stimulates your senses with a rainbow of colors and aromas as you pass by the beautiful hanging baskets and rustic décor. Feel free to slip into one of the lounge areas and just soak in the gentle beauty. Grow Green offers other types of ornamentation for your garden such as hand crafted rustic benches and plant stands from rough cut pine, Juniper slab tables for the home, handmade Manzanita walking sticks and whimsical garden décor to brighten your outdoor living spaces, such as one of a kind bird feeders, barbed wire art, and custom copper lampshades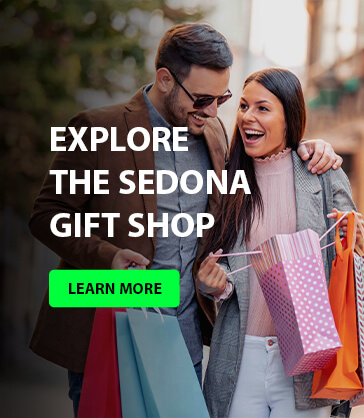 Those looking for landscape features now have a resource for Sycamore, Saguaro, Cholla and Ocotillo. Maggie and Jim have a large supply available upon request and can even incorporate them into custom made designs of your choosing.
Whenever possible, recycled materials and found objects are used in the garden center. Yet another way they are helping Camp Verde "Grown Green".
The Grown Green Garden Center is located at Ruby Road Resale Mall, 851 E. Howards Rd. Camp Verde. Hours are M-F 10-6, Sat &Sun 10-5. 928-567-5759 www.RubyRoadResale.com