Sedona AZ (November 11, 2012) – You might wonder what could an artist who went to college in a big city and an artist who grew up on a farm possibly have in common? As members of Fiber Arts Sedona, they would both work in fiber and live in Sedona. And you can see their art works during the FAS Open Studios on Thanksgiving week end in West Sedona. This will be FAS 3rd annual free Open Studio tour.
Dee Durkee, the Founder of Fiber Arts Sedona, a college graduate with a BFA, and is a prolific artist, who is continually producing wonderful fiber art and artifacts. She creates exquisite 3 dimensional vessels, exceptional fabric jewelry, painted journals, artifact pins, hand dyed tissues & tags, quilted wall pieces and 3 dimensional vessels to mention a few items. Her studio is chalk full of artwork ranging from $8 to $800. It is always An adventure to enter her space, as your eye can barely take in everything you see. And often you can hunt around and discover special hidden treasures.
Durkee works with material and a sewing machine, actually 7 sewing machines to be exact. When artists ask her if she will teach them her style she requests that they purchase a sewing machine that they are willing to have break. She often breaks hers, and that is why she has so many. She collects recycled materials and works with layer upon layer to create her 3D vessels, for which she is best known. These works are overstitched with varied colored threads providing not only visual interest but also structural integrity. They are absolutely gorgeous!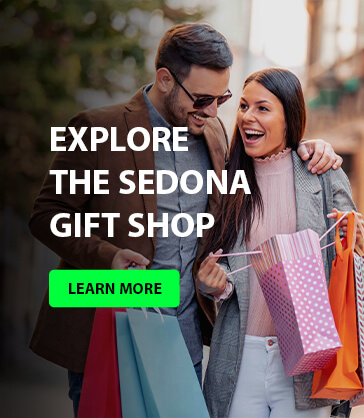 Shirley Eichten Albrecht also creates vessels, but they are quite different. Her creations are more in the shape of traditional woven baskets, Gourds and wall works constructed of natural fibers. When viewing her work, you can feel her earthy connection to nature. On occasion she may add a feather, antler, beads or a piece of leather to a piece. Her work has a sculptural quality and her colors run from muted tones to bright reds and blues.
Walking into her studio, you see numerous kinds of natural fibers and organic found objects. Her studio is spacious and you can view each of her works individually. Shirley is the kind of artist who is very well organized, and in her studio everything has its place. There is no chaos here as you see in some studios. She creates art works for galleries and also takes commission orders and teaches classes on creating baskets. And there is no worry here about breaking anything.
Fiber Arts Sedona is an organization of professional fiber artists who once a year invite the public into their art studios and welcome visitors throughout the rest of the year by appointment. This year the free Tour will be Friday, Saturday and Sunday, November 23-25th from 10:00am to 5:00pm. For more information contact Margaret Anderson at 203-4355.