Sedona AZ (May 30, 2021) It was a rousing success. Hundreds of dollars-worth of baby clothes and supplies were collected to benefit the young mothers and mothers-to-be of Naomi House on the Navajo Nation and Abide Pregnancy Center, in Camp Verde. Goodness reigned. Love dominated. And the giving spirit was manifest. With intent of helping those in need, Two Fer Tuesday conducted a "baby-supply and clothing" drive on Tuesday, April 27 to help young mothers and mothers-to-be get through these uncertain times.
With the help of a local realty group, Two Fer Tuesday collected a bountiful supply of baby supplies for the women and their babies.
"It was our honor to help," said Will Hamburg, branch manager of Realty One in Sedona. "Acts like these define the character of a community. Two Fer Tuesday showed us who we as Sedonans, are."
Not only did Realty One brings gifts but they also put their feet to the ground with volunteers.
"It was a lot of fun, Hamburg said. "I even brought my baby daughter Amina and my wife Lena so they could be part of the action."
Two Fer Tuesday organizer Andrea Kadar was excited and grateful for the amount of supplies donated, giving thanks for those that helped.
"The supplies are on their way," she said after volunteers packed storage rooms at the Sedona United Methodist Church with the donations to be taken later to the Reservation and Verde Valley. "We had a great time with our "soldier" volunteers, like Liz Kenney, Geri Watts and Gill; Donna Coles, Dominick Kay, Suzy Schuler, Cynthia Malowitz, Bruce, Kat, Mike, Taylor, Barbara; and the Realty One Team, their friend Randy, Will Hamburg, Halie, Lena Hamburg, Amanda and Kent.
Andrea gratefully acknowledged her longtime supporters as well.
"We love our long-standing supporters of Two Fer," she said. "We acknowledge Pastor Fred and Jenny Mast; Bill and Debbie Johnson; John and Ann Steinbrunner; John and Pat Currivan; and the consistent donors at Sedona United Methodist Church. We especially love the "Blessing Group" — our planning team of Robin Briggman, Bruce and Kat Bramblett, Barbara Quayle, Mike and Christine Schroeder, Tish and Jon Denny and Taylor.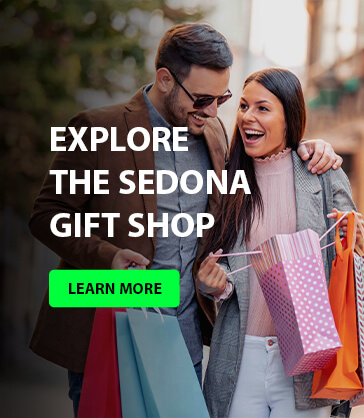 Andrea continued expressing her gratitude for the Two Fer Tuesday crew.
"Thank you again to all of our faithful volunteers: the capable and good natured team at Realty One, the stalwarts like Barbara Quayle, Tish Denney and her daughter, Taylor, Mike Schroeder, Bruce and Kat Bramblett, Donna Coles, Liz Kenney, Jeri Watts, and for Domonick Kay with the Yavapai Re-Entry "Program, an organization that could be a recipient of a Two Fer Tuesday in the future," she said.
They braved the cold and wind on Two Fer Tuesday morning and were well-reward with
the plethora of gifts for young mothers in need.
The spirit of this group, shone. The success of the event proved that things amplify when the higher power inside us, joins us.
"Just look at what our God can do through you," Andrea said. "We had a great Two Fer Tuesday."