Sedona AZ (November 29, 2012) – Early December brings the longest running and most beloved Sedona holiday tradition, Tlaquepaque's Festival of Lights, on Saturday, December 8th from 3:00 pm to 8:00 pm. Precisely at 5 pm, with the tolling of the tower bells, 6000 luminarias, lit by hundreds of excited visitors and happy residents, will transform the already beautiful Spanish-style arts village. If you have not partaken in this popular community gathering, this could be your year. Tlaquepaque Arts & Crafts Village is an Arizona and Southwest icon and for 40 years Festival of Lights has wowed participants from far and near.

The luminarias provide the perfect backdrop for a day of family fun for the holidays, packed with non-stop, musical entertainment in every courtyard, a visit from Santa, hot mulled cider, and more. Admission is free and all of Tlaquepaque's world-class galleries and distinctive shops will be open until 8:00 pm as well. For your convenience, park in the Uptown Municipal Parking lot and ride the free trolley to Tlaquepaque with continuous service from 3:00 pm – 8:30 pm.
As in years past there is an opportunity to pause, reflect, and remember loved ones lost to cancer or struggling with the disease by sponsoring a luminaria for $10 and inscribing a personal message if you wish. Luminarias are placed around the fountain at Patio del Norte. Proceeds support the American Cancer Society and luminarias can be purchased in advance for $10.00 by calling (928) 282-4838. "There is a more solemn and reflective event going on as loved ones write messages on their luminarias. It's both moving and hopeful that someday we won't have to do this, " reflects Wendy Lippman, resident partner and general manager of Tlaquepaque.
The Festival of Lights is a blur of eclectic musical entertainment from traditional holiday fare to hot Latin rhythms and hip-shaking rock n' roll in every corner of the arts village. "There is something for everyone," says Lippman . "And be sure not to miss the heart-pounding, high-energy River of Life Choir, at 5:30 in Patio De La Fuente."
The Festival starts Saturday, December 10th at 2:00 pm with popular local singing group, Red Rock Appella (from 2:00 to 2:30 pm in Patio De Las Campanas then 2:30 to 3:00 in Patio del Norte). At 3:00 pm Santa arrives at Patio del Norte. Bring the youngsters and visit with Santa until 5:30 pm. And during Santa visits sensational Sedona singing duo Tom and Shondra, will belt out holiday favorites to get everyone in the mood and again perform in Patio del Norte (3:00 to 5:30 pm)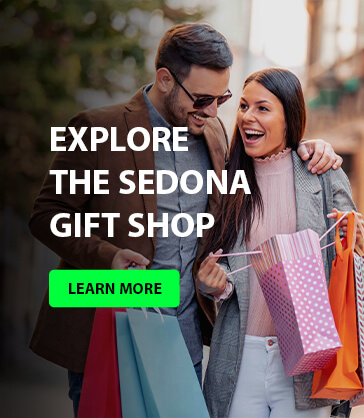 The serene and intimate Tlaquepaque chapel will host two performances including classical guitarist Brain David whose range of musical styles include classical, jazz, contemporary, and Spanish, among others. (3:00 pm to 5:00 pm). From 5:00 to 8:00 pm the internationally acclaimed guitarist, Gabriel Ayala will perform. As an accomplished classical musician who is pioneering a new generation of Native American musicians, Ayala received both the Canadian Aboriginal Music Awards in 2011 and "Best International Album" award in 2010. This will be his second performance at Tlaquepaque, the first at Fiesta del Tlaquepaque earlier this year.
Festival headliner and crowd favorite, the River of Life Tabernacle Choir, performs their non-stop, riveting songfest from 5:30 to 7:30 pm in Plaza del Fuente. If you have never seen this passionate, give-it-everything-you've-got choir comprised of dozens of members, do not miss their show and assemble early to get a good view!
If you love 50's classics and want to hear Elvis-style holiday crooning, head back to patio del Norte from 5:30 to 8:00 pm and prepare to boogie. It's the rock classic band "56" with music and moves to set you free! They even have a band member named Vinny, who wails on drums. Speaking of drums, steel ones that is, be sure to catch Paul McDermand, considered among the country's top steel drum and marimba artists, returning to Festival of Lights for the third year. He has an enchanting style that brings a little Trinidad holiday cheer to Tlaquepaque, in Patio de la Rosas from 4:00 pm to 8:00 pm.


Rounding out the entertainment extravaganza in Patio De Las Campanas is Ritmo Latino with hot Latin sounds to warm you up (3:00 pm to 5:30 pm), followed by
Zazu, described as "gypsy jazz, Django jazz, gypsy swing," for a unique and completely delightful musical experience. (6:00 pm to 8:00 pm)
Admission to the Festival of Lights is free. The Sedona Trolley will provide complimentary shuttle service every 15 minutes from 3 to 8:30 p.m. with pick-up and drop-off in the Uptown Municipal Parking Lot. Located at 336 State Route 179 Sedona, AZ., The Art and Soul of Sedona, Tlaquepaque, is the home to world-class shops, galleries and four restaurants. For more information, please contact Tlaquepaque at (928) 282-4838 or www.tlaq.com, and shop online at www.shoptlaq.com.