Sedona AZ (April 28, 2017) – The Collective Sedona, a mixed-used shopping, dining and entertainment plaza is pleased to announce a great line-up of events taking place during the month of May.
Starting Saturday, May 6th, the Sedona Yoga Festival will provide free yoga on the courtyard lawn of The Collective Sedona. The event, dubbed Sedona Salutations, will take place each Saturday through June 10th from 9 to 10am. Come celebrate community on the lawn in this kid-friendly yoga event open to all levels.
Also happening on May 6th, Beauty Walker Kaleidoscope Gallery is inviting the community to celebrate their grand opening from 10am to 1:30pm with refreshments and a tour of their beautiful gallery. This event also coincides with J Wine Bistro kicking off their new lunch hours. Owners, John and Nikki Ramagli, have worked diligently to create an inviting lunch menu with fresh, seasonal, locally-sourced ingredients to complement the new patio that wraps around their building. Guests can dine al fresco sitting at beautiful mosaic tables surrounded by custom-built wooden crates filled with beautiful flowers and herbs.
Each Wednesday throughout the month of May, The Collective Sedona invites poets, artists, musicians and comedians to attend Open Mic Night. This free event runs from 7:30 to 9:30 pm and participants and spectators are encouraged to bring blankets, chairs and their own libations.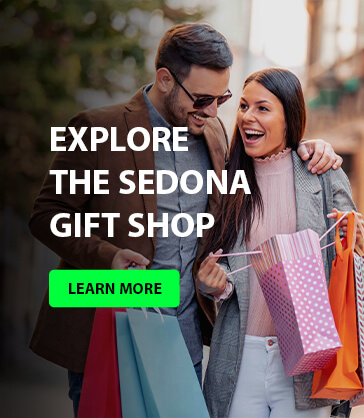 Second Saturday Art Walk, a monthly free community event, will take place on May 13th  from 5 to 8pm. The event features artwork on display and for sale by local artists, live music and delightful vendors. May's Art Walk will feature wine samplings from Page Spring Cellars, live music in the courtyard by popular, local Sedona musician, Gaetano, along with an array of vendors including Sedona Health Spa offering chair massages, Raven's Call Healing Center providing sound healing, InLight & Sound Immersion offering visitors sound and light immersion therapy and Sedona Soul Balance offering readings. Additionally, ROCKY RD Ice Cream Co. (a new tenant at The Collective Sedona) will be on hand passing out samples of their delicious, locally-crafted ice cream. Individual shop owners will be open late that evening offering an assortment of refreshments and snacks along with discounts on merchandise. The evening is capped off with prize drawing giveaways from some of the area's finest shops, restaurants and tour operators including Red Rock Magic Trolley, Sedona Segway Tours, The Village Grind, Miley's Café, Donna's Classy Glass, Crimson Fairy and Raw Elements Photography.  
Attend Dinner Under the Stars on Monday, May 22nd at The Collective Sedona. Guests will first dine at J Wine Bistro followed by a night of stargazing and night sky photography from 6:30 to 9:30pm. After enjoying a two-course dinner at J Wine Bistro, participants will head upstairs to the Sedona Vortex Center and enjoy a night of stargazing with telescopes and night sky photography led by local photographer Georgia Michalicek. The event is $40 and includes dinner with lively conversation by local astronomers and photographers and entry into a drawing for a prize giveaway. Space is limited and guests are encouraged to purchase their tickets early for this event by visiting the Sedona Village Welcome Center or by calling 928-575-0203.
For the second year in a row, The Collective Sedona is the hosting sponsor for this year's Illuminate Film Festival Launch Party and Outdoor Screening event on Wednesday, May 31st from 6:30 to 9:30 pm. Bring your blankets to the courtyard of The Collective Sedona for this free event and sit under the Sedona starlit sky. Relax on the grass as you enjoy a fun, musical celebration with healthy food, fascinating performers, talented musicians, conscious vendors and exciting raffle prizes followed by a free outdoor screening. Sit back and be dazzled by performance artists and musicians.