Concern For People Living with Mental Illness
By Barbara Mayer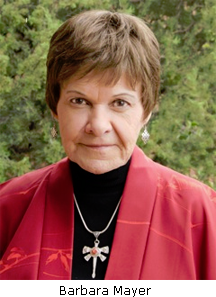 I have dedicated further editions of this column to the concept of Kwan Yin – or any other caring figure in belief systems around the planet who stand for and call for the Spirit of Compassion as One Who Hears The Cries Of The World.
Yet this column features one group of society whose cries are either never heard or who are quietly dismissed because of the sociological bias against those who suffer from various degrees or modes of mental illness. Yet how can anyone not be alarmed and moved by some of these stunning facts from a recent publication of the National Alliance on Mental Illness.
One in four adults experience mental illness in any given year.

Approximately 20 percent of youth ages 13 to 18 experience severe mental disorders. For ages 8 to 15 the estimate is 13 percent.

Approximately 42 million people live with anxiety disorders such as panic disorder, obsessive-compulsive disorders, posttraumatic stress disorder or generalized anxiety disorder and phobias.

Approximately 20 percent of state prisoners and 21 percent of local jail prisoners have "recent history" of a mental health condition.

Seventy percent of youth in juvenile justice systems have at least one mental health condition and at least 20 percent live with a severe mental illness.

Consider the fact we are using Arizona prisons to house many whose mental illness has led them to commit crimes which call for incarceration. Nationally, an estimated 31 percent of women and 14 percent of male jail inmates live with serious mental illness.
Is help available? Yes. Is it enough? Despite the dedication and skill of mental health care professionals, much more needs to be done.
This is where we matter. We can begin by first developing an awareness of the mental illness around us which cries for help. We can also seek ways to help defeat the stigma of mental illness and champion new understanding so it can be viewed and treated in the manner of any other illness we humans may contract. Third, we can seek more avenues of meaningful intervention for those who suffer from any form of mental illness, and help for the families and caregivers who are so heavily impacted by the mental illness of those whom they love.
It is good to note a small group of Sedona and Verde Valley residents and mental health care professionals has formed the new Mental Health Coalition Verde Valley (MHCVV). With these professionals guiding some concerned area residents, a new layer of help is becoming available to anyone suffering from the impact of mental illness. For example, it will help to become aware of the Sedona Chapter of the National Alliance on Mental Illness (NAMI), which can be reached by calling 928-282-4827.
Future columns will offer more specialized awareness of this issue. For now consider becoming part of the growing number of caring and compassionate people in our area who are willing to learn so that understanding and healing can begin for so many who need our help.
"To hear the cries of the world" is not some lofty spiritual concept or jargonized pronouncement. It is an extremely vital part of being fully human, and it is sorely needed in these days of stress, the need to cope, serious mental disorders and possible despair.
We can turn stigma into service and awareness into action once we know that so many among us are truly suffering. And you can make a powerful difference by becoming one more caring individual who is willing to show up – and to listen very, very well.
Barbara Mayer is a poet, author and interfaith/interspiritual minister who lives, writes and shares the Spirit in Sedona, Arizona.