Sedona AZ (July 9, 2014) – Creating jewelry has been a life-long passion for Sedona resident Liz Alpert.  She first became fascinated with crystals as a young child, so working with the color and energy of gemstones became second nature to her at an early age.  She has been creating jewelry most of her life.
A broad selection of Alpert's work is now being featured by Sedona Giclée Gallery in West Sedona's Harkins Theater Plaza, and Alpert will be honored with a reception at the venue on Friday, July 18, 5-7PM.  The public is cordially invited to attend, chat with the artist, and enjoy wine and refreshments.
Alpert has always had an independent and inquiring spirit.  During her childhood in Boston, she took the initiative to teach herself how to design her first jewelry pieces. Her early successes there begat a lifelong zeal for the associated disciplines, materials, and methods.  Later, while in college, she augmented her skills through studies of Jewelry Making and other artistic specialties at the Escuela de Bellas Artes (School of Fine Arts) in San Miguel de Allende, Mexico.  She further advanced her mastery of design principles by spending a year at the Fashion Institute of Boston.
Alpert's work has also been influenced by her extensive worldwide travels, which included sojourns in Brazil, Turkey, Greece, Italy, France, and Thailand as well as Mexico.  In addition, she incorporates inspirations from Tibet and India into her work.
Another major influence in Alpert's work is the healing arts.  Health challenges led her into a spiritual journey during which she embraced energy healing modalities and naturopathic methods.  She ultimately combined her passions and began creating jewelry intended to foster regeneration, awareness, and consciousness through vibration and frequency.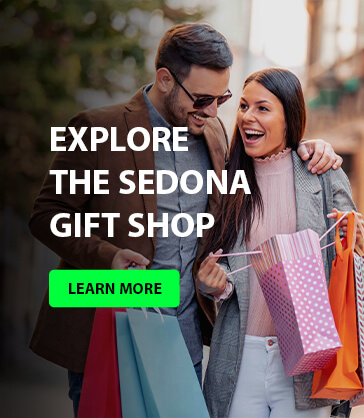 Alpert's renown grew rapidly after she was invited as a guest lecturer and exhibitor on luxury cruise ships.  She also traveled internationally with The Reconnection Team, a healing organization based in Los Angeles, and designed the Reconnection Jewelry line for seminar attendees.  And as her reputation flourished, her works were eagerly acquired by many Hollywood actors, authors, doctors, and other notables.
She is currently showing pieces from several of her jewelry lines, including Love + Gratitude Medallions, Atlantean Orb Jewelry, and Reconnection Jewelry, and she also creates one-of-a-kind items that are distinct from her main series of works.
"I've always been inspired by nature and the elements of water, earth, sun, air, and the stars," she notes.  "Living in Sedona has triggered an energetic shift within me which is apparent in the direction of my recent jewelry creations."
Sedona Giclée Gallery is located at 2055 W. State Route 89A, Suite B, near the Harkins Theaters, and is open Monday through Saturday from 11AM to 6PM.  For more information, contact Justin or Jodi Whittaker at 928-282-4708 or visit http://www.sedonagicleestudios.com.