Sedona AZ (February 19, 2013) – The School of the Arts at the Sedona Arts Center has created a new workshop based on the notion that 'art is self discovery' and that creativity is best explored through an interdisciplinary approach. Six artists teach in the new Sedona Art Retreat, an exploration of creativity that invites participants to explore both the inner and outer dimensions of creative work at the same time. The retreat takes place over three days using half-day projects to teach various perspectives on the creative process.
Komala Rohde is the coordinator and one of the teachers in the program. She has been involved various models of retreat over the years and has noticed that the new model for a 'retreat' has become more of a hands-on experience rather than a psychological or meditative model. Art-making is the bridge between the inner and outer world for the individual. All the projects in the retreat are hands-on and explore the ways that art surprises, delights and engages our senses and our minds. There was a real sense of synergy with the artist/instructors as they met together and worked with Vince Fazio and Komala to develop the program in terms of the creative path made by the projects themselves.
The workshop includes: Creative Journaling with Libby Caldwell, Zen Calligraphy with Alok Hsu Haun, The Collage with Vince Fazio, Photographing Essence with Rick Daley, Creating your 'Lifemask' with Liz Learmont and Creating a Talisman with Komala Rohde. Komala acts as the coordinator hosting a meeting the evening before the workshops, meeting with students at the end of each day and combines the Talisman project with a final integration of learning.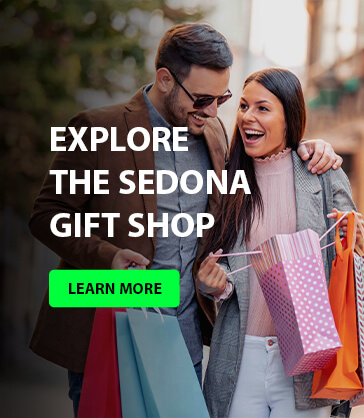 The retreat has evolved to create a meaningful connection between all that Sedona is best known for; the beautiful landscape, unique art, and as a place for retreat and reflection. Two Sedona Art Retreats are scheduled for the spring semester meeting March 11 – 13, and May 13 – 15. See the new Sedona Arts Center website for all the details or call (928) 282-3809 or toll-free (888) 954-4442. SedonaArtsCenter.org