Sedona AZ (October 18, 2016) – Following a successful art show this past spring, a group of artists calling itself The Renegades will exhibit a wide-ranging collection of art works this month at the Sedona Arts Center.
The show, in the venue's Special Exhibition Gallery, brings together new paintings by Gary Jenkins, Kathwren Jenkins, and Rick Gandolfo; sculptures by Adrianne Bacavis; photographs by Carol Gandolfo, Jim Peterson, and Beverly Kievman Copen; jewelry and gourds by Pat Priolo; and jewelry and glass works by Lorraine Fexas.
The exhibit runs October 23-31 in the Special Exhibition Gallery of the Sedona Arts Center and is open each day between the hours of 10 am and 5 pm.  Sales from the show will benefit the Verde Valley Caregivers Coalition, a worthy local charity supporting older adults in maintaining their independence and quality of life at home.
The artists bring a wealth of life experiences and artistic backgrounds to their work.   Carol Gandolfo, for example, holds a doctorate in clinical Psychology.  Her abiding interest in people has considerable influence on her art, helping her to capture fleeting moments that reveal her subjects' inner emotions.
Beverly Kievman Copen is an entrepreneur, author, and award winning photographer.  Her global focus on photography has been featured in a 3 month solo exhibit at the Sedona City Hall as well as a solo exhibit at the Herberger Theater Performing Arts Center in Phoenix.  
Rick Gandolfo was born on Arizona's Williams Air Force Base and, after early studies at the Chouinard Art Institute in L.A., spent most of his career working in the aerospace industry. Now retired, he paints unique plein air landscapes with a contemporary bent.
Award winning Sedona Photographer Jim Peterson grew up in northwestern New Mexico, earned a B.A. in Music and a PhD in Biochemistry from the University of Chicago, and went on to a long career in the tech industry.  His photography is inspired by a lifelong love of the natural world, which in turn was a very predictable result of growing up in the inspiring landscapes of the Southwest.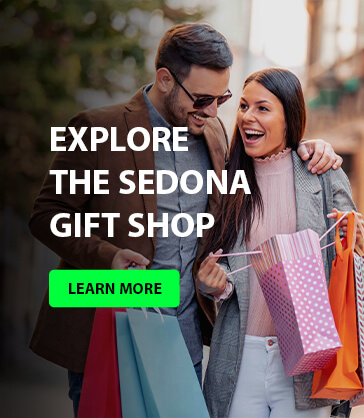 Fashion and design are second nature to Pat Priolo, who infuses a strong sense of color and space into her jewelry and gourd creations.  Originally from the San Francisco Bay Area, Pat's lifelong background in art and design is expressed in each of her sophisticated pieces.
Kathwren Jenkins was born in Toronto, Canada and raised in Southern California.  She is an accomplished oil painter specializing in elegant florals and exotic birds.  She and her husband Gary are also renowned worldwide for their educational efforts, including production of over 450 instructional PBS TV shows on painting plus accompanying books and DVDs.
Gary Jenkins was born in Brooklyn and graduated from the renowned Ringling School of Art in Sarasota, Florida.  After selling over 60 of his paintings to art galleries across the nation, the opportunity came to host a weekly national PBS television art show series with his wife Kathwren.  "Oil painting and sharing my passion for art with everyone around the world is a dream come true," he says.
Lorraine Fexas began her love of glass when she moved to Sedona and became a member of the Sedona Arts Center.  She now designs fused glass plates, bowls, wall pieces, jewelry, and other decorative and functional items, and her work is exhibited widely throughout the region.
Adrianne Bacavis has a diverse background as a massage therapist, newspaper reporter, writer, and comedic actress, but she says that nothing has ever enabled her to bring the images in her mind to life as well as sculpting has.  "I see ordinary things in a slightly oblique way sometimes," she notes. "If it makes me laugh, then I want to present it to the world in hopes that it might do the same for others. "
The Special Exhibition Gallery of the Sedona Arts Center is located on the lower level at 15 Art Barn Road, Sedona, Arizona 86336, and the show is open from 10:00 AM until 5:00 PM daily from October 23-31.  For more information, contact Jim Peterson at (928) 554-4340.