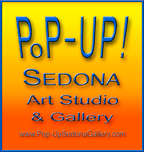 Sedona AZ (May 16, 2013) – Pop-Up Sedona Gallery in Hillside Sedona Center is marking its third anniversary with a gala celebration on Saturday, May 25th.  This free event, featuring live music as well as food and drinks, is open to everyone and will be held on the patio outside the gallery between 3:00 and 6:00 PM.  Over $1000 worth of art works will be raffled off to benefit Camp Soaring Eagle.
Pop-Up was founded three years ago by a dedicated group of local artists led by Patty Miller.  Art mentoring and community service have always been an important element of the organization.  Although Miller is no longer involved with the group, her vision of combining art with community service lives on.
The gallery is a co-op venture of local Sedona artists who often work on their art at the gallery when they are not assisting customers.  Visitors have the opportunity to meet the artists as well as learn about art from the people who create it.
Pop-Up's May 25 anniversary celebration will help raise funds for Jette, a child with Ewing's Sarcoma, so that he can attend a special camp for seriously ill children.  Ewing's Sarcoma is a genetic form of cancer that affects mostly teenagers and young adults.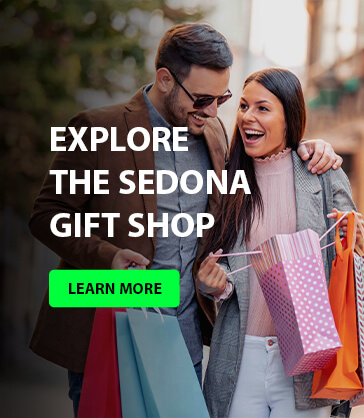 Jette is receiving assistance from Camp Soaring Eagle in the Village of Oak Creek.  Until CSE can complete construction of its own camp, it is sending children to partnering camps around the country.  Jette will be going to the Paul Newman Camp in Connecticut and needs $2000 to make the trip.  PoP-UP artists have donated some of their work to help accomplish this goal.
The donated art pieces will be raffled off at the gala event on May 25th, with all proceeds benefiting Jette and Camp Soaring Eagle.  Raffle tickets can be purchased any time between now and the raffle, at the PoP-UP Gallery or through the Camp Soaring eagle website at www.campsoaringeagle.org.  Tickets are $10 each or 6 for $50, and you do not need to be present to win.
The following fine art items will be included in the raffle:
Kokopelli Gourd, by Pat Priolo
Fused Glass Plate with Stand, by Lorraine Fexas
Cathedral Rock Sunset, Panoramic Photo on Metal by Al Judge
Zen – Metal Candleholder Sculpture, by Richard Barnwell
Blue Dance, abstract image by Jim Peterson
Jasper with Copper Wire, pendant by Norma Holden
Agate with Sterling Silver Wire, pendant by Norma Holden
Two Polymer Clay with Copper Wire Wrap pendants by Norma Holden
Silver and Pearl Necklace and Earrings, by Marian Ward
Stamped Brass and Glass Earrings, by Kelly Patton
Uluru and Cloud, photograph by Csaba Martonyi
Pop-Up is located on the second level of Hillside Sedona Center, 671 State Route 179.  For more information, call 928-282-8143 or visit www.Pop-UpSedonaGallery.com .