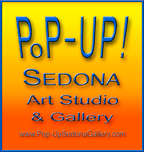 Sedona AZ (February 7, 2014) – During February, Pop Up Sedona Gallery will feature two artists who work with the same medium but in contrasting styles. Oil painters Rick Gandolfo and Wayne Knowles will featured throughout February, and both will be present at the venue's First Friday reception (February 7, 5-8 PM) to exhibit their work and chat with visitors and fans. The public is cordially invited to attend and get to know these two masters.
Richard Gandolfo won a scholarship to Chouinard Art Institute in Los Angeles (now The California Institute of The Arts) while still in high school. He put his artistic endeavors on hold, however, to get a MBA from Pepperdine University, and then spent the next three decades in the aerospace industry.
In 1980, Gandolfo returned to his artistic roots and resumed his artistic studies, also joining an art group in Hermosa Beach, CA. He subsequently began taking additional art classes at an art school in Irvine, CA, while working three separate jobs.
Upon retirement, he was finally able to focus on art full-time and is now creating unique oil paintings of Sedona landscapes plus portraits of animals and people. He has lately found enjoyment in plein air painting and in exploring the new (to him) medium of sculpting. His work is characterized by bold brush strokes and imaginative use of color.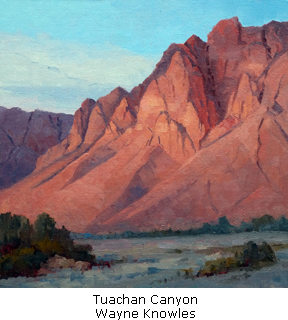 Sedona artist Wayne Knowles is a contemporary landscape painter with a passion for capturing the untamed terrain of the western United States. His fondness for mountains, desert rock outcroppings, mesas, and wetlands is evident in his paintings.
Born and raised in Chicago, Illinois, Knowles attended college in Florida to study architectural design. After studying for three years, a road trip through the west convinced Knowles to leave his college studies and pursue a career in fine art. He settled in Oregon, but especially enjoyed the Southwestern Desert. Exploring national parks and wilderness backcountry shaped his artistic vision. "I feel most at home somewhere in the middle of nowhere," he claims.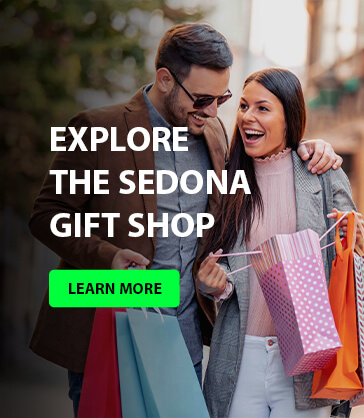 Returning to college in 1991, Knowles earned a Bachelor of Art degree with an emphasis in painting from Marylhurst University in Oregon. Frustrated by the emphasis on avante garde expressionism taught in school and the constraints of studio work, Knowles instead studied the masters of landscape painting. He credits the work of Edgar Payne and Jim Wilcox for leading him to paint on location (plein air) as a means to explore light and color.
Knowles served as an art faculty member at Chemeketa Community College in Salem Oregon for 14 years until 2012. For 6 years, he maintained studios in both Sedona and Oregon, but now lives exclusively in Sedona, concentrating on painting the southwest.
Knowles' work is included in the collections of the City of Salem, Oregon, Chemeketa Community College, and many corporate and private collections. He has won numerous awards; most recently his painting "Wetland" won first place at the 2013 Sedona Wine Festival.
Pop-Up Gallery is a co-op of local artists representing a wide variety of visual art. The gallery provides a unique opportunity for art enthusiasts to meet local artists and learn about their art. Visitors and locals alike flock to Hillside for the venue's monthly First Friday celebrations.
Pop Up is also committed to giving back to the community. Thus, a portion of all sales helps to support Camp Soaring Eagle or other local charities.
Pop-Up! Sedona Gallery is located on the upper courtyard of Hillside Sedona Center, 671 State Route 179 (about ½ mile south of the "Y" in Sedona). The venue's hours are 10:00 AM until 6:00 PM daily. For more information, call (928) 282-8143 or visit www.pop-upsedonagallery.com .