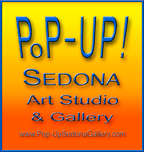 Sedona AZ (June 4, 2014) – On Friday, June 6, Pop Up Sedona Gallery will be highlighting two local artists, Judy Harrington and Helen Lande, along with several other gallery artists. Many of the gallery artists will be on hand to meet and greet the public and talk about their work. The First Friday reception will include wine and refreshments and will take place from 5-8 PM.
Judy Harrington has mastered a wide variety of techniques and refuses to stick with just one medium.   At Pop Up she shows Chain Maille, Cabochons, wood carvings,  and wood burnings. 
She started working on Chain Maille three years ago, and now adds niobium rings, jeweler's brass, and crystals.  Her cabochons are made using 80-100 grit grinders and a vibrating tumbler.  
With her woodcarvings, Harrington has won three awards at the Annual Desert Woodcarving Show in Mesa.  Using Baltic birch, she creates scarf holders, brooches, pendants, and art pieces illustrated with Sedona scenes, crop circles, and vortexes.   She also creates intricate framed illustrations of fanciful subjects burned into finished wood surfaces.
Helen Lande arrived in Sedona after years of living up and down the West Coast. Though she has no formal education in art, she has taken art classes in photography, jewelry, clothing design and painting. Artist Gretchen Lopez is one of her favorite mentors and works with Helen on figurative painting, still-life and plein air.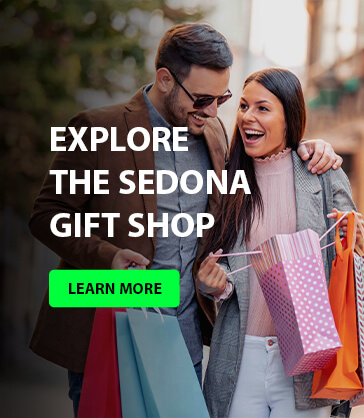 Lande uses color to capture the fleeting feelings of moments in the lives of her models.  She has shown her art work at the Bay Avenue Gallery in Ocean Park, WA and in various shows in the Sedona Arts Center.
Pop Up Gallery is a co-op of local artists dedicated to exhibiting a wide variety of artistic styles and mediums.  The venue is also committed to giving back to the community.  Thus, a portion of all sales helps to support Camp Soaring Eagle or other local charities.
Pop Up Sedona Gallery is located on the upper courtyard of Hillside Sedona Center, 671 State Route 179 (about ½ mile south of the "Y" in Sedona).  The venue's summer hours are 11:00 AM until 5:00 PM daily.  For more information, call (928) 282-8143 or visit www.pop-upsedonagallery.com .