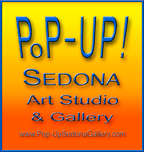 Sedona AZ (January 1, 2014) – On Friday, January 3, Pop Up Sedona Gallery will welcome the new year by showcasing two very talented local artists, Holly Stedman and Jim Peterson. The First Friday reception that evening will include wine and refreshments and will take place from 5-8 p.m. The public is invited to attend and feel at home in the venue. Many of the venue's artists will be on hand to meet and greet the public and talk about their work.
Jim Peterson is an accomplished photographer with a passion for rich, superbly detailed images of the natural world. He articulates his personal vision through a singular blend of classic photographic methods and state-of-the-art digital techniques. He hopes to help preserve our natural legacy by fostering wider appreciation of the intricate beauty in the fragile environment that surrounds us.
Peterson's body of work includes small, intimate portraits of wild beings as well as majestic, room-sized landscapes and panoramas, plus the occasional abstract or experimental composition. He accepts commissions for unique, one-of-a-kind creations, and is available for a limited number of personal or family portrait sessions and commercial assignments.
He grew up in northwestern New Mexico, where he developed a lifelong attachment to the illuminated spaces and sculpted forms of the Southwest. His interest in photography arose mainly from a desire to record and interpret that vista. Although he is mostly self-taught, he received valuable early guidance from the late Byron Shurtleff of the University of Delaware, as well as from his brother, Brian H. Peterson (a noted photographer, curator, and author), with whom he continues to share techniques and compare notes and images.
Holly Stedman, glass artist and author of "Splendor in The Glass: Creating Stained Glass Beyond the Ordinary", will be on hand to share her experiences in teaching how to create masterpieces in glass. She and her husband, Gary, have lived in Sedona since 1993.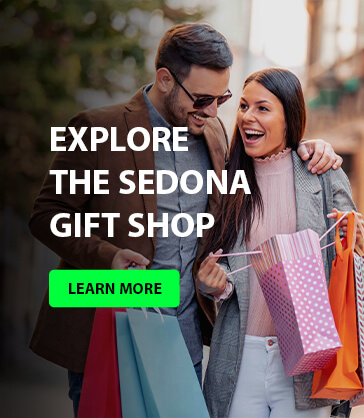 Stedman considers herself an adventurer, and draws much of her inspiration from trekking and canoeing in the high arctic, sailing and snorkeling in the Caribbean, and caving and backpacking in the Grand Canyon. "I create art to satiate my passion — my compulsion to bring forth in tangible form the cacophony of vivid visual drama that is always playing in my mind's eye. It begins with my own history, often after an emotional adventure that can never be quieted."
She has numerous publications to her credit and enjoys expressing herself through glass sculptures, stained glass, and kiln formed glass. Many of her engaging creations will be on display at Pop Up during the month.
Pop-Up Gallery is a co-op of local artists representing a wide variety of visual art. The venue provides a unique opportunity for art enthusiasts to meet local artists and learn about their art. A wide range of works suitable for home display and gift-giving are on display, and gift certificates in any amount are available.
In addition to showcasing the work of local painters, sculptors, jewelers, photographers, potters, gourd, and glass artists, Pop Up is committed to giving back to the community. Thus, a portion of all sales helps to support Camp Soaring Eagle or other local charities.
Pop-Up! Sedona Gallery is located on the upper courtyard of Hillside Sedona Center, 671 State Route 179 (about ½ mile south of the "Y" in Sedona). The venue's hours are 10:00 AM until 6:00 PM daily. For more information, call (928) 282-8143 or visit www.pop-upsedonagallery.com.