Clarkdale AZ (November 22, 2013) – Get out your calendars and mark the dates of the Made In Clarkdale 2013 performing arts line-up. The Made In Clarkdale Art Show, held at the Clark Memorial Clubhouse, has always been known for displaying the art of the many talented artists that live, work or take art classes in Clarkdale, as well as providing educational workshops for students. This year the show is expanding to include an impressive line-up of performing art as well.
The Gala Opening on December 6 from 6 to 9 pm is a "can't miss." Not only do you have the opportunity to meet the Made In Clarkdale artists and talk with them about their art, but you can also enjoy an evening of entertainment by the Janice Paul Combo, a Jazz Group, and the Blue Dragon Belly Dance Troupe.
Saturday, December 7, put on your dancing shoes and get ready for the authentic blues, blues-rock, country, and a dash of reggae with the Bottom Line Blues Band from 6 to 9 pm. You'll recognize music from Muddy Waters, John Lee Hooker, Eric Clapton and many more. Mike "King Daddy" brings his trademark vocal growl, harmonica, and guitar to the group.
On Sunday afternoon, December 8, an Arcosanti spokesperson will be presenting two informative lectures. Arcostanti is an experimental town 70 miles north of Phoenix, which emphasizes urban environments that minimize the destructive impact on the earth. From 1 to 2 pm you can get an overview of "Arcology –Theory and Reality", which will speak about the building of Arcosanti. From 2:30 to 4 pm there will be a presentation on "The Bronze Bell Casting Community and Process." The windbells of Arcosanti are famous and funds from their sales help in the maintenance of the town. Then stick around after these events and enjoy presentations and tastings of Verde Valley wines, presented by the Verde Valley Wine Consortium from 4pm to 6pm. There is a fee for wine tasting flights.
Moving on to Monday, December 9, enjoy the sounds of Two Guitars and a Cello (G.g.c.) from 6 to 8 pm. Dave Martinez and Chris Livas have been playing guitar together for about 12 years. The newest addition to their band, Kevin McQuaid, brings his skills and knowledge of the cello and percussion. The group prides themselves on creating keen harmonies and a very unique sound. You can expect to hear some slow rock and ballads, music that touches the heart.
On Tuesday evening, December 10 from 6 to 8 pm, Connie Lee Marie Fisher will entertain us with "Ballads of the Celtic Faeries". The magical blend of Connie's ethereal voice, acoustic finger-style guitar, song, stories and the haunting melodies of her cedar flutes captivate her audience with a lush soundscape, transporting them to a time long ago.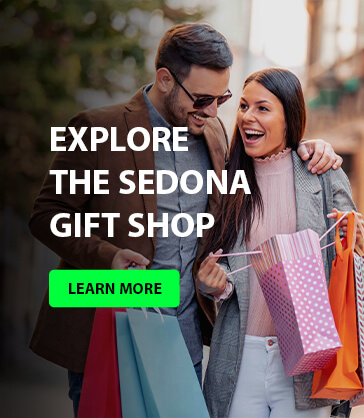 More music follows on Wednesday, December 11, from 6 to 8 pm with the Black Forest Society, composed of band members William Schwab (guitarist, vocals) and Dave Rentz (percussion, and various instruments). Join them for their instrumental storytelling and inspired improvisation as they explore the spirit of nature.
Then on Thursday, December 12, get ready to shift gears. Ladies, you might be especially interested in this event! A live fashion show will be presented by Designer, Allie Ollie, at 6:30pm, featuring Allie Ollie Fashions. Allie Ollie has been growing a successful boutique business for years. In addition, in the spring of 2013, she designed her first line produced exclusively for Arizona boutiques. She sold out and went on to design a line for fall and holiday 2013 as well as Spring 2014. No matter your age or size Allie Ollie believes fashion should be fun for every woman.
Prior to the Allie Ollie Fashion Show meet and greet jewelry artist Kaayla Fox, a new member of Made In Clarkdale. Kaayla spent ten years as a Fashion Counselor in California where she taught about the psychological effects and spiritual significance of color and design in using accessories. Stop by from 6 to 6:30pm to visit with Kaayla.
How about Friday night out for the adults with Wine and Theater? From 6 to 7 pm, December 13, Verde Valley Wine Consortium will present tastings of Verde Valley wines followed by Red Earth Theater Group's presentation of "Painting Churches" starting at 7:15 pm. This multicultural "gang", have decades of professional experience between them as theatre artists and educators. There is a fee for both the theater production and for the Verde Valley Wine Consortium wine tasting opportunity.
The grand finale for evenings at Made In Clarkdale 2013 will be rocking out with The Retros on Saturday, December 14 from 6 to 9 pm. A 70's rock dance band, they started in the Verde Valley in 2002 and have played at most local venues and many events since forming. All members of the group have played professionally since teenagers, and have toured the United States extensively.
Made In Clarkdale 2013 will be open daily from 9 am until the end of each event, so you can come by and see the work of the 60 plus artists at your leisure. It's a great place for holiday art-gifting for you or loved ones! The last day of the show is Sunday, December 15.
Made in Clarkdale is a non-profit organization. To view the full 2013 brochure and the performing arts line-up for planning your visits to the show go to www.MadeInClarkdale.org ; Contact for Questions: phone: 928-239-4776 or email info@MadeInClarkdale.org; See more about the artists and please…"Like Us" at www.Facebook.com/MadeInClarkdale.