Cottonwood AZ (September 30, 2021) – Old Town Center for the Arts is pleased to begin presenting live concerts and events this Fall and beyond. Here are some highlights of upcoming events to mark your calendar. You can find ticket info below.
"We're really excited to continue our concert events'" Co-Director of OTCA commented. "After a year and half absence, we're sensing that our 'audience' also looks forward to returning to live events, to hear, witness, and experience some sensational performances."
The Only Electric Harp Guitar Group in the World?
Up next, on Saturday, October 16th is a multi-media event that features the Electric Harp Guitar Group, aerialist Taylor Marie on silks, trapeze and lyra (hoop), and a special reception for Sedona Artist, Nancy Ruby that begins at 6:00 pm. The concert begins at 7:00 pm and features three extraordinary guitarists, Anthony Mazzella, Fitzhugh Jenkins and William Eaton.
The Ehgg trio will play one-of-a-kind 18 string electric harp guitars that were designed and built by internationally known guitar maker William Eaton, who envisioned these longer scale instruments with added harp strings: to create deep, rich timbral qualities that fall within the frequency range of the traditional guitar and baritone guitar.
A First at OTCA: Three Aerial Apparatus Performances
Taylor Marie is an aerialist, singer-songwriter, and visual artist. She will perform high above the audience on silks, trapeze and lyra (hoop). Taylor has performed in Arizona, New Mexico, Colorado and California, and has also taught workshops in aerial dance.
A New Art Collection Graces the Walls at OTCA
Throughout the year, Old Town Center for the Arts displays art created by local and regional artists. The first arts installation of this season is a collection of landscape oil paintings by Sedona artist Nancy Ruby. Nancy concentrates on painting and ceramics, exploring and experimenting with technique and process. Her studio is at home where she lives on national forest land in a rural area outside of town with her husband, Michael, and their cat, Bodhi. She is a member of Sedona Visual Artists Coalition and participates in their annual show and Open Studios tour.
"My work takes viewers on a journey, revealing discoveries I have made by observing and connecting with the land. My work is interactive. Within each layer, I leave something of what has come before as signposts of the beginning, middle, and end of my creative process."
"We're thrilled to have Nancy's work exhibited at OTCA," OTCA Manager, Elena Bullard remarked. "When seen as a collection, as a viewer, you become transported to a beautiful interpretation of the intimate landscapes that surround and intertwine through our community."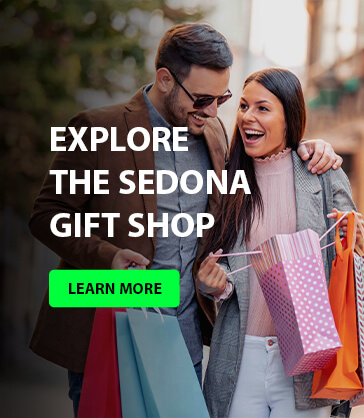 Nancy describes her art and process in her own words. "My paintings convey a sense of place. I am inspired by natural landscapes and incorporate forms, images, and symbols into my paintings and sculptures. If unprimed canvas and natural raw pigments can create a representation of the Earth's ancient movement for me, then perhaps my creation will touch another person in a similar way.
More Highlights
Music Legend Who Opened OTCA Returns!
Arizona Music Hall of Famer and music legend Walt Richardson will perform at Old Town Center for the Arts on Saturday, October 23rd at 7:00 pm. Walt has toured all over the country, but has based out of Tempe, Arizona since the 1970's. He is one of the most endearing, lasting, talented, and influential musicians in Arizona's history. Since the 70's Walt has entertained and inspired audiences who have come to love his original songs and arrangements of classic pop, folk, world and reggae tunes. Walt Richardson performed the opening concert at Old Town Center for the Arts in 2008, and has since played many anniversary concerts for OTCA. Joining Walt for this concert will be long time friend and guitarist extraordinaire Hannes Kvaran. Hannes has played with Walt since the 'early days,' and adds amazing acoustic guitar playing to this stellar duo.
Grammy Winner from Spain Travels to Cottonwood to Perform at OTCA
In cooperation with Yavapai Performing Arts Center, the Old Town Center for the Arts is pleased to present Twanguero's "Backroads", Saturday, October 30th at 7:00 PM. TWANGUERO, is a double Latin Grammy® Award winner Spanish guitarist/vocalist/composer (Diego Garcia). Considered to be "one of the best guitarists in the world", Twanguero's music combines Flamenco / Rock / Jazz / World and his signature "Latin Twang" sound. The "fire-breathing guitar hero" as he was dubbed by the US press, launched his successful solo career after years of accompanying Latin music giants such as Bunbury, Calamaro, El Cigala, and others.
The 'Jazzy Side of Blues' with this Encore Return to OTCA
The latest incarnation of the Bresnan Unplugged Ensemble will perform on Saturday, November 6th at 7:00 PM. This 'encore' return of 'Bresnan Unplugged' brings some familiar and new explorations into the jazzy side of the blues, featuring Swing Blues, Big Band tunes, jazz standards, and originals.
For this special event, The Bresnan Unplugged Ensemble will perform two sets of music including songs by artists such as Louis Jordan, Joe Williams, Count Bassie, and Duke Ellington. The ensemble features and is led by Dan Bresnan on vocals and acoustic archtop guitar, with special guests Allen Ames (Violin), Felix Sainz (acoustic upright bass), and Charlie Bulla (drums).
"You'll fall under the spell of their smooth and graceful blues and jazz grooves, but be blown away by the sheer talent of their musicianship," OTCA Director, William Eaton commented.
Tickets for performances are $20 in advance and $22 at the door, $25 Priority seating in the first 3 rows. Tickets are available online at www.showtix4u.com in Cottonwood at Desert Dancer; and in Sedona at The Sedona Film Fest Box Office. Old Town Center for the Arts is located at 5th Street & Main in Old Town Cottonwood. For more information visit www.oldtowncenter.org.