Acclaimed play from the U.K. debuts on big screen at Mary D. Fisher Theatre
Sedona AZ (April 18, 2013) – The National Theatre of London returns to Sedona on Monday, April 29 when the Sedona International Film Festival hosts the big screen premiere of the acclaimed British stage production "People" — an award-winning new play by Alan Bennett. There will be two shows: 4:00 and 7:00 p.m. at the festival's Mary D. Fisher Theatre.
Award-winning writer Alan Bennett is reunited with director Nicholas Hytner and Olivier Award-winning actress Frances de la Tour, with whom he worked on The History Boys and The Habit of Art.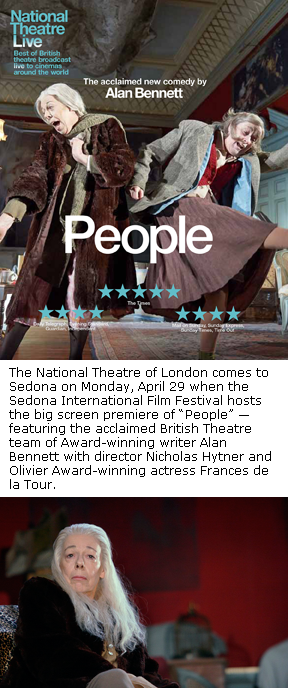 "People" is set in the decaying stately home of the impoverished aristocrat Dorothy Stacpoole (Frances de la Tour), once a successful fashion model but now sporting a moth-eaten fur-coat and plimsolls. Her younger sister — a bossy archdeacon — wants to hand the place over to the Trust, but Lady Stacpoole has other ideas. She wonders whether she could make a killing by selling the house to a sinister commercial concern.
People spoil things; there are so many of them and the last thing one wants is them traipsing through one's house. But with the park a jungle and a bath on the billiard table, what is one to do? Maybe an attic sale could be a solution.
A sale? Why not? Release all your wonderful treasures onto the open market and they are there for everyone to enjoy. It's a kind of emancipation, a setting them free to range the world… a saleroom here, an exhibition there.
Comedy, drama … "People" has it all, with a stellar, award-winning ensemble cast.
Alan Bennett is one of Britain's most celebrated playwrights, and the much anticipated People is the sixth of his plays to have its premiere at the National Theatre. Following its original run at the National Theatre, The History Boys transferred to Broadway, winning the Tony Award for Best Play in 2006, and toured internationally before being turned into a film, again directed by Nicholas Hytner and with a cast including Frances de la Tour.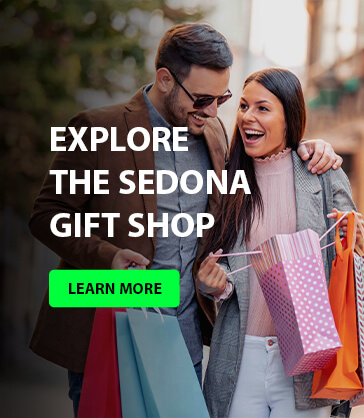 Bennett and Hytner also collaborated on the award-winning play and film The Madness of King George and their last stage production, The Habit of Art, was broadcast as part of National Theatre Live in 2010.
5 STARS – The Times
4 STARS – Daily Telegraph, Evening Standard, Guardian, Independent, Sunday Express, Sunday Times, Time Out
"Wonderfully funny… a grand evening." – The Times
"Outrageously funny and provocative." – Independent
"A richly enjoyable evening. Provocative fun… entertaining, funny and touching." – Daily Telegraph
"People" will be shown at the Mary D. Fisher Theatre on one day only: Monday, April 29 at 4:00 and 7:00 p.m. Tickets are $15, or $12.50 for Film Festival members. Tickets are available in advance at the Sedona International Film Festival office or by calling 282-1177. Both the theatre and film festival office are located at 2030 W. Hwy. 89A, in West Sedona. For more information, visit: www.SedonaFilmFestival.org.