Featuring Devin Angelet, Michael Kollwitz, Larry and Leslie Latour, and Kenn Trout
Sedona AZ (December 2, 2018) – The Music in the House performance series is excited to present it's fourth concert of the 2018/2019 season at the Sedona Hub, a Christmas show to benefit the Music In The House series featuring series regulars Devin Angelet, Michael Kollwitz, Larry and Leslie Latour, and Kenn Trout.  They will be performing on the stage in a round robin fashion, and don't be surprised if you hear some great harmonies and accompaniments. Don't miss this great show of popular Christmas tunes and Carols on Friday, December 14th at 7:00pm (doors open at 6:30 p.m.). Tickets are $10 at the door.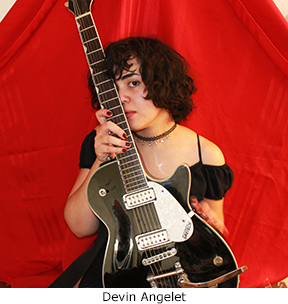 With exuberance and spirit, singer-songwriter Devin Angelet, recently featured in November's Music in the House show, celebrates the Christmas season showcasing her broad creativity and flexibility in a unique blend of jazz, hip hop, and pop styles. Devin wows audiences with her throwback-style, sharing a "whole lotta fun" and always coming from the heart!
Throughout her young life Devin Angelet was surrounded by music. She heard her father sing and play the guitar, bringing jazz and the Beatles to life.  She and her mom listened to Barbra Streisand and Luther Vandross and learned how music could move the listener to laughter, to tears, and most importantly, to keep on going. In high school she sang and played percussion, winning the national John Philip Sousa Award for percussion and the National School Choral Award as vocalist. She is currently collaborating with artists world-wide in the ground-breaking, international song-writing community wikiloops.com.
Kenn Trout's smooth delivery, tasteful guitar licks and off beat Ohio humor takes the audience on a magically light and breezy Christmas trip through the '70's and '80's. Kenn will be opening this year's Valentine's Day show in February, his third time back at Music In The House.  He has his own special way of getting everyone involved, musicians included! "I've always figured it made sense to let those great song writers do the really hard work," Kenn says. "Then I just pick good songs and then we all get out of the way."
Michael Kollwitz is a Stickman, but he's no drummer. He is one of very few musicians who have mastered the "Chapman Stick", an unusual stringed instrument designed in the 1970's by its inventor Emmett Chapman.  Michael was fortunate to cross paths with Emmett early in his musical career, and has been playing "The Stick" now for 40 years. To Michael's delight, Emmett was more than willing to take him under his wing and the two embarked on a teacher-student journey that has lasted to this day.
Michael has recorded in such diverse genres as Jazz, Classic Rock, Latin, and Americana. In his 21st and 22nd albums, 'Serenity' and 'Serenity II', Michael's goal was to create a sonically healing experience, and evoke simplicity and relaxation for his listeners.  'Serenity I' reached #8 on the Zone Music Reporter chart in Sept. 2017 and was nominated for Best Contemporary Instrumental Album of 2017 by One World Music Radio in the United Kingdom. 'Serenity II' reached #8 on Billboard one week after its release in April 2018.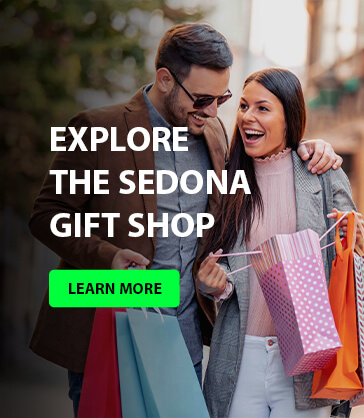 Leslie and Larry Latour, two talented long-time singer/songwriters, are excited to be back for this Christmas show followed by their fourth "Music in the House" Valentine's Day show, singing Christmas songs of "Life and Love" in the intimate space of the Sedona Posse Grounds Hub.
Leslie and Larry look forward to singing another emotional and heartfelt collection of tunes.  They'll be playing a number of Christmas favorites, both originals and covers. Their three Valentine's Day shows at the Hub were a rousing success, and have contributed to the  wonderfully successful "Music in the House" performance series throughout the past three years. This year's shows are again packing the house, and Larry and Leslie are looking to keep the love going. Their music has been described as beautifully done, elegant, and lovingly expressive, making the room and audience their own, telling stories and singing funny and poignant original and cover tunes in an intimate style. They have a recently released album Real Music, and a new collection of songs coming out in 2018/2019.
The Sedona Hub is a City of Sedona managed live performing arts venue offering performance and rehearsal space to those whose passion it is to entertain and hone their skills as live artists.
Don't miss this wonderful Music In The House Christmas show with Devin Angelet, Michael Kollwitz, Larry and Leslie Latour, and Kenn Trout in the intimate space at The Hub Friday, December 14th  at 7pm (doors open at 6:30pm).
Where: The Sedona Hub (525B Posse Grounds Rd, next to the Skate Park)
When: Friday, December 14th, 7pm (doors open at 6:30pm)
Tickets: $10 at the door
The show is suitable and fun for the entire family.
For more information call Larry and Leslie Latour at Music in The House, 207-907-9365, or email lchwhiteiam@yahoo.com