Sedona AZ (August 27, 2016) – Hillside Sedona's Movin' On Gallery is always on the lookout for noteworthy artists to showcase, and the venue is thus proud to be able to feature two award-winning local artists in September.  Julie Talbot, long known as one the area's premier watercolorists, will be showing a collection of her recent works, and Susan Shatreau-Janisky will be exhibiting a variety of her elegant native art, including silver and wire-wrapped jewelry, beadwork, and leather pieces.
The public is cordially invited to meet these artists at Movin' On's popular First Friday reception, 5-8PM on the evening of September 2, 2016.  Many of the venue's other resident artists will also be present to host the evening's festivities and greet visitors and fans.
Susan Shatreau-Janisky was born in upstate New York of Algonquin, Mohawk & French Canadian ancestry.   She lived and worked in California for many years before moving to Northern Arizona.
She learned traditional native crafts from her family, and over the years has extended the classic designs she inherited by adding original elements of her own creation.  Her specialties include custom made medicine bags beaded on native tanned deer skin, beaded cuff bracelets, elk skin crossbody bags, and sterling silver or wire wrapped jewelry incorporating turquoise, bone, oyster shell, and other materials.
Shatreau-Janisky has participated in a wide range of native and regional arts events and organizations, including a stint as a Director and officer in the International Wire Jewelry Guild Artists organization.  She has shown her work in many galleries in California and Arizona.
Julie Talbot is renowned throughout Northern Arizona for the fine details and vibrant colors of her distinctive watercolor paintings.  Her favored subjects include flowers, animals, and rural scenes that often include antique vehicles.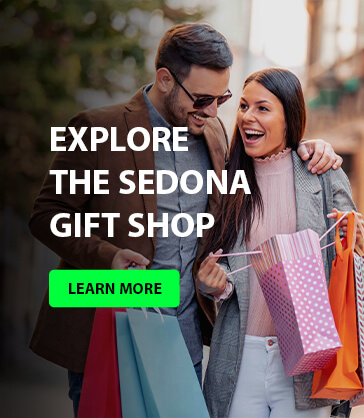 "I work from a careful drawing because accuracy is important to me," she notes.  "The fun comes in dropping color into a wet area such as a fender to make rust or a flower petal to create a luminous glow. I love to let the paint do the work on the paper rather than blending colors on the palette; it gives a fresher look."
Talbot has received numerous awards for her work in exhibits of the Northern Arizona Watercolor Society, the Sedona Arts Center and the Sedona Visual Artists Coalition.  "I'm especially pleased by the number of People's Choice awards I've received," she says, "because those reflect the spontaneous reaction of my audience."
Movin' On Gallery is located on the second level of Hillside Sedona Center at 671 State Route 179 (about ½ mile south of the "Y" in Sedona).  It is dedicated to introducing new artists and to showing recent works by some of the best-known artists working in Sedona and the Verde Valley.  
Movin' On currently features an impressive array of resident artists, including: Lorraine Fexas, glass; Andre Renard, copper & brass sculptures; Pat Priolo, gourds and jewelry; Sharon Hall, clay sculptures; Grace Sky Martinez, spiritual and Native American art; Jodie Ball, oils; Patty Miller, multimedia, painting, and sculpture; Harriet McInnis, oils; Terry Davis, wood carving; David Soto, recycled material sculptures; Teree Settembrino, wind chimes; Rick Gandolofo, acrylics; Carol Gandlofo, photography; Jim Peterson, photography; Sandee Kinnen, fused Glass; Rachel Bulisky, mixed media on stone; Ernest Duran, acrylics; and Judith Victorson, ceramics.
The gallery is open from 10:00 AM until 6:00 PM daily.  For more information, call (928) 282-8143 or visit www.MovinOnGallery.com  .