Sedona AZ (April 29, 2015) – Movin' On Gallery in Hillside Sedona center is pleased to announce that painters Jodie Ball and Harriet McInnes will be the featured artists for May.  The two artists, who have interesting parallels in their careers, will be showing an extensive selection of their recent works.  In addition, guest artist Michael Redhawk will be exhibiting a captivating collection of his paintings.
Also, they will be on hand during the venue's First Friday reception on May 1 at 5-8 PM.  The public is cordially invited to attend, meet the artists, and chat about their latest creations.
Jodie Ball was a lifelong Texan until she fulfilled a dream by moving to Sedona a couple years ago.  Her love of art was kindled at an early age when her grandmother taught her to paint while she was growing up in Paris (TX) and Sulphur Springs.
She continued her art studies in high school and college, but then earned a Masters and PhD in Biochemistry, which became the basis for a long and successful career in the Biomedical industry.  And since she was a single mother, her art for many years took a back seat to her responsibilities as a parent and a corporate manager.
But all that changed when Ball retired, and she was able to plunge back into the art that she had always loved.  She studied under two master artists in Texas before moving to Arizona, and more recently has studied at the Sedona Arts Center, primarily under Gretchen Lopez.  Her main inspirations, amply embodied in the works she has on display at Movin' On, are natural beauty and Southwestern cultures.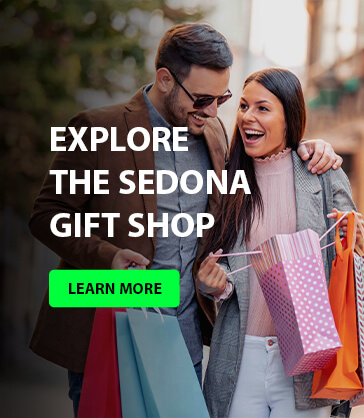 Harriet McInnes was born and raised in New Jersey.  At the age of 9 she had the good fortune to encounter a pivotal teacher who recognized her potential as an artist.  As a result, she studied art for the rest of her schooling, eventually graduating from Syracuse University with a dual major in Fine Art and Political Science.
Like Ball, McInnes went on to a successful and varied career in the corporate world, with stints in such diverse areas as Customer Relations, Sales Promotion, Human Resources, and Corporate Management.  But she always longed to get back to her roots as an artist.
That opportunity came for McInnes after she moved to Sedona and retired.  She (again like Ball) enthusiastically returned to painting, studying under Mary Bell Leavenworth and Gretchen Lopez and displaying her works in member shows at the Sedona Arts Center as well as in group shows called "Gretchen's Girls" put on by students of Lopez.  She is inspired primarily by nature and landscapes, but is broadening her range of subjects to include travel themes and wild animals.
Movin' On Gallery is located on the second level of Hillside Sedona Center at 671 State Route 179 (about ½ mile south of the "Y" in Sedona).  It is dedicated to showing recent works by some of the finest artists working in Sedona and the Verde Valley.
The gallery is open from 10:00 AM until 6:00 PM daily.  For more information, call (928) 282-8143 or visit www.MovinOnGallery.com  .